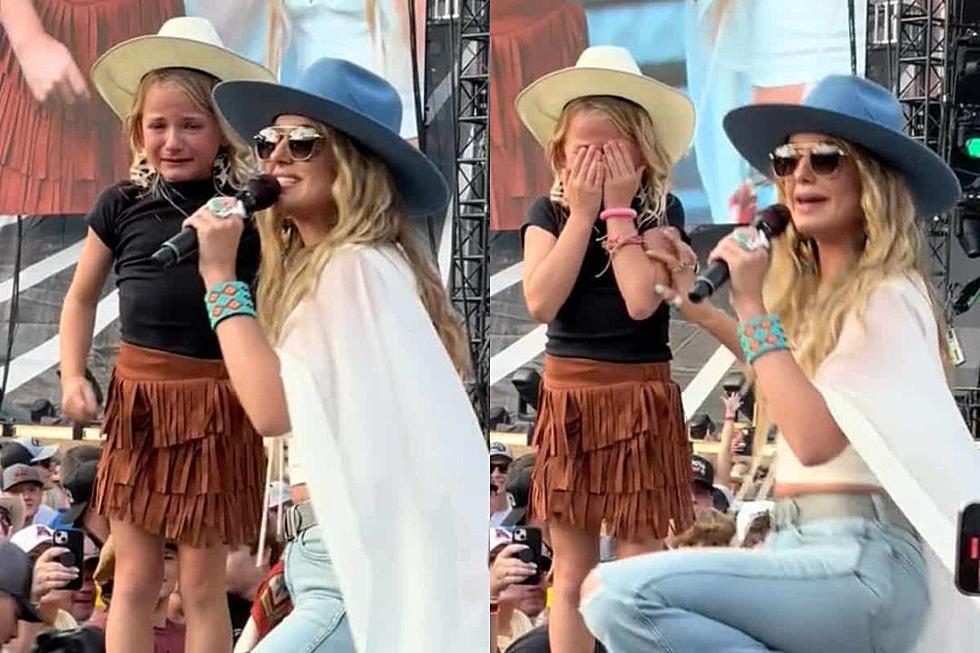 Lainey Wilson Makes Little Fan's Dream Come True Onstage [Watch]
@WendyLeighAnderson, TikTok
Lainey Wilson is one of the brightest rising stars in country music right now, and this video shows why. Country fans are coming out in droves to support Wilson and her music — fans of all ages.
Wilson shared an unforgettable moment with a little fan named Finley on Saturday (June 17) during her performance at Busch Stadium in St. Louis, Mo. Finley was holding up a sign as high as she could, which read:
"Lainey, my dad bet me a pony if I get to get on stage at my first ever country concert."
As you can imagine, there are probably hundreds of signs held up at a live show, so Finley's father probably felt like it was a pretty safe bet for him, and that she wouldn't get pulled onstage.
Well, Daddy was wrong:
During Wilson's song "Hillbilly Hippie," she happened to look down and spotted Finley's sign, asked for it, and read it aloud to the whole crowd.
Then, the country star invited the young fan on stage. Once Finley made it onto the stage, she immediately broke down in tears, as her little heart just couldn't handle the amazing moment that was happening to her.
Wilson was able to find Finely's dad in the crowd, and she reiterated to him that he'd lost the bet.
"She's going to get a pony now. I hate to tell you, but you've got to get a pony tomorrow," the singer said, the crowd cheering. "Finley is getting a pony y'all!"
The "Heart Like a Truck" hitmaker is on tour for the remainder of the year — Wilson has shows scheduled until Dec. 16, 2023.
Evan Paul is the host of Taste of Country Nights, a syndicated radio show heard on more than 120 country radio stations nationwide, every night from 7PM to midnight. He plays the best new country music and interviews today's top stars, like Luke Combs, Miranda Lambert, Dan + Shay, Keith Urban, Carrie Underwood, Luke Bryan, Chris Stapleton, Lady A, Morgan Wallen + more! 
Top Country Songs of 2023, Ranked
The best country songs of 2023 fit snug over your life and experiences. Each is written from personal experiences but somehow that translates for each of us. We've loved, we've longed, we've lost and we've cut loose in the country.
Airplay charts, sales data and streaming numbers helped make this list of country music's top songs of 2023, but staff and Taste of Country reader opinion were most influential. Songs included on previous Top Country Songs lists were not eligible. A song may have been released in 2022 but it had to have the majority of recorded airplay or impact this year to count.
60 Country Stars' Real Names Revealed
Now organized alphabetically to help you find the real name you're searching for.
Country Stars Shine at 2023 Concert for Love & Acceptance [PHOTOS]
From
Maddie & Tae
to
Pam Tillis
, some of the biggest acts from country music and beyond joined
Ty Herndon
for the 2023 Concert For Love & Acceptance at Nashville's Wildhorse Saloon on June 7.