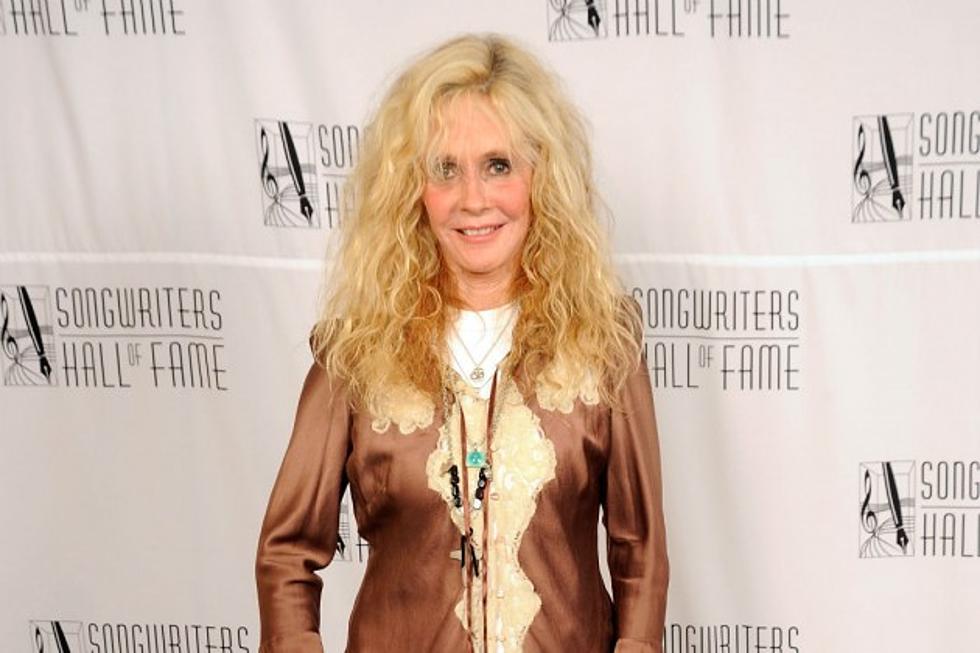 Kim Carnes Remembers Original 'We Are the World' Sessions
Gary Gershoff, Getty Images
With a career that has spanned four decades, Grammy winner Kim Carnes is perhaps still best remembered for the 1981 single 'Bette Davis Eyes.' It is, after all, one of the biggest hits of the rock era, having logged nine weeks atop the Billboard Hot 100. But just a few years after that monster smash, Carnes literally had a front-row vantage point on another iconic chart-topper when she joined more than 40 other top stars of the day for the original recording of the pop anthem 'We Are the World.'
Written by Michael Jackson and Lionel Richie and produced by Quincy Jones, 'We Are the World,' was brought to life by an all-star chorus billed as USA for Africa. Among the superstars recruited for the single and accompanying music video were Bob Dylan, Bruce Springsteen, Diana Ross, Willie Nelson and Ray Charles. Waylon Jennings was also invited, but reportedly walked out of the sessions after a dispute with Stevie Wonder over a set of lyrics he wanted to sing, which ended up not being included in the finished version of the tune after all.
The single's mission was to aid famine relief in Ethiopia, but its message would soon encompass much more than that. Twenty-five years later, the song has been re-purposed -- recorded by a new group of artists (including Miley Cyrus, the Jonas Brothers and Barbra Streisand) and designated to help the victims of Haiti's January earthquake.
While both versions of the song have had their critics -- in spite of raising tens of millions of dollars for their respective causes -- for Carnes, being invited to participate in the original recording was more than just a global event.
"I don't think anybody there could believe what we were doing," the singer-songwriter tells The Boot. "It was just a magical night. It was just a joyful, perfect night. And when we left, the sun was up. Everybody realized that we were all in this together to make the best possible song and video that there could be for the cause. There truly were no egos. Not everybody knew everybody, and you saw a lot of people, including myself for sure, really awestruck and excited to meet some of their heroes."
One of the heroes Carnes had the opportunity to meet and speak to for the first time was Dylan. "It wasn't a long conversation, but he was very gracious, as was everybody," she says.
In particular, Carnes spent much of the time chatting with Jackson when she ended up standing beside him in the front row at the recording session.
"In all the footage and all the magazines after his death, there were pictures of me standing next to him, holding his hand. And during that time was when I could talk to him," she says. "He was so proud of it working out so great. Very humble and very shy. But he had a smile on his face that never left because his baby was coming together in a magnificent way. And that's the last time I ever saw him."
In addition to the fond memories of recording the song and video, which quickly became a global phenomenon upon its release March 7, 1985, Carnes still has a cherished souvenir of the event. During breaks in the action, many of the artists, including Carnes, took their sheet music around the room and collected autographs from the other participants. But in spite of what presents a rather mind-blowing image for most of us, Carnes says the studio was simply "a bunch of people who were just happy to be there for the right reason. How could it not be successful?"
These days, Carnes lives in Nashville and continues to record and tour throughout the world, with especially loyal fans in several European and South American countries. She's also written country hits including the No. 1 duet 'The Heart Won't Lie' by Reba McEntire and Vince Gill, and had cuts by Tim McGraw, Deana Carter and Tanya Tucker, among others. She even recorded a duet of the Johnny Cash classic 'Ring of Fire' with 'Bad Blake' himself -- 'Crazy Heart' Oscar nominee Jeff Bridges -- which was featured in the 2000 film, 'The Contender.'