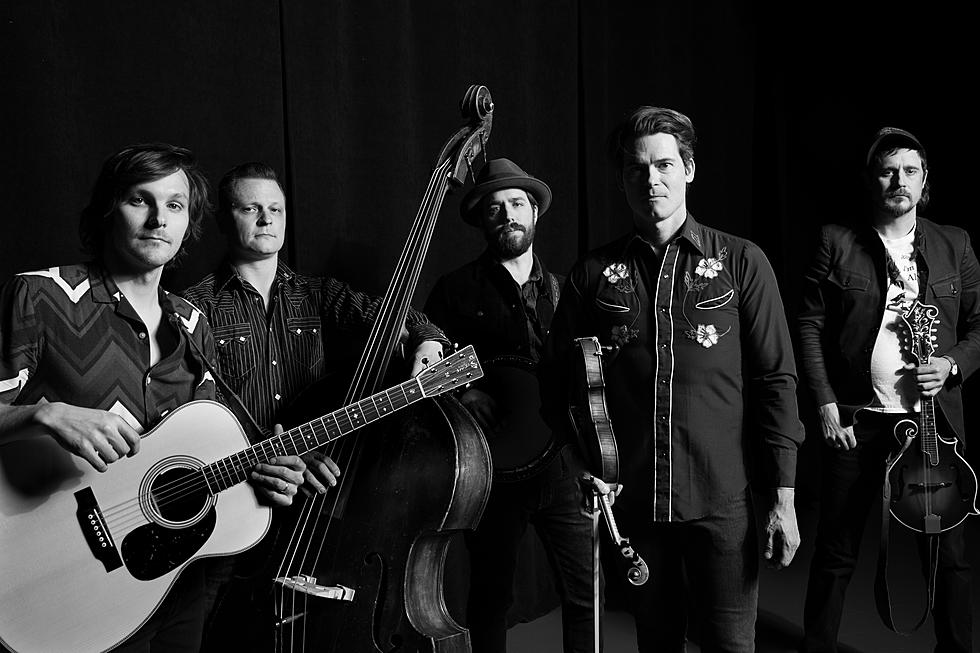 Interview: Old Crow Medicine Show's Ketch Secor on Race, Country Music and Hope
Crackerfarm
For the last eight years, Ketch Secor has balanced his time with Old Crow Medicine Show with, among other things, his calling as an adviser for Ken Burns' latest masterpiece, Country Music. Secor is featured in the documentary series, which premieres on PBS on Sunday (Sept. 15), as a folklorist and artist himself.
In the docuseries' opening episode, Secor minces no words when it comes to the music he loves, and the music to which he has dedicated his life: "Country music comes from the South because that's where slavery happened," he says. Though that idea itself isn't fully unpacked throughout the eight episodes of Country Music, Burns is faithful to and celebratory of the critical role of the black experience in country music.
"What Burns tends to do, he tends to be a mind-blower," Secor tells The Boot, with an obvious admiration in his voice. "I'm really hoping that your mind will be blown as to the richness of the cultural diversity that contributes to the foundational block of country music."
Much of that richness stems from the statement Secor makes about slavery, even if few people want to acknowledge that reality. "Country music as an institution has been unable to — and I think unwilling to — discuss that," he admits. "What is the black influence on this music? How have black people been disenfranchised from it and exploited through it?"
Secor speaks like a professor; there is a confidence in every word he chooses, and an obvious appreciation for and sincere understanding of the subject on which he teaches. He seems eager to have the opportunity to discuss how country music is rooted in this country's history of slavery.
"Country music is a sound of an oppressed people," he says. "I think the primary example that points to what I think is the truth, that without slavery we wouldn't have country music, is that the banjo comes from Africa. The banjo is half of the parentage of country music."
"Country music is a sound of an oppressed people."
Could country music, then, have formed, grown and evolved the way it has in America in any other place in the world? Secor doesn't spend much time pontificating.
"There's a simplification of this idea that country music comes from the East, that American popular music is made up of black and white, Europe and Africa," he pushes. "What that leaves out are all the European people who weren't considered white ... All of these different sub-genres were ultimately left out of the full country music story when the record companies really got involved ... They left polka out, but polka is a folk music of the people, and it is created in the same way that country music is, and it has a great influence on Western swing. Tejano music is related to Western swing, and country music incubates in California and then returns with all of these second-generation 'Okies.'"
As Secor puts it, we are often quick to call Woody Guthrie a folk singer, but we would never call him a country music artist, because that title is reserved for the generation of "Okies" who came after him, such as Merle Haggard. "That jump from 'Woody's not country, but Merle is' is a jump in terms of our definition of what country music is," Secor says. "That definition is a constant reflection of sociological values that have a lot to do with race and class, and our definitions of who this music can belong to."
Rhiannon Giddens, who herself is an expert and scholar on American music, shares similar sentiments: "It's really important people know country music is a hybrid, a creolization that comes out of African and European cultures mixing," she tells Rolling Stone. "It's very dangerous to subscribe to it as 'white music,' or as this monolithic thing, because it's not. And that's the beauty of America, I think — all the positive stuff that comes out of that aspect of the mix."
Secor looks at that beauty and allows its history to shape him, not just as an artist today, but as a citizen.
"In the song, "Will the Circle Be Unbroken," who's in the circle?" Secor asks. "I'm in the circle, and so being in the circle myself allows me this power to create access to those who have been disenfranchised from the circle. If that means bringing my banjo into a federal housing project and reminding an all-black audience of 8-year-olds that this is an instrument that your ancestors brought to this country, that's one way to do it. The other way to do it is to talk with you today about it, or to talk on a program like Ken Burns' Country Music.
"You know, I have a show coming up in western North Carolina. I'm great friends with a wonderful African-American clogger who has been dancing to country music his whole life," Secor continues. "When Arthur Grimes comes out to the stage to busk with Old Crow Medicine Show, some people in the audience will be really surprised."
He pauses, seeming to reflect on his friendship with Grimes. "But I won't be surprised. I can inform them that this is how it's always been," Secor adds. "I played with an 80-year-old black fiddler when I was 18, and I hope when I'm 80, I'll be playing with an 18-year-old black kid."
"We are in a time when a great nationwide reckoning needs to take place in all of our institutions ... You need to know your neighbors. You need to know there is a wider spectrum to every sound than what is immediately apparent."
In a 2018 interview with The Guardian, Giddens acknowledges the significance of what artists like Secor are striving to accomplish: "People say, 'I'm tired of thinking about race, it's a drag.' Yeah, well, welcome to my life," she says. "I don't care who you are. We have the time and the headspace for this stuff. The least you can do is take a moment."
Earlier this year, Giddens did more than "take a moment" when she released there is no Other with Francesco Turrisi. Self-described as a "condemnation of 'othering' and a celebration of the spread of ideas, connectivity, and shared experience," Giddens' new record manifests a modern-day representation of the history of country music, and the importance of letting go of prejudices.
To be an agent of change compelled by history and to "at least take a moment," though, you don't have to stand on a stage in front of thousands of fans or have a record deal. "I can do this as a performer, but I can also do this in my community as a parent," Secor says.
"Whatever the means are, I think we are in a time when a great nationwide reckoning needs to take place in all of our institutions, in the church, in every genre of music, all manners of business, civic and politics, city building, and history," he continues. "We all need to take a closer look because we're at a point of great change in society, and we need to be able to accept and embrace what's changing and to be informed. You need to know your neighbors. You need to know there is a wider spectrum to every sound than what is immediately apparent."
For this reckoning to happen, Secor says, it will require trust in an outsider's perspective, and being able to put down what you think you know to hear someone else's experience and history.
"I'm in Nashville, and I'm just about to get up to Music Row and there's a sign here commemorating DeFord Bailey," Secor notes, reading the sign: "Bailey, a pioneer of the Grand Ole Opry and its first black musician, lived in the Edgehill neighborhood for nearly 60 years. His shoeshine shop was on 12th Ave. South, near this intersection. His harmonica performances of the "Pan American Blues" inspired Judge George D. Hay to dub WSM's Barn Dance the Grand Ole Opry. Traveling extensively with Opry musicians, he entertained audiences throughout the South and Midwest. In 1928, he recorded eight sides for RCA Victor during Nashville's first recording session."
Secor catches his breath. "That's what the sign says. What it doesn't say is that behind this plaque is a 12-story federal high-rise building built during the Eisenhower administration that replaced all of the independent homes that were purchased and owned by black homeowners. What it doesn't say is that DeFord Bailey was kicked off the Grand Ole Opry in 1940s, and was considered 'sullen' and 'unwilling to change.' This is coded language. That's not on there. What also isn't on the sign is that those eight sides that he recorded for RCA Victor were the very first record that they released to both a black and white audience. They released that record simultaneously as a race record and a hillbilly record. That was not going to happen again until Charley Pride's first record came out. We need to know what's not written on the plaque."
"I'd love to see Nashville's music business be a more diverse and welcoming place. That's the place to start."
At the 2017 International Bluegrass Music Association conference in North Carolina, Giddens delivered the keynote address. She took it as an opportunity to look behind the plaque.
"More and more of late, the question has been asked: How do we get more diversity in bluegrass?" she posited during the speech. "The answer doesn't lie in the right now. Before we can look to the future, we need to understand the past. To understand how the banjo, which was once the ultimate symbol of African-American musical expression, has done a 180 in popular understanding and become the emblem of the mythical white mountaineer ... we need to move beyond the narratives we've inherited."
As she continued, she challenged her audience, and all music fans: "Are we going to acknowledge that the question is not 'How do we get diversity into bluegrass?' but 'How do we get diversity back into bluegrass?'"
For Secor, embracing that history of diversity is not only rooted in the African-American experience, but in the experience of all minority voices. "This is a genre of music that is built on the guitar stylings of one pioneering hillbilly woman from southwest Virginia named Maybelle Carter," he says. "Turn on the radio and count the number of female voices that you hear.
"I think we're all happy that Loretta [Lynn] did what she did, and nobody denies that Dolly [Parton] is one of the most important musicians of our nation and our history," Secor adds, "but what are we left with today?"
Taking the seat of a prophet, Secor envisions what could be for country music: "Country music needs to be a place that is engaging with minorities and with women," he states. "And they need to be brought through the ranks toward leadership.
"The radio is probably the last place that we need to create change. We need decision-makers. The radio, that's all the result of leadership," Secor continues. "I'd love to see Nashville's music business be a more diverse and welcoming place. That's the place to start."
But, he admits, this isn't the only place true change needs to happen.
"We can't just work on The Man. We need to work with the kids," he says with hope and conviction. "Get together with children, because everybody dances to a collective groove — and that groove is shared, that groove has been dreamed and imagined by people of such varying belief systems and values and colors and stripes and looks and walks of life.
"Getting kids to be part of that collective dream again," Secor concludes, "that's going to go a long way."
50 Country Albums Everyone Must Hear Before They Die