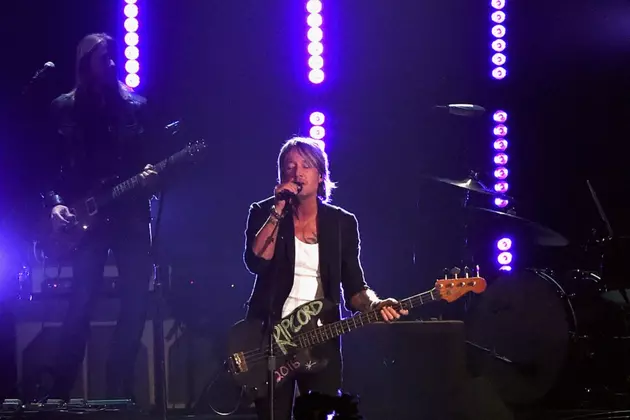 Keith Urban Shares His Father's Influence on, Advice for His Career
Rick Diamond, Getty Images
The death of Keith Urban's father, Robert Urban -- who passed away on Dec. 5 -- is devastating for the country singer and his family not just because it is the death of a loved one, but also because of the huge influence the elder Urban had on his son's career.
The country superstar says that some of the credit for his success belongs to his father, who first inspired his love of country music.
"For me, all roads lead to Don Williams. And the reason I say that is because my dad loved country music," Urban told The Boot and other reporters at a recent reception honoring his new exhibit, Keith Urban So Far, at the Country Music Hall of Fame and Museum. "He grew up in New Zealand. He was a drummer all though the '50s; he played rock 'n' roll. When rock 'n' roll splintered in the '60s and it lost a lot of its rockabilly elements -- which is what my dad loved about it -- he kind of went off in a folk direction, and he was a fan of the Pozo-Seco Singers, and there was a member in that group called Donald Williams. And when Donald became Don Williams and went solo, my dad followed him as a fan, a real fan.
"That was really the start of all of this," Urban continues. "The records I grew up with were mostly Don Williams records. My dad went and bought every record Don made the day it went on sale. And I remember one day, I was going to a record store with my dad, and I remember saying to my dad, 'What's the single off this album?' ... He goes, 'I don't know. I haven't heard anything off of it yet.' I said, 'Well, then how do you know it's going to be good?' And he said, 'It's Don Williams.' And it hit me in such a way that I thought, 'I'd love to make those kind of records. I'd love to make records where you know it's going to be solid.'"
In addition to making sure that his son "dress[ed] well and look[ed] like a performer" in his younger years, Urban's father was also the inspiration for his move halfway around the world.
"... [The exhibit] is bittersweet a little bit because [my dad] is the catalyst for all of this," he explains. "My dad is the catalyst for me living in America."
And Urban's father gave him some powerful advice that has helped guide his career for the past 20 years.
"My dad said to me, early on, 'If you can, try to work with people you would have dinner with if there was no work to discuss,'" Urban reveals. "And I feel very, very blessed that I've been able to work primarily with people who absolutely fit that criteria ... It's a short life, and I like to work around nice people."
See Keith Urban + More Country Stars Then and Now
Keith Urban Opens Up About His New Music