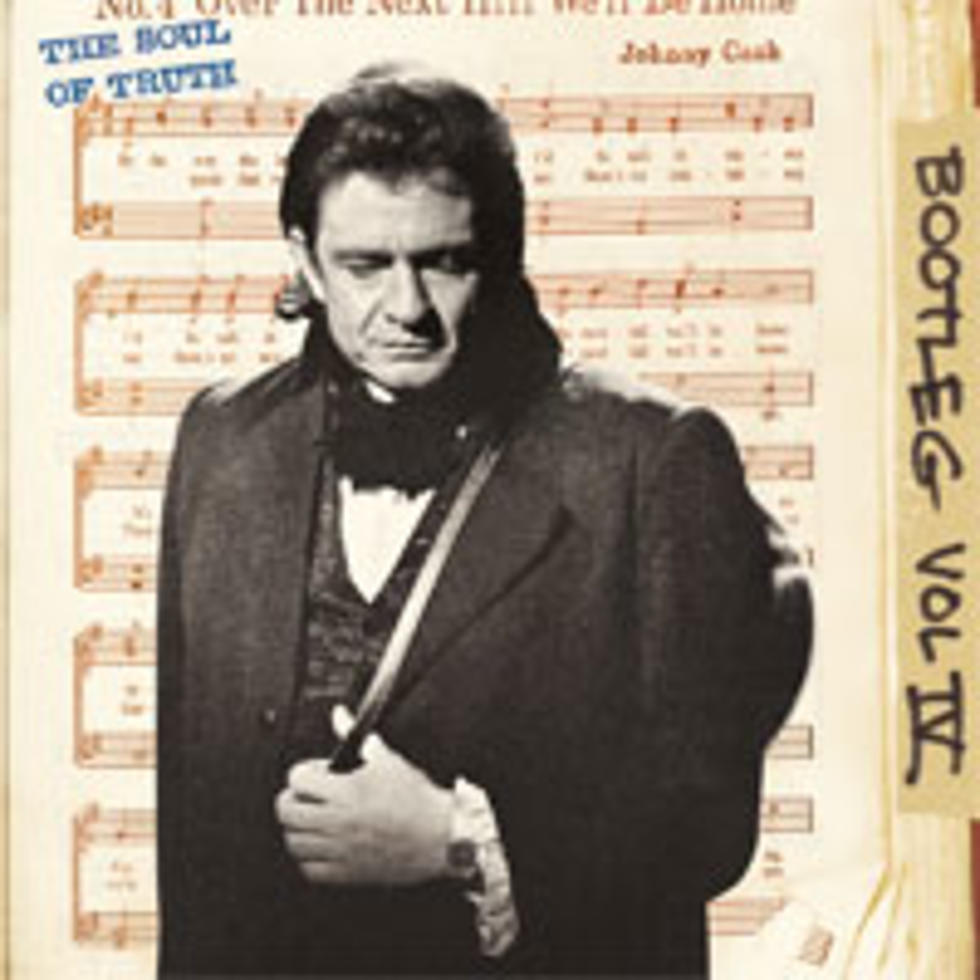 Johnny Cash, 'Bootleg Vol. IV: The Soul of Truth' Spotlights Legend's Love for Gospel Music
johnnycashonline.com
A new 51-track collection of Johnny Cash songs is coming this week in honor of the continuing celebration of his 80th birthday. 'Bootleg Vol. IV: The Soul of Truth' brings together the singer's gospel and spiritual recordings from the 1970s and 80s.
The two-CD collection includes a selection of previously unreleased traditional hymns, folk songs and original tunes written by the Man in Black and other songwriters. The various songs were recorded in several different places, including Columbia Studios in Nashville and the House of Cash in Hendersonville. These recordings were done at a time, according to his son John Carter Cash, when his life was on an even keel. "He (had an) excitement for his faith," the younger Cash says in the liner notes.
Some of the songs were released on the iconic entertainer's albums including 1979's 'A Believer Sings the Truth,' 'I Believe' and 'Johnny Cash -- Gospel Singer.' Gospel music was always a part of the singer's life, from his days in his hometown of Dyess, Ark., through his long journey to Nashville and beyond. John Carter writes in the liner notes that "the music set a foundation for J. R. Cash and upon it he established the motivation for his existence. With the songs of the gospel came faith, and along with faith, a fortitude and persistence that would not be denied. If you were convinced of my Dad's honesty, it is because he was confident of his purpose, and that purpose was defined by gospel music. Though he would sing many kinds of music in his life, he was never truer than when he sang songs of faith."
The album's closing track, 'Truth,' is based on a poem that boxing legend Muhammad Ali reportedly gave to John. The singer had recorded it but never released it. The poem was written by Sufi leader Hazrat Inayat Khan, and one of its lines, 'The soul of truth is God,' gave the 1979 album its title.
Johnny was seemingly always singing gospel music with someone and, fittingly, there are several special guests on the album. His wife, June Carter Cash, sings with him on 'He's Alive,' 'This Train Is Bound for Glory' and 'Far Side Banks of Jordan.' Daughters Rosanne Cash and Cindy Cash join him on 'When He Comes' and 'Lay Me Down in Dixie,' respectively. Johnny and sister-in-law Anita Carter sing 'Over the Next Hill (We'll Be Home),' while another sister-in-law, Helen Carter, sings with him on the Carter Family's 'Way Worn Traveler.' Rodney Crowell guests on 'You'll Get Yours and I'll Get Mine' and 'He Touched Me;' Jessi Colter sings on 'The Old Rugged Cross.'
"At the very heart of this faith was gospel music," John Carter concludes. "I invite you to join me, and get to know the man John R. Cash as I remember him. You will hear him in these treasured recordings. Listen carefully: Spirit, Faith, Gospel. The very source of his vision."
The preceding 'Bootleg' collections include 'Personal File,' 'From Memphis to Hollywood' and 'Live Around the World.' 'Bootleg Vol. IV: The Soul of Truth' will be released tomorrow (Tuesday, April 3) on Sony Legacy.
Watch 'The Life and Career of Johnny Cash'

#fivemin-widget-blogsmith-image-706942{display:none;} .cke_show_borders #fivemin-widget-blogsmith-image-706942, #postcontentcontainer #fivemin-widget-blogsmith-image-706942{width:570px;height:411px;display:block;}

Follow @thebootdotcom on Twitter | Like The Boot on Facebook