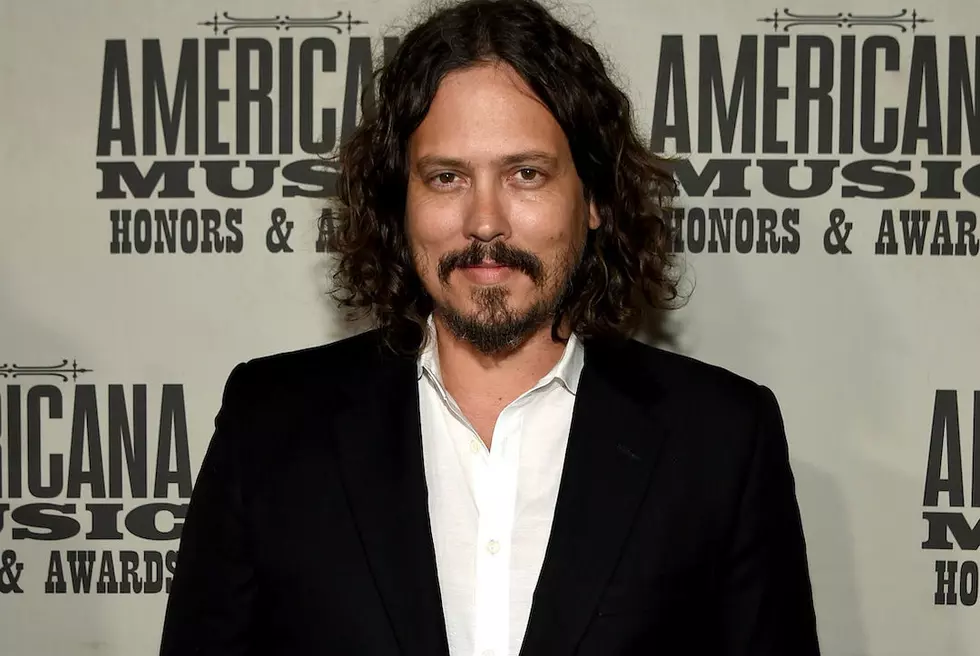 Interview: John Paul White Is 'Just Scratching the Surface' of His Musical Identity
Rick Diamond, Getty Images
"There's a Phil Hartman sketch on Saturday Night Live -- do you remember Phil Hartman?" asks John Paul White, sitting on a couch in his home recording studio in Florence, Ala. "You'd remember him visually, because he always [impersonated] Bill Clinton. He did Frank Sinatra really well."
After being an SNL cast member from 1986 until 1994, Hartman returned to host an episode of the late-night sketch comedy TV show in 1996. "He was talking to [Saturday Night Live creator and producer] Lorne Michaels -- on-camera, but it's supposed to look like it's off-camera, you know -- and he's like, 'Lorne, it's great to be back. What do you want me to do tonight, for my monologue? Do you want some Clinton? You want Sinatra?'" White recounts. "And Lorne's like, 'No, Phil, just be yourself.'
"And then the camera tightens up on Phil's face, and he's like, '... Be ... myself?'" White continues. "You can see this existential breakdown happening. And I think he ends up in, like, a loincloth, burning stuff. I get that."
Before he set out to create his new record, The Hurting Kind, White had already notched plenty of experience making music. After putting out his first solo album in 2008, he joined forces with Joy Williams to form the Civil Wars, a duo that took center stage in his musical career until 2014, when they disbanded. Despite his history in the business, however, White says that making The Hurting Kind felt entirely new, and more than a little intimidating.
"With this record, it was the first time that I've really truly been able to write an album and say, 'Who are you? What are you? What are you inspired by? What got you to this point?'" White explains. "With my first solo record, I had, like, 12 years of writing professionally. I had all these songs to choose from, so I chose my best, in my opinion -- my favorite songs.
"Then, with the Civil Wars, everything is 50-50 collaborative. There's push and pull, give and take with that," he continues. "Then, with [my next solo album after the Civil Wars broke up], Beulah, it just all fell out. There was no thought process involved."
"It was the first time that I've really truly been able to write an album and say, 'Who are you? What are you? What are you inspired by? What got you to this point?'"
White found himself confronted, for the first time, by a need to identify who he was as an artist, without the trappings of a group project or a stockpile of songs overdue for release. "This is really the first time I sat down with a blank page in front of me and said, 'Alright, who are you?'" he adds. "It's exciting, but it's terrifying."
The Hurting Kind was also one of the first projects that White recorded in his newly opened Sun Drop Sound studio, an unassuming, light-filled house that sits on a residential street in the backyard of the University of North Alabama. Like all good home studios, it's got a kitchen with a one-track mind: A Keurig machine sits on an otherwise sparse countertop, and a mini-whiteboard on the fridge has a grocery list that reads only "coffee (forever)." Despite an extensive, beautiful guitar collection, White's studio seems to have a preference for function over fashion, and he admits there isn't much in the building that he put there for its sentimental value.
"I am not nostalgic at all about gear," White admits. "Guitars, yes. I think gear gets way too much credit, and I'm a sucker for it, too, once I get on Reverb or eBay. I'll lose my mind because I want all these 'Holy Grail' pieces. But at the end of the day, me and a guitar are really the most important part of the creation. That, and another person."
White is referring to recording engineer, producer and musician Ben Tanner, also of blues-rock band Alabama Shakes. White co-founded his label, Single Lock Records, with Tanner and local financial planner Will Trapp in 2013. It isn't the gear he puts in the studio that makes the music sound good, White insists -- it's Tanner's magic dust.
"Damn right, Ben has sentimental value!" he says with a laugh. "That's what [famous nearby recording studios] Muscle Shoals Sound and FAME Studios were built on. It wasn't those buildings; it wasn't that gear. I mean, neither one of them have any of the gear that was there before, and they're still magic. They're magic because of the people in that room."
In the quest to make great music, White puts his money on human talent over flashy gear. That fact may offer some explanation as to why, as he began to reflect on who he is as an artist, he called on legendary songwriters to contribute their talents to his project.
"And I couldn't believe they answered the phone, to be honest," White interjects. "Bobby Braddock -- I have a song on there with Bobby. Whisperin' Bill Anderson, we wrote two songs on the record. And I wrote with a bunch of other guys, too, like Whitey Shafer, Wayland Holyfield, Paul Overstreet -- a bunch of heroes of mine."
Maybe, White reasoned, if he surrounded himself with some of the artistic idols who inspired him growing up, he'd have a better sense of who he was today: "I started thinking, all the things I grew up listening to, that made me the artist I am now -- why not try and seek those guys out and see if I can create music with them?" he recalls. "See if it shapes what the next record will be."
As it happened, it did. The more he thought about it, and the more he wrote with songwriters he admired, the more White started thinking of his musical identity in terms of the kind of songs he'd been craving as a fan.
"I'd really been looking for a kind of singing troubadour," he says. "Especially country-leaning, but regardless, a male that just steps forward and sings with the rose in his teeth, and is not afraid to be a little dramatic. There's really nobody out there that does that, not in today's age.
"And I was like, 'Man, if that's what you're looking for, that's what you should create,'" White continues. "So all of those things led to making this record. And I worried. I did. I starting pointing toward that, saying, 'Is this a dead end? Is this really where you want to be?'"
However, the more he continued to play with the idea, the more excited he got about the possibilities.
"I can't wait to write another record. And another record. And another record," White goes on to say. "Because I feel like I'm still figuring it out, in a really good way. It's good, at my age, to still feel like I'm just scratching the surface of what I can do."
50 Country Songs Everyone Must Hear Before They Die