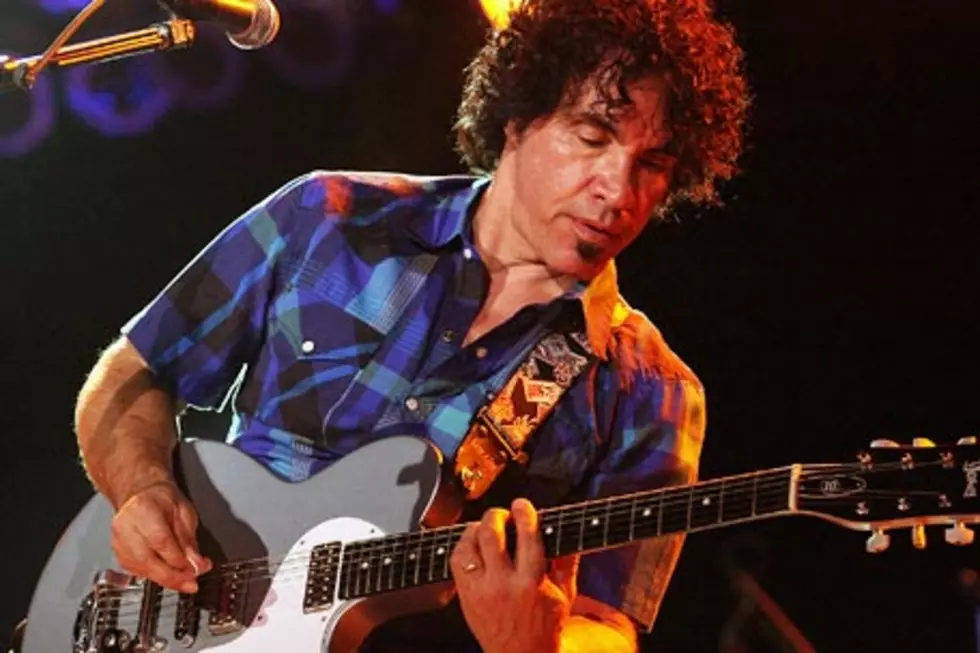 John Oates Finds His Musical Home Along the 'Mississippi Mile'
Jeff Golden, Getty Images
John Oates, best known as half of legendary rock duo Hall & Oates, has been spending a lot of time in Nashville in recent years, making friends and music. His latest endeavor, the soulful 'Mississippi Mile,' is a product of several Music City collaborations, as the legendary singer teamed with some of the town's best studio musicians to take listeners on journey through his life and chart-topping career.
"I didn't think I would be banging out another solo album so quickly, but things just started happening," John tells The Boot of the project, which hits stores today (April 12). "I started playing these old rock 'n roll songs, old blues songs and old folk songs that were so familiar to me, and they were always my favorites over the years. The more I started playing them, the more I thought, 'Wow ... what a cool idea!'"
Some of those tunes John puts his own spin on include Elvis Presley's 'All Shook Up,' Curtis Mayfield's 'It's All Right,' Percy Mayfield's 'Please Send Me Someone to Love' (which was the suggestion of late Hall & Oates bassist, Tom 'T-Bone' Wolk) and Hall & Oates' 'You Make My Dreams.'
"I didn't realize that it was going to become almost a musical history of all my influences and inspirations prior to Hall & Oates," notes John. "It started forming in my mind as we started recording. It quickly turned into the album I've been wanting to make for quite a while."
John also hopes to clear up a few misconceptions with the new album.
"People who don't really know anything about me think I was born with a mustache and came out of the womb singing 'Maneater,' and then I started hanging out with this tall blond guy," he says with a laugh. "They think that's my whole life, but I was playing guitar for 12 years before I met Daryl [Hall]. I was playing and performing and doing this folk-blues-early-R&B-rock thing."
While 'Mississippi Mile' is mostly cover tunes, John did take part in writing five new songs for the album, including the title track, which he feels compliments the collection of classics.
"We started playing a groove, and I had this little idea for a song," recalls the New York City native. "I wanted to summarize the roots of all of this music. If you take Chuck Berry and Curtis Mayfield -- all this music came from this little geographic area -- the Delta. It went up the Mississippi to Chicago and became Motown and Memphis. It seemed like I needed to summarize the album in an original song. Even though I don't come from there and it's not really part of my background, I feel a kinship to it, so I wanted to put myself in that place as if I was walking down a road. I just invented a story, because that's what songwriters do."
Naturally, during his time in Nashville, John's been able to do a lot of songwriting, something he says is very important to him. In recent months, he's had the opportunity to collaborate with the likes of James Otto, Luke Laird, Marcus Hummon and Michael Delaney.
One of John's favorite original tracks on 'Mississippi Mile' is a song titled 'Deep River,' which he penned after the devastating floods that took place in Nashville last May.
"It happened by accident, because I wanted to record 'Deep River Blues' by Doc Watson," he says. "That was always one of my favorite songs. It's a classic, and everyone knows it. We started playing it in the studio, and it felt like a really mediocre version of the song. I figured why bother, and it bummed me out because I wanted to do that song.
"Then, somebody started playing this swampy, New Orleans groove," the singer continues. "We started using the chords of 'Deep River Blues,' but stretching them out to the new groove. As we did that, I started to scat nonsense words with a different melody, but with the same feel. We ended up cutting this track that was real vibey and real cool, but there was no song because I was just singing nonsense words. [My co-producer] Mike Henderson told me I should go write some actual words for the song. This was in May, so the flood was still on people's minds. I just thought 'Deep River Blues' and 'Deep River' and the flood. I went back [home] to Colorado and wrote some lyrics and formulated the melody a little better in my head based on the scats that I was doing. It was all kind of a happy accident."
Over the past year, John and his wife, Aimee, have been splitting their residency between Aspen, Colo. and Nashville. The two have fallen in love with Tennessee, and consider Nashville as much home as Aspen.
'Mississippi Mile' isn't John's first time recording in his new southern home. Two years ago, he cut his second solo album, '1,000 Miles of Life,' independently and started making connections in the Nashville music industry. He had planned to also release this latest album independently until he crossed paths with Warner Music Nashville CEO and President, John Esposito, while in the middle of recording.
"When I met John Esposito, he wanted to know what I was going to do with the record," the singer says. "I told him I didn't know, that I'd probably just put it out the way I put the other ones out ... sell it to the fans and sell it at the gigs. He really liked what I was doing and wanted to help."
Though Warner Music has no immediate plans to release a radio single from 'Mississippi Mile,' John will continue touring as much as possible to promote the album. "If for some reason someone at a radio station gravitates toward one song or another on the album, that would be great," John notes. "I'm sure if it happens naturally, then releasing a single would be fine, but we're approaching this like a project that just is what it is."
John's new pairing with the Warner family is a musical reunion of sorts, as Warner Chappell is where he got his start with a publishing deal many years ago.
"It's a really cool little circle that seems to have come back," he says. "I'm really excited about this album, and I'm excited about having a musical home in Nashville ... Little did I know it would turn into a real home in Nashville! [laughs] That was another bonus. I wanted a musical home where I can write, maybe produce and see whatever else that happens. I just wanted to be here. This is the first step, and really, this album is entry into a new phase for me."