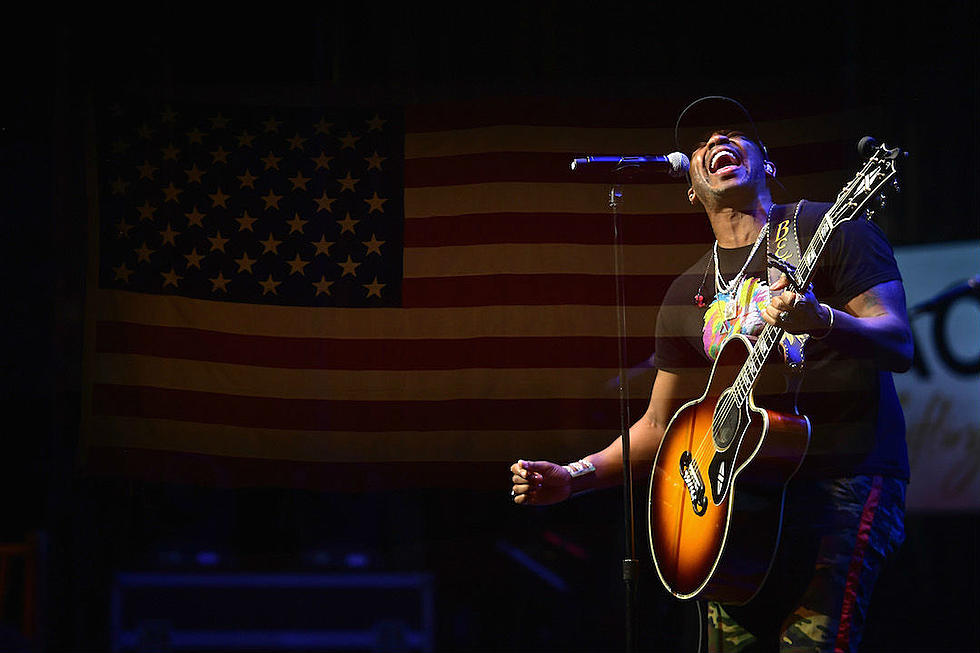 Interview: Jimmie Allen Reflects on Making History as a Black Country Artist, Finding Ways to Be 'Unapologetically' Himself
Matt Winkelmeyer, Getty Images
In February, Allen told the Washington Post that he was both "excited and sad" to be the one to break that barrier "because it sucks that I'm the first."
"I'm glad I did it and got it done," Allen added. "But I want it to be where it's not a thing anymore."
Allen also told the Post that he hopes that, within a few years, it won't be a remarkable thing for a young black artist to break into country radio. Right now, however, it's no secret that a massive majority of the country music industry is white. In a recent interview with The Boot, Allen explained that the country genre has simply always been a natural home for his musical style.
"All my dad listened to was country music, you know?" Allen recalls. "I was just doing what I loved. I figured, if someone wants to do classical music, or blues, or jazz, they move to an area where that's popular, and they chase down blues or jazz connections. For me, it was the same thing. I realized, when I put all my music together, and the different genres that bleed together through my music, the home for it was country."
"That's what life's about, you know? You should find more ways to be *you*, you know? Unapologetically you."
Allen says that he didn't necessarily set out be a pioneer, per se: He was merely following his dreams. However, in order to be successful in a field that has not historically celebrated many artists of color, Allen knew he needed to be willing to stand out, and not worry too much about people's preconceived perceptions.
"You know, there are a bunch of different black country artists, but it does take certain people who are willing to ... just give it a hundred percent," he explains. "And not really get wrapped up in what other people think of you. Or what other people think you should be doing. And be willing to just be true to yourself, and chase whatever dreams you want."
Allen honed those qualities as a young artist who struggled to become successful in country music, a near-impossible task in itself and an even harder one for a black artist in a genre that is overwhelmingly white. Now, he values those same qualities in his collaborators and friends, such as Abby Anderson, with whom he recently teamed up for a cover of Bradley Cooper and Lady Gaga's "Shallow," from A Star Is Born.
Like Allen, Anderson is no stranger to going after what she wants, regardless of what other people may think. As a kid, for example, she was the first girl to ever join her high school's football team.
"Oh yeah, that's Abby," Allen says, cracking up. "That's what life's about, you know? You should find more ways to be you, you know? Unapologetically you. That's what I love about her."
"We all know who we are. I feel like we should dive into *that*, rather than looking for approval."
In fact, he goes on to say, while there may not be enough black acts in the country music spotlight yet, there's nothing countrier than an artist who does things their own way.
"When you look at, like, Shania [Twain], Reba [McEntire], Garth [Brooks], Kenny [Chesney] -- if you look at every artist who has made a living to the level that a lot of people know who they are, it's people who do things the way they wanna do it -- people who know who they are and who are themselves," Allen points out. "I feel like that's what puts you out in front of everyone, is just being yourself. There are so many other artists. You've just gotta be yourself -- that's the only one you can be."
Allen's music often speaks to themes of vulnerability and laying all your cards on the table. Admittedly, being vulnerable hasn't always been his forte -- especially in relationships -- but the singer prides himself on putting out music that helps his fans be unapologetically themselves, whatever that means to them.
"I think it's really important to always throw yourself out there and, again, find ways to be you, in the midst of a world where people are searching for identity," he relates. "We all know who we are. I feel like we should dive into that, rather than looking for approval."
Going forward, Allen says he'll embrace the milestones -- and then, he'll keep going, pursuing other ways to make the tour unique and memorable. While he's proud of its historic significance, he knows that that's just one aspect of the show.
"Kane and I talked about [our tour together making history], and it was super cool," he says. "And that's kind of it. It was like, 'Cool. Now on to the next subject.'"
WATCH: Jimmie Allen's "Make Me Want To" Is Gonna Be Your New Addiction
Who Is Jimmie Allen? 5 Things You Need to Know