Jewel Shares Sweet Love Story and Bittersweet Memories She's a multi-platinum selling recording artist who's conquered the pop, folk and country worlds. And in addition to penning the majority of songs on her eight studio albums, she's also written books of poetry. If there's one thing in which Jewel prides herself, it's being a writer.
The blond beauty, happily married to rodeo star Ty Murray, also prides herself in her relationship with her fans. Jewel has teamed up with The Boot to share personal photos and what could be the most personal pieces in her writing portfolio. The songbird will be blogging every Friday for the next month right here on The Boot, sharing with her fans memories about life on the ranch, life on the road and life lessons.
In today's blog, Jewel tells the sweet story of meeting her future husband. She also shares some painful, yet poignant, memories from her childhood. Read below, in Jewel's own words, the first in her series of exclusive blogs, as she opens up to fans like never before.
I'd like to tell you a love story. I warn you first though, that I do not believe in "love like the story books say." I guess it's the overly simplified romance movie plot lines that fill our heads since birth that could be partly to blame for our unrealistic expectations of what love is actually like - and frankly, for depriving us of a lot of the grit it takes to not only be in love, but stay in love.
Love doesn't mean you are never annoyed, it means being annoyed isn't enough to make you squeamish. I know it doesn't sound romantic, but what cowboys refer to as "intestinal fortitude" has a lot to do with how happy and fulfilled we can be in love. It takes equal measures of determination and romance.

I guess I did not come from what you would call a happy home. My mom left when I was 8, and my dad raised my brothers and me in his hometown of Homer, Alaska on the family ranch. I am grateful my father stood up and raised us. I can't imagine that finding yourself suddenly divorced with 3 kids and living in the saddle barn of your dad's place is what he had in mind when he took his vows. It certainly was stressful for us all.
My dad was a very charismatic man and very popular with the ladies. He was part cowboy, part mountain man and part poet. He would woo ladies with songs he wrote just for them. Much of my childhood was spent living at a succession of girlfriends' houses and bouncing back to Anchorage to visit my mom, who was always house-sitting at random people's places. When I'd return to Homer, I'd find myself at a new girlfriend's house sleeping on a couch or sharing a twin bed with a small daughter of said girlfriend.

Around age 15, I came to a sobering realization: you become what you are around. What led me to this realization is I had been reading a lot, the classics - Plato, Pascal, Dante - and as my mind began to grapple with these grand topics I found in books, it led me to contemplate the grand topics of my own life and heart. I began to write feverishly and try to apply an analytical and objective eye to myself.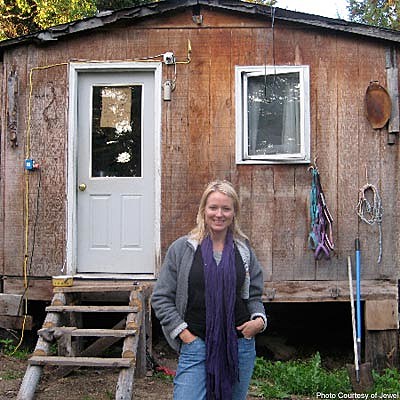 Most children grow up to become their parents, whether they like it or not. No matter how much we want to be different, we learn from our surroundings, and unless we learn new ways of being, we simply repeat, for better or for worse, what we absorbed around us. What that meant for me was not what I wanted for myself. Statistically, I should have ended up with an abusive alcoholic who was controlling as I played the unconfident and scared female lead that was never told she was good enough or "loved enough" as a child. I should have ended up bar singing the rest of my life, or any number of other jobs I had over the years. This is not how things ended up for me though. I did find love. A great love. And I want to tell you how: I learned French.
Ok - not literally. I didn't learn the French language, but this was the code word I used with myself as I undertook my great project - to learn a new emotional language.
The reason I use language as a metaphor is because it helped me understand that emotions are a language we speak to each other in. Emotions are a series of feelings and habits and actions and reactions all rolled into one.
If you were raised speaking Spanish and say you hated the language and swore that when you grew up you'd never speak Spanish, the chances are that no matter what, you would grow up and speak Spanish - unless you learned a new language! It takes dedication and conscious learning to do that. Well, I decided emotional habits were the same. I needed to figure out a new emotional language for myself.
I moved out at 15 and began my "Project French." I wanted to get away from everything that was unstable and random in my life and afford myself some stability and peace. I wrote faithfully, documenting myself with brutal honestly. It wasn't always pretty - I was a mess of mistrust, and overly eager to impress everyone due to a really low self-esteem. But I kept writing and reading, tried to find people I respected, and tried to learn from them a new way of being. Over the years I would take bits and pieces of lots of people I met as I tried to build how I wanted to be. Honest. Loyal. Self-assured. But it was a brutal and painful process, made more painful by the honesty reflected back to myself through my pen.
Fast forward many years. Amazing years. I famously went from homelessness at 18 to worldwide fame by 21. The girl who grew up with an outhouse was on the cover of Time Magazine. Talk about surreal! And the writing I had done for all those years is what suddenly made me famous. My evolution was now on CDs and in books of poetry for the world to see.
I sure had gone a long way - but as far as actual bona fide love goes, I never found it. I had never been held in my entire life and told it was all going to be ok. There was no unconditional love. I never had any one person there who had my back. My life was a feat of sheer will and stubbornness, but not one I could share. And so I wrote love poems, but to no one. I wrote love songs ("Kiss the Flame," "What's Simple Is True"), but for a man I hadn't met yet. I even wrote love poems, as though they were from a man, and they said all the things I wished would be said.
To tell you the truth, my fictional love poems were better than the real thing quite often, and even after laying with a man, I would turn to my pen at night to rewrite the evening, so it could be more magical than the clumsy fumbling of reality. Until one day in Denver, Colorado January 11, 1999.
I had just finished a show in Aspen, celebrating the launch of my second album Spirit, and my hit single "Hands." I had a night off and decided to go to the Denver Rodeo and Stock Show. It was sold out, so I asked my label if they knew anyone at the venue to get me in. As fate would have it, the car service they used sponsored a cowboy, and was able to get me tickets.
After the rodeo I found the cowboy I should thank for the tickets, having no idea this soft spoken man would be my future husband, Ty Murray.
It didn't happen all at once. It wasn't even love at first sight. I had a flight to NYC right after the rodeo, but we exchanged numbers.
I toured Europe and when I got back I left him a message. I toured Australia and Asia, and when I got back he had left me a message. I began a US tour, and we began to talk on the phone frequently until we decided to finally have a first date - about 6 months after we first met.

I know the exact moment I fell in love with him. We were sitting by a river in northern California, and his thick, calloused hands worried a lure while we talked. Small silver fish were strung on a line, their silver bodies glittering like diamonds in the clear mountain water. The ripples shattered the sun's rays into a million particles of white light, dazzling my eyes. It wasn't any one thing he said - it was his whole being. It was his quietness. It was his toughness and strength, but it was the counterpoint of his kindness that set it apart. I knew I would love him. I knew instantly that he would be solid as a rock and someone I could depend on. I felt like I knew everything about him in an instant, and I swear to you, that after 11 years he is everything I thought he was and more.
It wasn't a straight, smooth line from that day to where we are now. It hasn't been all riding off into the sunset, with "The End" popping up in fancy scroll as the music swells over the credits. But it has been the best experience of my life. I am a better person and human for loving and being loved by him. Love has transformed me from a scrappy, mistrustful vagabond, to a healthy, still slightly scrappy, stable human being. (Click here to hear my favorite song I ever wrote for Ty called "Break Me." I wrote it when I was first falling in love and knew I could not resist and had to make myself vulnerable to be in love.)
And none of it would have been possible if I hadn't asked myself to learn "Emotional French." And even once I met Ty, I have had to task myself to let go of fear, let go of doubt, let go of remoteness and emotional detachment. I have done all this because the prize is so worthwhile. I did not want to be a statistic, especially considering my background with the added trap of fame. How many normal couples, much less celebrity couples make it? Celebrity marriages have a short shelf life! I didn't want to become a singer who perpetually chased success at the expense of a stable love life. Even my favorite novelists ended up with great works of art but were often estranged from their own families.
I decided around 2000 to make my love life as important and beautiful as my artistic life. I wanted to make my entire life my greatest work of art. I didn't want just my words to thrive, but my relationship too. This meant making choices. I have let go of acting so I could live in Texas and actually have days off when I'm not touring or making music. I turned work down regularly and took time between albums because my goal wasn't to be richer - it was to be happy!! And building happiness is like building anything - it takes conscious attention.
My love with Ty has been my favorite living song, and it's one I write every day. If I quit creatively participating, it withers, as with anything, and so love and life and writing are my garden and I tend to it daily.
And now I write songs and poems for a real man, and amazingly, my cowboy writes me love letters that are better than anything I had hoped would one day be said to me. In fact, Ty and I exchange love letters on every holiday, including Valentine's Day. I wrote some lyrics for him that are actually in the movie and soundtrack for 'Valentine's Day.' I am including the lyrics here. It's about enjoying the person you're with so much that going anywhere is fun, but staying home can be even better.
LAYIN' HERE DREAMING

STARING AT THE CEILING

WASTING THE DAY AWAY
THE WORLD'S FLYIN' BY

OUR WINDOW OUTSIDE

BUT HEY BABE THAT'S OK
THIS FEELS SO RIGHT

IT CAN'T BE WRONG

SO FAR AS I CAN SEE

WHATCHA WANNA DO

BABY I'LL DO ANYTHING
CHORUS

IF YOU WANNA GO BABY LET'S GO

IF YOU WANNA ROCK I'M READY TO ROLL

IF YOU WANNA SLOW DOWN

WE CAN SLOW DOWN TOGETHER
IF YOU WANNA WALK BABY LET'S WALK

HAVE A LITTLE KISS HAVE A LITTLE TALK

WE DON'T GOTTA LEAVE AT ALL

WE CAN LAY HERE FOREVER

STAY HERE FOREVER
THAT ITALIAN TOWER LEANIN'

BABY WE CAN LEAVE RIGHT NOW
IF THAT'S TOO FAR

WE CAN JUMP IN THE CAR

AND TAKE A LITTLE TRIP AROUND TOWN
THEY SAY THAT CALIFORNIA

IS NICE AND WARM THIS TIME OF YEAR

BABY SAY THE WORD AND WE'LL JUST DISAPPEAR
BRIDGE

IT'S A BIG WORLD FOR A BOY AND A GIRL

LETTING GO OF IT ALL HOLDING ON TO ONE ANOTHER

THERE'S A WHOLE OTHER WORLD TO DISCOVER

UNDER THE COVERS
(Listen to the song, along with the entire 'Valentine's Day' soundtrack, for free here.)
So as this Valentine's Day rolls around, if you don't have someone yet, take the time to learn your own personal "French." Practice every day being the person you want to be, so when you do find someone, you don't sabotage yourself and you're ready to do everything it takes to follow that rabbit down the rabbit hole for the craziest, most hair-pulling, most romantic journey of your life.