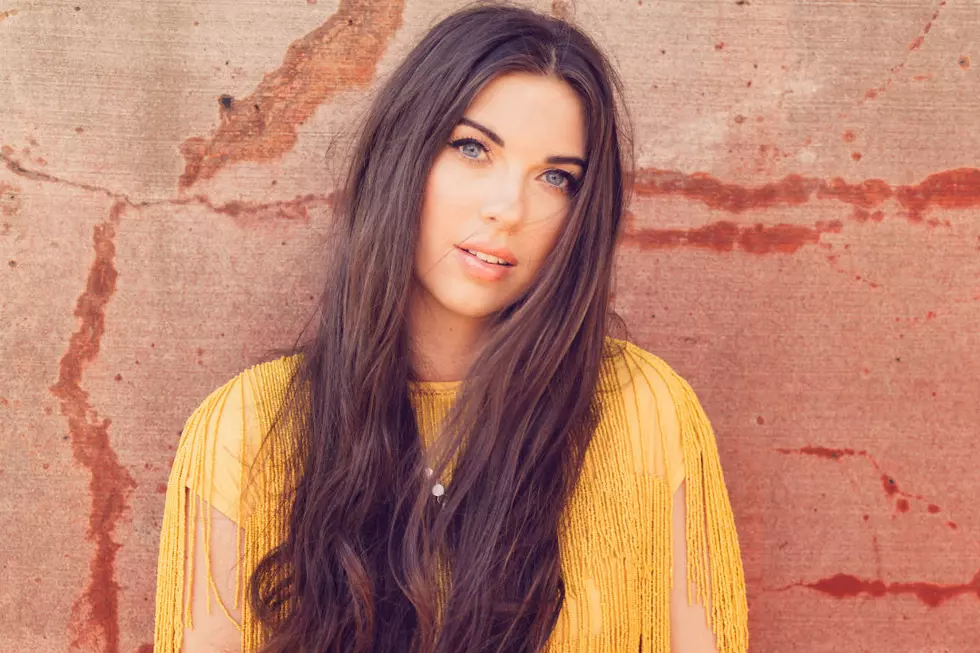 Interview: Jenny Tolman Reclaimed Her Imagination to Make 'There Goes The Neighborhood'
FOCO Creative
As a child, Jenny Tolman had a big imagination, and she wasn't shy about showing it off in front of an audience. "I wrote stories when I was little. I thought maybe I would be a children's author," the singer recalls to The Boot.
"Actually," she adds, "I think in probably fourth through sixth grade, my teachers were so supportive of my writing that, every Friday, they would let me get up in front of the class and read the story that I had written that week."
Grown-up life has a way of snuffing out creativity, but Tolman approached her debut album, There Goes the Neighborhood, with the same exuberance and imagination she brought to those early readings in front of her elementary school classes. In fact, some of the tactics she used when recording the project were directly -- if subconsciously -- lifted from her childhood performances.
"Oh man, and this is so funny -- I haven't told anybody this or put this together, but something you said just triggered something in my head," she exclaims, eyes shining. "I would write commercials to perform in between the chapters [of the stories I read as a kid]. Like, I would perform commercials. And the album actually has commercials on it! We've got a couple commercials throughout. It just hit me, like 'Wait! I used to do that when I was little, too!'"
The commercials interspersed between songs on There Goes the Neighborhood advertise products and services local to Jennyville, the kooky, Wizard of Oz-esque town in which the album's songs take place. Anything can happen in Jennyville, including the marriage of a can-can breakdown and a double-time banjo solo -- and that's just in one song.
If she closes her eyes, Tolman can see a picture of the place. "Pink! Glitter!" she says, but quickly adds that part of the beauty of Jennyville being a fictional, music-centric world is that it can evolve, and even be a different place for every listener who "enters" it through her songs. "I feel like if you put a label on what it's supposed to look like, then it restricts the creativity," she points out.
It may be hard to imagine now, but there was a time in Tolman's life when it seemed as though she'd lost her imagination. During one of her darkest points, as she struggled to extricate herself from an abusive relationship, the singer realized she had drifted so far away from her creative side that she wasn't sure she'd ever be able to make it back. She was a freshman in high school, and had, for the very first time, fallen in what she thought was love.
"Throughout that time period, you get kind of brainwashed. You're like, 'I'm gonna get married. We're gonna have kids. We're gonna live happily ever after.' I wasn't gonna worry about anything else, because I was just gonna be a wife and mom," Tolman recalls. "I'd played piano since I was three, and I didn't play much. I didn't write much ... [Then] I started to realize, like, 'Wait a second, I'm losing who I am in this.'"
"The whole album is centered around being positive, and funny, and sexy, and beautiful -- a powerful woman. Even the songs that are vulnerable have a strength to them ..."
With the help of her parents, Tolman managed to remove herself from the relationship. "Because it was an abusive relationship, and we went to court and all that fun stuff, afterwards I was so angry at everything," she admits. The process hurt, but it also helped bring back the creativity she'd lost.
"I really started to write more after I got out of that, because it was such a crazy experience for me. It inspired a lot more writing," Tolman explains. She became prolific again, beginning with angry songs that reflected her traumatic relationship, but soon delving into different subject matter.
"If you listen to any of my music today, it's the total opposite of any of that," she relates. "The whole album is centered around being positive, and funny, and sexy, and beautiful -- a powerful woman. Even the songs that are vulnerable have a strength to them, and an understanding that there's light at the end of the tunnel."
Tolman doesn't like to focus too much on the relationship she left, simply because it "doesn't deserve the attention." There Goes the Neighborhood isn't about leaving an abusive relationship; however, the album wouldn't exist without the learning process Tolman went through following that experience. Going through trauma taught the singer about human complexity, even in the caricatures that populate Jennyville.
"I try and find ways to approach subjects that could be, like, 'Oh, I hate you, you suck' -- it's so easy to bash people, but it's more of a challenge to make all the characters endearing," she notes, citing "So Pretty" -- a woman-to-woman conversation about romantic jealousy -- as an example.
"I truly believe that there's not a lot of bad people in the world. There's just a lot of people that make poor decisions sometimes, or decisions that we don't understand," Tolman muses. "So I try and find out, 'Okay, what is the thing about this character that saves them?'
"Creating Jennyville and creating this town [shows that] everybody is dysfunctional, and everybody has their issues, but at the end of the day, they're all having fun and learning to be -- enlightened? If that makes any sense," she says, furrowing her brow. "I guess the enlightenment I'm looking for is, like, 'Okay, I've gone through this thing. Am I going to revert back to it, or am I going to learn from it?'"
These days, Tolman is more herself than ever -- even if she did recently get confused for fellow country music dreamer Kacey Musgraves at the 2019 CMT Music Awards while walking her first-ever red carpet and wearing a pastel gown. "I kept calling it strawberry shortcake. It was like one of those strawberry shortcake popsicles, you know what I'm talking about? With the candy ribbon," she says, cracking up. "I get out of the car and people go, 'KACEEYYYY!' I was like, 'That is really nice, but I'm not Kacey!'"
Tolman pulls out her phone with infectious, bubbly excitement, scrolling through pictures of the dress in question and other memories from the event. The singer has been celebrating a number of firsts lately, and she has faced each one with exuberance, curiosity and imagination. The same goes for each of her songs, and each of the characters that inhabit Jennyville, too, even if they don't seem likable at first. As she says, there are very few evil characters -- but a whole lot of complex ones.
"We've all gone through [something]," Tolman adds. "How are we going to move forward?"
Who Is Jenny Tolman? 5 Things You Need to Know