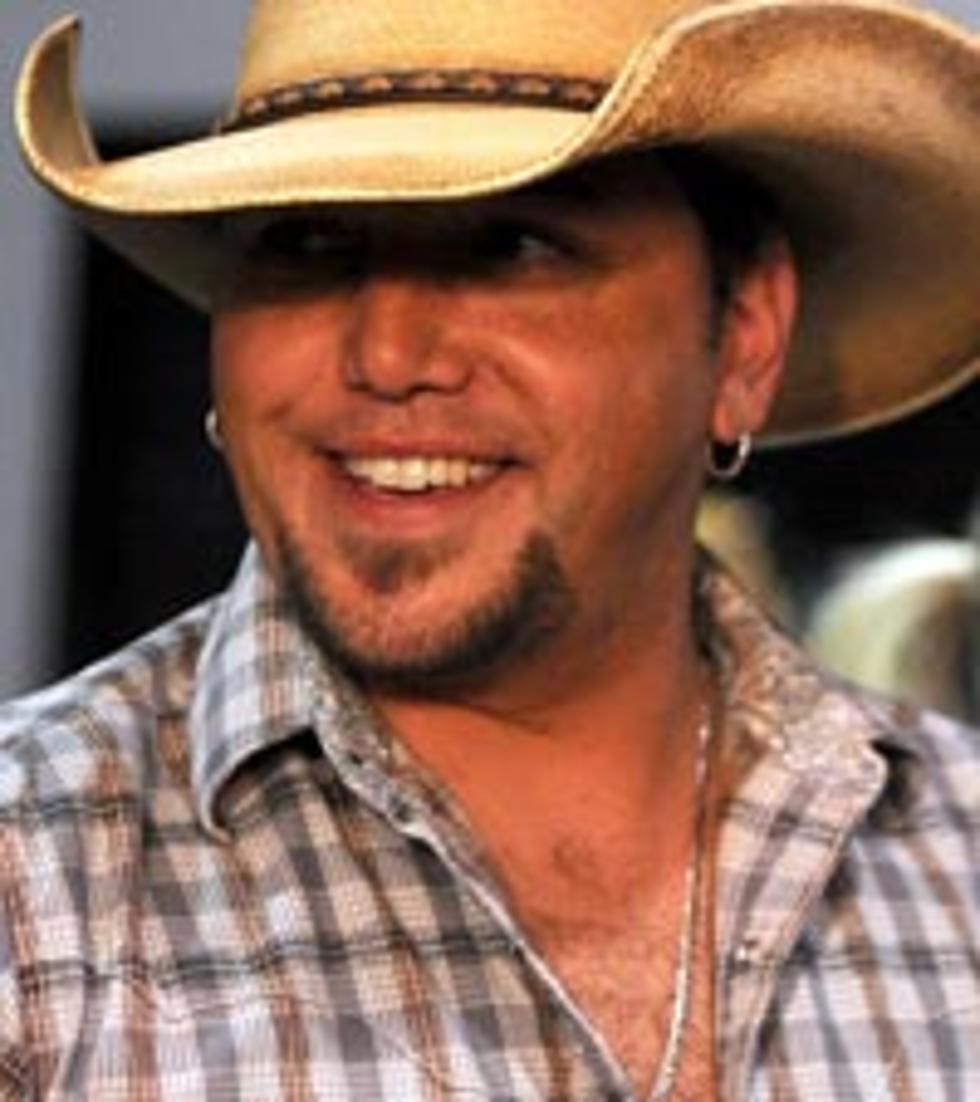 Jason Aldean Talks Music, Moving and Motivation
Frazer Harrison, Getty Images
Jason Aldean took the stage at Billboard's Country Music Summit in Nashville Monday (June 6) afternoon, to share the story of his long road to success. The singer moved to Nashville in '98, but it took him seven years to see the release of his debut single, 'Hicktown.'
"For me, as a teenager I knew this was ultimately where I had to be if I wanted to do what I was trying to accomplish," Jason explains. "I knew it was going to take me moving to this town to make that happen. As far as moving here being what I thought, it was not at all what I thought. I figured I would come to town and be met with open arms, sign a deal, cut a record, go out and start touring, and it was nothing like that. I moved here and I didn't know anybody and my producer, Michael Knox, took me under his wing and showed me around."
In those early years, Jason had a few major-label deals, but nothing panned out. That didn't stop him from getting back on the horse, though, playing more than 40 showcases. "I got so tired of playing showcases," he admits. "We ran the gamut on every venue in Nashville. We tried to change it up. 'Maybe if we have it here, more people will come.' It got to the point where you start getting frustrated. You have record labels who were supposed to come out. [They'd say] 'Yeah, we'll be there' and nobody would show up, and we wasted all this time."
The Georgia native knew he had to keep his mindset in the right place, though. "You try and stay optimistic and hope that every day is going to be the day that something happens," he explains. "You can only be positive for so long until you finally start going, 'Am I just out of my mind trying to chase this thing?' After a while getting door [after] door slammed in your face, it's pretty hard to wake up with a good attitude the next day."
Jason prevailed, however, deciding to do things his own way. "I wanted someone to believe in me and what I was doing and give me an opportunity," he says. "I made a promise to myself that I was going to cut the kind of songs I wanted and not try to become something everyone wanted me to be. It's easy to fall into that trap."
Nearly 15 years later, Jason continues to produce music that is outside of the box. For instance, his recent chart-topping duet 'Don't You Wanna Stay' with Kelly Clarkson stemmed from his desire to do something unexpected. He mentioned Kelly to his producer, who made the phone call and got the ball rolling.
"The next thing I know, she's got the song and she loves it and wants to come and cut it," says the singer. "The first time I ever met her, we were actually in the studio cutting the song."
As for his current single, 'Dirt Road Anthem,' Jason understands the debate over his rap debut. "You're not going to please everybody," he acknowledges. "You're going to have your traditionalists who hear a song like that and think I'm murdering country music. I don't worry about that stuff. My brand of country music is what it is. It's going to be that for the rest of my career."
While he loves recording, the father of two is all about the live show. "There's nothing like walking out onstage and there's 25,000 people out there to see you play; it wasn't that long ago that we'd have 25 people come see us play," he recalls. "It's an adrenaline rush. I'm an adrenaline junkie, so I love that stuff."
Perhaps that's why he isn't feeling any pressure to get back into the studio right away. "My goal has always been to find great songs," he declares. "Then we get into the studio and those songs take their shape. We never go in and plan to cut a rock album or a really traditional country record. We get into the studio and play them and make them sound like us."
As a competitive guy, Jason has used that drive to keep going over the years. "I hate to lose," he states. "I get pissed and a lot of times for me it's unhealthy, but that's what fuels it a little bit. I just get mad. I don't know if that's always the best approach but that's what motivated me."
That's not the only motivating factor, though, he confesses. "That and the fact that I got married and had a new daughter in '03, and I really kicked into high gear after that. When I was living by myself I could live off of Ramen noodles and water, but when she came along, I had to buy stuff like diapers and had to shift it into high gear and get my act together."
The motivation was infectious, causing Jason bucket list to expand. "There are still a ton of things left I'd like to accomplish, and I feel like I barely have enough songs for a greatest hits record so I'd like to be around for a while," he admits. "I have to continue to keep pushing it a little bit and find new ways to keep things fresh for fans buying records and coming to the show and engage them. It helps us get creative and have some fun."
You can have some fun with Jason when he gets back on the road in July. Get his complete tour info here.
if(typeof AOLVP_cfg==='undefined')AOLVP_cfg=[];AOLVP_cfg.push({id:'AOLVP_621130965001','codever':0.1,'autoload':false,'autoplay':false,'displaymnads':true,'playerid':'89761511001','videoid':'621130965001','width':476,'height':357,'playertype':'inline','stillurl':'dynamic','videolink':'#','videotitle':'dynamic','videodesc':''});