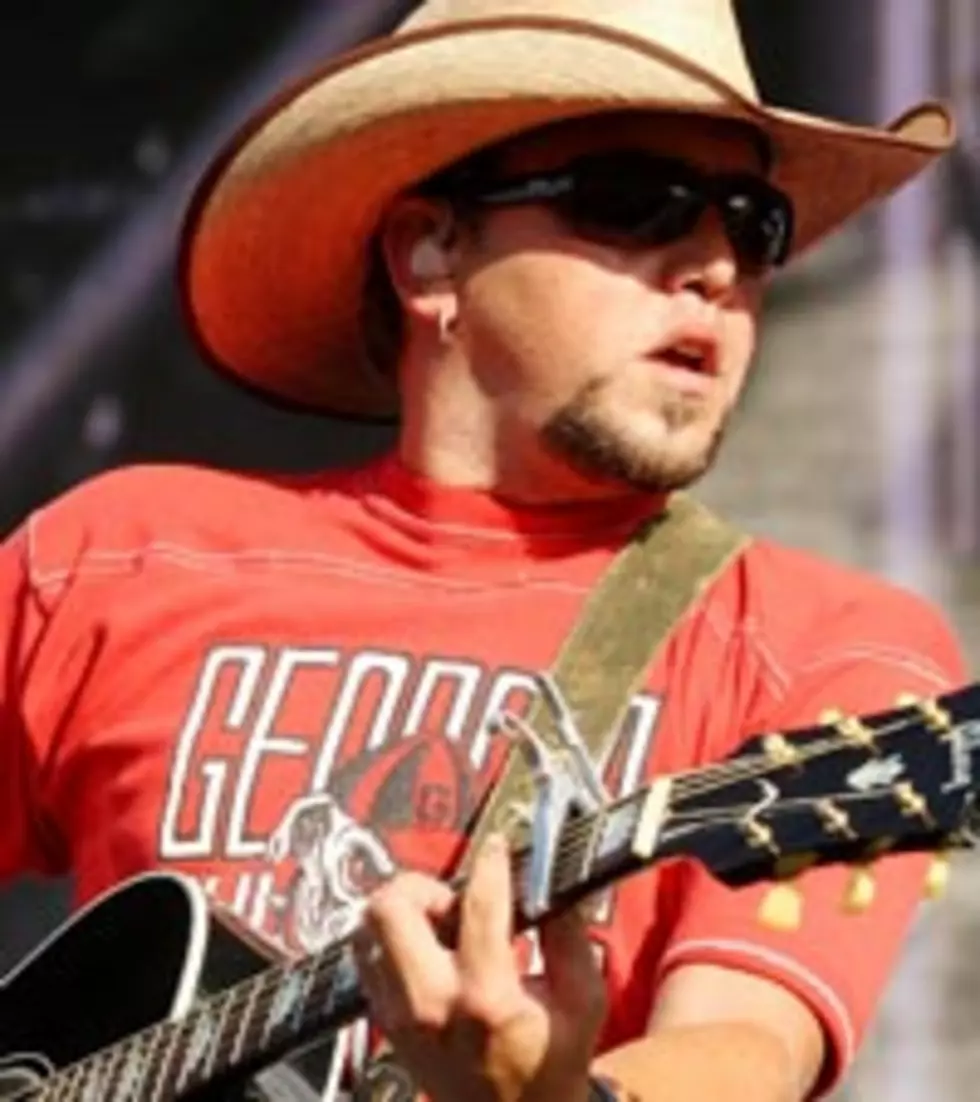 Jason Aldean Rocks Crowd on 'Wide Open' Victory Lap
Douglas Mason, Getty Images
Douglas Mason, Getty Images
Not that the Aldean Army wasn't bubbling with excitement even before opener David Nail stepped onto the Maryland amphitheater stage on Friday, July 30. But it was the hard-charging Jason who electrified the crowd gathered in the warm summer night.
Although Jason's next album won't be released until November, you never would have known that by the screaming, dancing, swirling, twirling crowd that stayed on its feet for most of his approximately 90-minute set.
Right from the moment Jason stepped onto the stage and his band -- with a drummer whose intensity would rival that of any in a metal band -- played the opening notes of 'Crazy Town,' the crowd was sold.
The only tip-off that the songs were old favorites was that the majority of the audience turned the concert into a good-natured singalong as the black-guitar-wielding Jason galloped about the stage and occasionally onto the low riser set behind the drum kit.
"I saw you guys in the parking lot," Jason said as he thanked the crowd for attending, singling out the many veterans in attendance. "I think you guys started drinking beer around noon."
That may well have been true, but the family-oriented crowd with a median age of about 28, didn't miss a beat of the singalong as Jason and his band took them on a musical ride through many of his hits including 'Amarillo Sky,' 'The Truth,' and 'Why.' Although the music's pure country, with what Jason tells The Boot are "aggressive guitars," the crowd vibe was jubilant even during slower tempo songs.
In talking about his music, Jason tells The Boot that he doesn't plan to veer from his signature sound during the next album or beyond. Even though he hints that at times he was prodded to imitate other, more commercially popular artists as he climbed the musical ladder, he says he wasn't tempted.
"I know what works for me and we stick with that. It's ok to go out and experiment here and there but on the other hand you don't want to alienate the fans who like what you do," says Jason. "All of a sudden [the album 'Wide Open'] came out and for whatever reason, it all took off. It's a combination of a lot of things falling into place at the right time."
That clearly has to be thanks in large part to Jason's persona. Although he's often referred to as an outlaw, the happily married father of two projects a sincere nice-guy image.
Consider the night's most somber moment, when Jason told of meeting a fallen veteran's mother at the evening's meet-and-greet. He dedicated that night's rendition of 'Asphalt Cowboy' to the young man.
Although Jason's respect for the young man and other veterans was palpable, he deftly swung the mood around talking about sharing the 'CMT Crossroads' stage with Bryan Adams.
"It just so happens I am a big Bryan Adams' fan," Jason said before swinging into covers of Adams' songs 'Heaven' and 'Cuts Like a Knife.'
To use Jason's wording, it just so happened the audience members were big Jason Aldean fans. Still, an ample and eager crowd greeted David Nail when he began the opening set.
The crowd's volume seemed to reach near sound-barrier-breaking levels when David namechecked Miranda Lambert while talking about his career highlights.
"A lot of cool things have happened to me but the coolest thing was about three years ago when a girl named Miranda Lambert agreed to sing with me on this next song," David said, launching into 'Strangers on a Train,' followed by crowd favorites including 'I'm About to Come Alive,' 'Again,' a cover of Tom Petty's 'You Wreck Me', and David's new song 'Turning Home.'
David -- clad in a black t-shirt, jeans and boots - was the consummate outlaw country singer with the clear, hardy vocals to back up the moniker. The crowd cheered long and loud at the conclusion of his 45-minute set -- with one audience member spotlighted for holding a 'Get Nailed' poster.