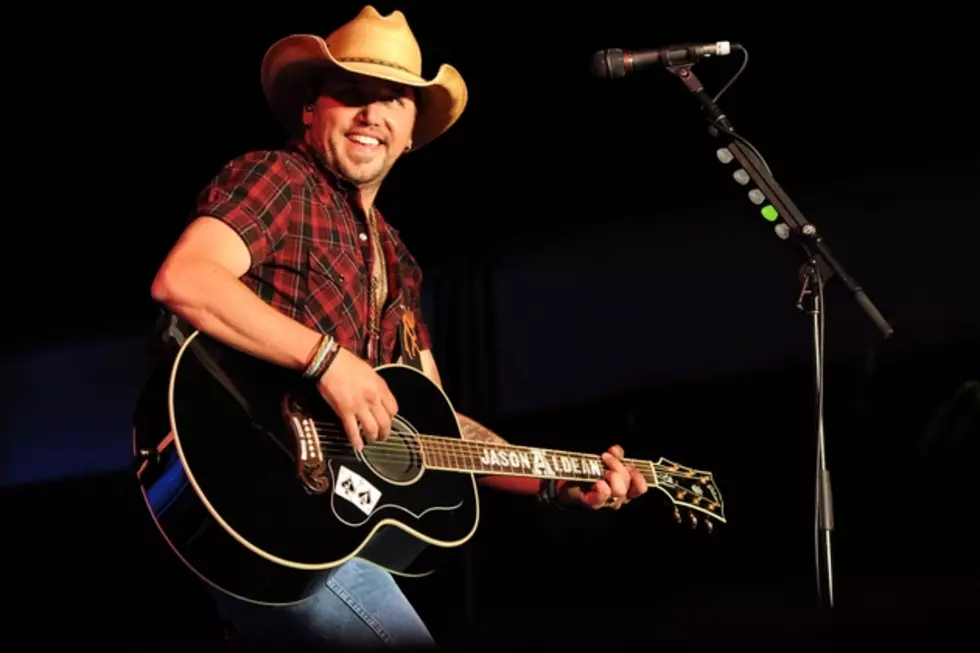 Jason Aldean Announces 2014 Burn It Down Tour
Kevin Winter, Getty Images
The singer broke the news on 'Good Morning America' on Thursday (Jan. 9). His upcoming Burn It Down Tour will feature Florida Georgia Line and Tyler Farr on most of the dates. The tour will stop in nearly 50 cities, and venues will include a number of stadium dates.
Aldean is partnering with Major League Baseball for the 45-date tour. It's a perfect fit for his lifelong fascination with baseball.
"It's no secret that I grew up dreaming of playing baseball stadiums," Aldean says in a press release. "I thought it would be as a first baseman, but playing them as a musician is just as sweet!  We're going to crank this thing up to 11, bring along our buddies Florida Georgia Line and Tyler Farr and put on the biggest and best show we can. My goal is that when the last song is over, and you're walking back to the parking lot, you're already on your phone searching to find the next show."
The cities for the tour are listed below. The specific dates for each concert have yet to be announced. Fans can purchase tickets beginning Jan. 24 for select cities as part of tour promoter Live Nation's Country Megaticket at Megaticket.com, and additional ticketing information will be available in the coming weeks at Aldean's official website.
Jason Aldean 2014 Burn It Down Tour Dates:
Roanoke, Va.
State College, Pa.
Atlantic City, N.J.
Birmingham, Ala.
Atlanta, Ga.
Baton Rouge, La.**
Jacksonville, Fla.**
Darien, N.Y.
Cincinnati, Ohio
Washington, D.C.
Pittsburgh, Pa.
Twin Lakes, Wis.*  **
Philadelphia, Pa.
Hartford, Conn.
Detroit Lakes, Minn. **
Prairie du Chien, Wis.*  **
Chicago, Ill.
St. Louis, Mo.
Toronto, Ont.
Saratoga Springs, N.Y.
Bangor, Maine
Charlotte, N.C.
Raleigh, N.C.
Virginia Beach, Va.
Knoxville, Tenn.
Lexington, Ky.
Denver, Colo.
Albuquerque, N.M.
Phoenix, Ariz.
San Diego, Calif.
Irvine, Calif.
Mountain View, Calif.
Sacramento, Calif.
Winnipeg, MB
Bismarck, N.D.
Sioux Falls, S.D.
Erie, Pa.
Detroit, Mich.
Tampa, Fla.
West Palm Beach, Fla.
San Antonio, Texas
Houston, Texas
Dallas, Texas
* Florida Georgia Line will not appear
** Tyler Farr will not appear