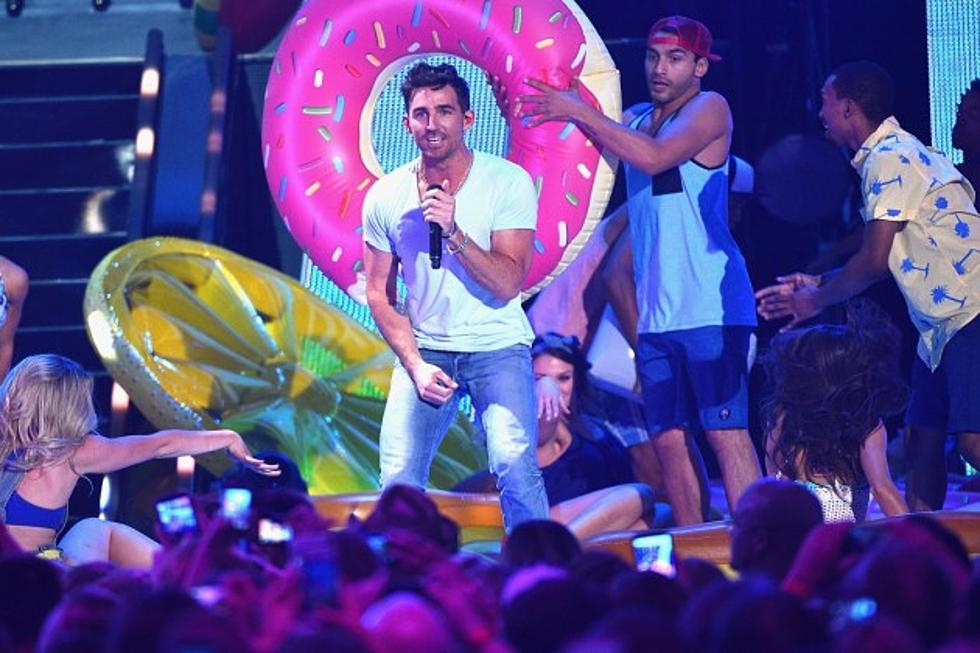 Jake Owen Crowd Surfs His Way Into 'Real Life' Performance at the 2015 CMT Music Awards
Larry Busacca, Getty Images
If we had to vote for the most entertaining performance ... ever, we might have to vote for Jake Owen at the 2015 CMT Music Awards. He literally crowd surfed into his performance of "Real Life" on a gigantic inflatable bed!
And that's not all. On stage with Owen were inflatable donuts, pizza slices and a whole team of dancers -- something you don't often see at country award shows. While the dancers danced their hearts out, Owen added in a few pretty snazzy moves of his own; it's true, the guy can dance!
Owen was dressed casually against the highly entertaining set, looking like a beach-loving guy wearing a white T-shirt and jeans and, dare we say it ... Sperrys? They were definitely boat shoes. With his new sleek haircut, Owen was turning heads every which way during his set.
"Real Life" is Owen's brand-new single, from his upcoming album, and the tune pays homage to his love of '90s alt-rock. With this song, he wanted to change the perception of him as a guy who simply sings fun songs; he wanted to add a little meat to the matter.
"I [told songwriters Ross Copperman and Shane McAnally], 'Everything in my life right now — I'm 33, I'm married, I have a kid, my dad beat cancer,'" Owen says. "I've gone through a lot of real-life situations over the last couple of years. I wanna get back to things that are real to me, and real-life scenarios.
"Next thing I know, a couple of weeks later, the two of them sent me a song that they wrote together, called "Real Life.""
Test Your Jake Owen Knowledge!
2015 CMT Awards Red Carpet Photos