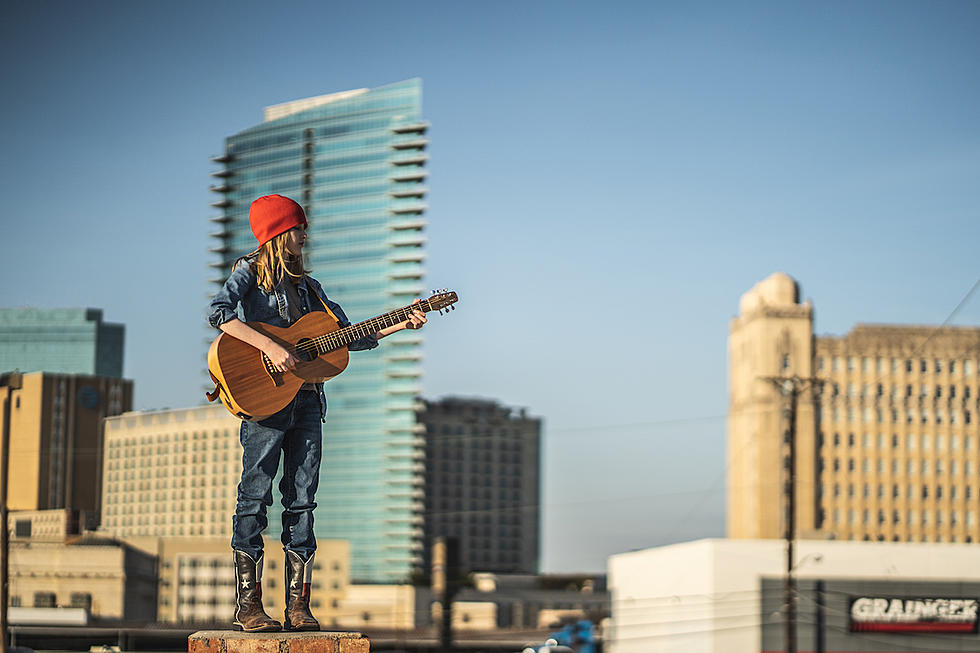 FIRST LISTEN: Hear Jack Barksdale's New Album 'Death of a Hummingbird'
Michael Lewis
Texas native Jack Barksdale has already made waves in the Americana, folk and country scenes with his immense talents as a guitarist and songwriter. Although he may be young, the talented 14 year old has already spent years honing his craft and finding inspiration from greats like John Prine, Townes Van Zandt and Tom Waits.
This Friday, March 4, Barksdale will release his debut full length studio album Death of a Hummingbird. The Boot is excited to exclusively share a first listen of the record, which melds elements of classic folk, jazz, swampy blues and traditional country.
Over the past few years, he's earned a dedicated following, thanks in part to his engaging live performances. Live From Niles City, Barksdale's full live album released in 2019, showcased his inarguable talents as a performer. With Death of a Hummingbird, Barksdale introduces himself as at true songwriter with an old soul, supplying poetic slice-of-life narratives that range from lighthearted and humorous to existential and thought-provoking.
Get an early listen to Jack Barksdale's new album Death of a Hummingbird below, and keep reading for our exclusive Q&A with Jack about the project.
THE BOOT: Your album is really special. Tell us how you came to gather this collection of songs together.
JACK BARKSDALE: I wanted the songs on this album to be a collection of ideas, thoughts, and stories that flow somewhat cohesively and hopefully open people's minds to new perspectives and issues. That's what I was going for, and I hope that's what I've accomplished.
What was the recording process like? Did it go the way you expected? What was your favorite moment in the studio?
The recording process went very smoothly. The producer, Mike Meadows, and the engineer, Dex Green, were just wonderful to work with. They really guided me and helped me get the sound I was looking for. It was a better experience than I ever could have imagined. One of my favorite moments while recording at 3Sirens Studio was just walking in there for the first time and seeing the stunning murals and the multitude of instruments scattered everywhere. That studio just has such a great atmosphere.
You did a lot of remote co-writing for this album. What was that process like?  Got any fun stories from any of your co-writing experiences for this album?
The virtual songwriting process, just like anything else, has its pros and cons. It, of course, makes it easier to write with people who are far away, and it's also very convenient for people with tight schedules. That being said, it's still a little strange, especially when you're writing with someone you've never met before, so I tend to prefer to write in-person. One fun co-writing experience was with my friend, Billy Hartman, while we were writing "Death of a Hummingbird." We didn't quite know how to jumpstart the song, so I went and grabbed my copy of Leonard Cohen's book, "Let Us Compare Mythologies," and we got more inspiration than we knew what to do with. Leonard Cohen's writing is so unusual and unique that it opens your mind up to a whole new world of creativity.
How would you describe the music that you make? 
The genre that I've found myself in is what I like to call Americana/folk. It has the Americana singer-songwriter side of the spectrum, like Townes Van Zandt and Leonard Cohen and John Prine, while still leaving a lot of emphasis on traditional blues, country, and folk/roots music. I think Mike Meadows and Dex Green did a wonderful job helping me get the sound I was looking for.
What's coming up next for you once the album comes out this week?
I'm playing a record release show at the Kessler Theater in Dallas on March 4th with Verlon Thompson, a most impressive musician and storyteller as well as Guy Clark's longtime guitar player and collaborator, and Max Gomez, an awe-inspiring singer-songwriter and musician who never fails to exceed expectations. It's going to be a fantastic show. I can't wait!
You can find more information on Jack Barksdale's music and upcoming tour dates via his official website.
The Best Country Singer From Every State
Some states, like Oklahoma and Texas, are loaded with famous country singers. Others, like Nevada and Maine, are still looking for a real breakthrough artist. See the best and most successful country music artist from all 50 states, starting with
Hank Williams
and Alabama.