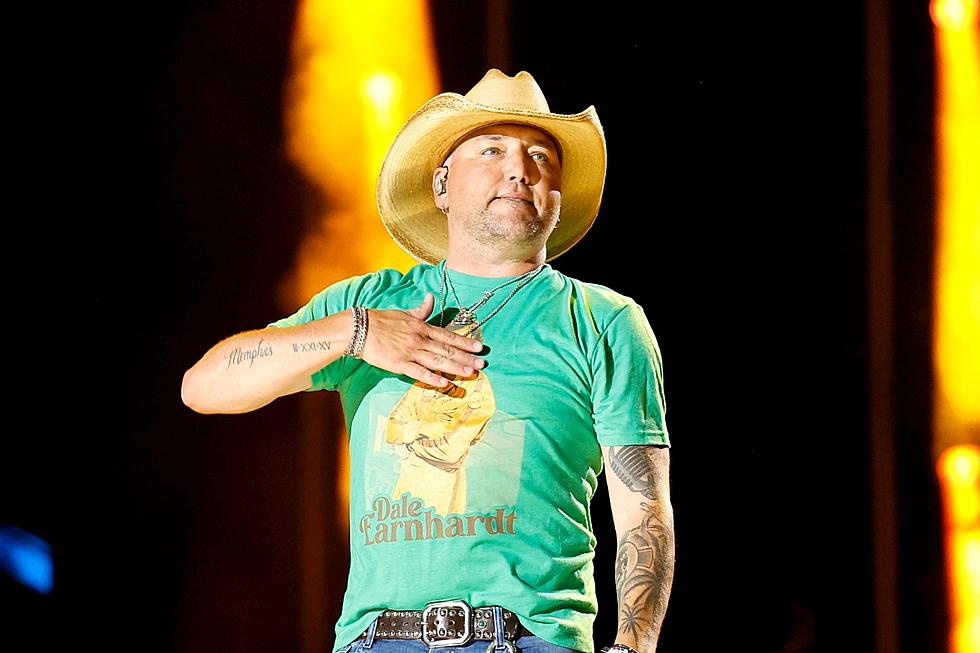 Jason Aldean Announces New Album With 'Let Your Boys Be Country' [Listen]
Jason Kempin, Getty Images
Jason Aldean is set to release his highly anticipated new album, Highway Desperado, on Nov. 3.
The 14-track project will include "Tough Crowd" and Aldean's current single, "Try That in a Small Town." Also arriving with the announcement is an anthemic new track, "Let Your Boys Be Country."
Allison Veltz Cruz, Jaron Boyer and Micah Wilshire penned the song, and the mid-tempo tune finds Aldean encouraging mothers to let their sons proudly embrace the country lifestyle if they want to.
"Let 'em ride rowdy trucks / Making backroad noise / Let 'em hang out on Friday / Getting wild with the boys / Let 'em go to the woods / In the cold painted up camo green / Yeah let 'em chase, let 'em fall / For a small-town girl / Let everything inside these county lines / Be his whole world / You want him to grow up / To be someone he's damn proud to be / Mamas let your boys be country," Aldean shares in the soaring chorus as he urges parents to let boys be boys, especially in the country.
"This song's about letting your boys, letting your kids be kids, especially little boys," Aldean says of his latest song. "Let them go get dirty, play in the mud, go out in the woods, catch some fish, hunt, all those kinds of things."
Aldean's currently on his 41-city Highway Desperado Tour. For a full list of dates and tickets, visit Aldean's website.
Highway Desperado is available to pre-order and pre-save now.
Jason Aldean, Highway Desperado Track List:
1. "Tough Crowd"
2. "Let Your Boys Be Country"
3. "Knew You'd Come Around"
4. "Hungover in a Hotel"
5. "Try That in a Small Town"
6. "Whiskey Drink"
7. "Whose Rearview"
8. "I'm Over You"
9. "Rather Watch You"
10. "Breakup Breakdown"
11. "Get Away From You"
12. "Changing Bars"
13. "From This Beer On"
14. "Highway Desperado"
PICTURES: See Inside Jason Aldean's Stunning $10.2 Million Florida Oceanfront Mansion
Jason Aldean and his wife, Brittany, have purchased a spectacular oceanfront beach mansion in Florida, and pictures show a stunning luxury property.
See Inside Jason Aldean's Spectacular Florida Beach House
Jason Aldean
's beach house in Santa Rosa, Fla., sits right on the Gulf of Mexico.
Aldean paid $4.1 million for the new 5-bedroom, 5-bathroom, 4,452-square-foot beach house. The spectacular property affords the singer and his family the opportunity to walk out their back door and down a bridge to their own private beach, and the exterior of the villa features a courtyard with iron gates that includes gas lanterns, a swimming pool and a fountain.
The home's interior includes a downstairs with an open floorplan and oversized windows, chiseled stone floors, a gourmet kitchen, a bedroom and study and a fireplace, with coffered ceilings throughout. The upstairs of the home includes two separate master bedrooms that both overlook the Gulf, as well as two more bedrooms that each have their own attached bathrooms.
The stunning home is also set for whatever weather might blow in from the Gulf. Built in 2005, the house features all-impact windows and doors, as well as Geo-Thermal heating and cooling, cellulose insulation, foam ceiling and floor insulation and more.
Top 50 Jason Aldean Songs: His Greatest Hits + Best Deep Cuts
The best
Jason Aldean
songs are spread out among his 11 studio albums. Find singles and deep cuts from his self-titled debut album high on this list, right alongside more recent hits and duets from
Macon
and
Georgia
.
Taste of Country asked readers for input and did a deep dive into Aldeans' full catalog of songs to identify those worthy of this top songs list, and those that simply aren't. Spoiler alert: A few radio singles are missing, and several album tracks rank inside the Top 20. Sales and chart success helped us round out the Top 50. Do you agree with No. 1?