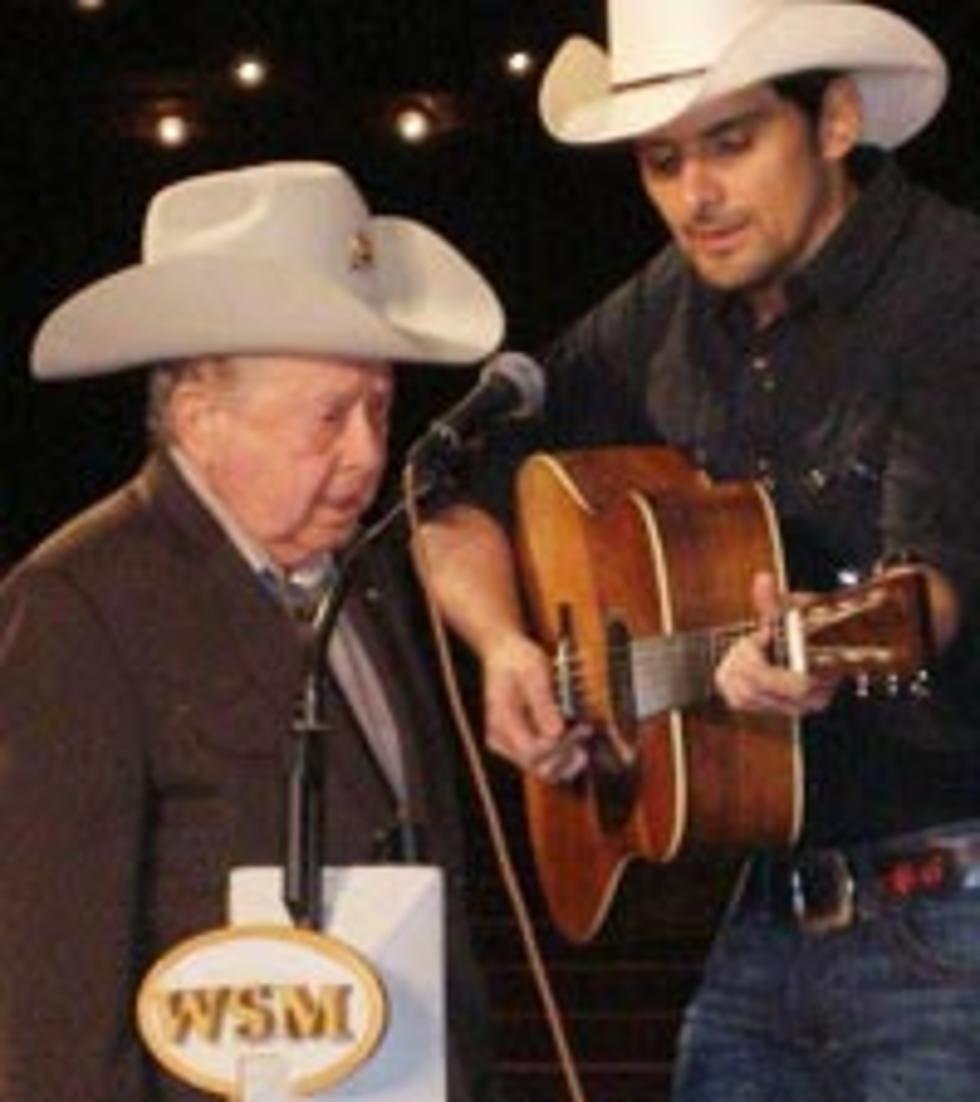 Grand Ole Opry Floor Restored for September 28 Reopening
Vernell Hackett
Plastic still covers the pews and the concrete floors are a reminder that just three months ago the Grand Ole Opry house had water in it deep enough to cover the beautiful historic stage. Wednesday morning, August 25, there was joy at the Opry as the piece of flooring from the Ryman stage was reset in its rightful place. Steve Buchanan, Grand Ole Opry Group president, announced that the Opry performances would return to the venue on September 28.
Brad Paisley and Little Jimmy Dickens joined a distinguished group of guests including Nashville Mayor Karl Dean and Congressman Jim Cooper, to help replace the huge round floor piece that was taken from the Ryman Auditorium stage, home to the Opry before it moved to the current facility in 1974.
Brad and Jimmy helped place the huge oak piece, which Brad estimated to weigh about 200 pounds, into its proper place. "It is hard to tell you how I feel as I stand here on this stage and help put that piece back in place," Jimmy told The Boot. "This place means more to me than anything."
Brad agreed that it was a moving moment for him as well, but he pointed out that Jimmy had seen many performers walk onto that circle, including Hank Williams Sr. the first time he graced the Grand Ole Opry stage on June 11, 1949.
The six-foot circle of oak was cut from the floor of the Ryman Auditorium and placed in the floor of the new Opry house in 1974, when the Opry moved to its present location. The lighter oak really shines amidst the dark teak that has been installed around it.
"I am honored to share this stage with Jimmy today. To be here, when the circle goes back in place, is wonderful," Brad said. "It really was emotional to see that black sheet come off it. I had forgotten what it looks like. I thought it was more like a hardwood floor but looking at it now, it looks like many a pair of cowboy boots has walked across it. I don't think I've ever seen it that close up. With it up in the air, on its side and only inches away, it's really something to see. It looks like it could tell a story of its own."
After the piece was in place, Brad brought out his guitar and he and Jimmy sang a verse and chorus of 'Will The Circle Be Unbroken.' "I thought of that last night, that I should bring a guitar," the singer explained. "I didn't think this piece should sit here silently for the next month, waiting for the Opry to come back here."
Brad said seeing the damage done to the Grand Ole Opry house was the worst thing for him about the flood which devastated Nashville in May. He said when he first went out after the flood waters receded enough to get in, there was mud on the ceiling and a fine brown dust covered the entire auditorium.
"I was born in the '70s, so this was already here," Brad explained. "I don't remember the Opry at the Ryman other than when I play it now. I didn't get to be part of the generations that Jimmy has. I sat in an easy chair with my grandfather and watched the Opry, so watching Bill Anderson host 'Opry Backstage' or seeing Porter Wagoner or Jimmy onstage, on national television, it was in this building.
"So for me there's something special about it. It was also home for the CMA awards for many years. So much has happened in this building for me. My moments and my milestones happened here. When this building was destroyed, of all the places in Nashville, for me that was the most heartbreaking thing about the flood. No personal loss of property to me came anywhere near this."
Jimmy offered his heartfelt thoughts about the Grand Ole Opry. "The happiest hours I spend are right here on this stage on the Grand Ole Opry. When I die I want to die right out there in front of those microphones, with a full house, and me trying to make them laugh.That's about as serious as I can be right now."
The Grand Ole Opry returns to its home on September 28. Little Jimmy Dickens will welcome a number of Opry members to the newly refurbished stage, including Brad, Dierks Bentley, Charlie Daniels, Blake Shelton and more.