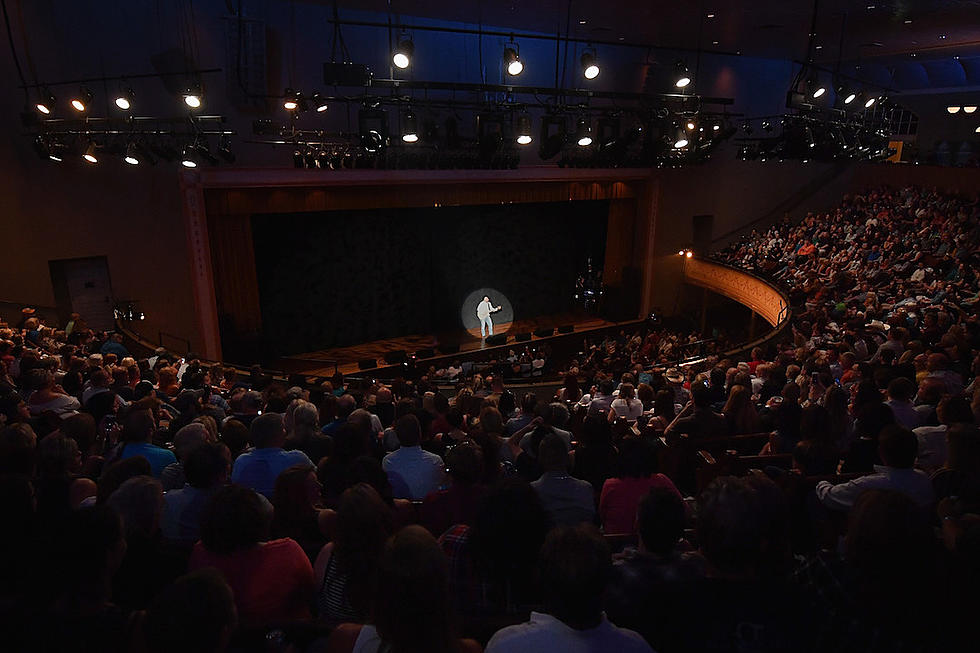 Review: Garth Brooks Tries Not to 'Bawl Like a Baby' at First Ryman Show
Jason Davis, Getty Images
It's a rare thing when an artist feels as honored and humbled to play a show as the people who are watching it do to be there. But on Thursday night (Sept. 8), at Nashville's historic Ryman Auditorium, Garth Brooks may have been the most excited person in the room.
Playing the Ryman for the very first time, to launch his SiriusXM channel, Brooks spent the entire evening in complete awe that he was playing "where all the gods have played." So in awe, in fact, that it wasn't just the first time that Brooks played a show at the Ryman, it was the first time he truly set foot in the venue.
"I hadn't stepped foot in there; I was scared to death!" Brooks said when asked why it's taken him over 30 years to take his show to the Ryman stage. "That's where the legends live, man! It's always killed me. Never the Opry -- been a member of the Opry, thank God for 25 years, and every time they they go to the Ryman, they say, 'Come on, play!' and I say, 'I can't! That's the house, man.'"
But when Brooks finally faced his fears, the results were unforgettable. From start to finish on Thursday night, the people onstage seemed just as thankful to be there as the people in the audience. The band, almost entirely comprised of musicians who have played with Brooks since the beginning (the "rookie" being fiddle player Jimmy Mattingly, who's been with Brooks for just a brief 22 years), grinned like a bunch of kids on Christmas morning. And more than once, Brooks paused between songs, looked up to the ceiling and smiled. Whether he was thanking God or the Mother Church itself, one thing was for sure: Brooks was one grateful guy.
Before the show, at a press conference, Brooks was asked what song he planned to play first. His answer spoke volumes.
"Truthfully, man, I'm trying not to bawl like a baby," Brooks said, in a wavering voice. "People that walk in and play that building without going, 'Oh, s--t!' -- I don't know if they get it!"
Brooks went on to add that part of the reason he'd been struggling with what song to play first was because he wanted to figure out the best way to honor those who came before him.
"There's two opening songs you've gotta think of," he said. "What's the first song you're gonna play when you step into the Ryman, and what's the first Garth Brooks song you're gonna play -- and it ain't gonna be the same thing. Garth Brooks is way down that list."
And as it turns out, "that list" was a long one. When Brooks took the stage -- just him and a guitar -- to play that first tune, it was actually a medley of sorts ... and none of the songs was his own. Bars of Cal Smith's "Country Bumpkin" turned into George Jones' "He Stopped Loving Her Today," which Brooks called the "greatest song by the greatest voice." He went on to sample songs from "the greatest artists that ever lived;" "Amarillo By Morning," "Today I Started Loving You Again" and "Told You So" were all there. Brooks even payed homage to Dolly Parton with a few bars of "I Will Always Love You," before Keith Whitley's "Don't Close Your Eyes" officially started the show. The room went silent to pay tribute to the man who was this icon's icon.
And then ... the curtains flew open, and there they were: the band that Brooks says he is proud of "like my own kids." The first few bars of "Friends in Low Places" started, and the cheers of a grateful crowd thundered through the Ryman.
Before he took the stage, Brooks referred to his first Ryman venture as a "once-in-a-lifetime show," and indeed it was -- but, truthfully, it felt more like an intimate house concert with family. Of course, part of that feeling was because Brooks was in front of just 2,500 of his biggest fans, rather than onstage in an arena, but more than that, it was about the people onstage and their indelible connection to the music, the place and the fans. Every song was a sing-a-long, every fan was out of their seats, and "Callin' Baton Rouge" turned into one big honky-tonk (even the usually stoic, red-coated ushers were singing along and trying to keep from dancing!).
And then there was Trisha Yearwood. The woman whom Brooks unironically calls "The Queen" joined her husband onstage for three duets, and, again, the audience felt like they were sitting in a living room, watching close friends sing about their love. Brooks was unabashedly and irrevocably in awe of his wife, pausing after she sang a particularly powerful note to laugh in disbelief. The pair performed a special tribute to great duets, playing three songs together, including their iconic hit "In Another's Eyes," as well as a new song called "Whiskey to Wine." Brooks said the latter would be on his album, expected this fall.
From "In Lonesome Dove," dedicated to his daughter who "sings it 10 times better than I do," to "Unanswered Prayers" to "The Thunder Rolls," every moment of Brooks' show at the Ryman was unforgettable. The audience gave as much as Brooks, proving to the singer that, even if it took him 25 years to feel like he deserved to be on that stage, they had known it all along.
"On a night where I needed you to be at your best," Brooks said, gesturing to the crowd and with tears in his eyes, "you have been unbelievable."
See Garth Brooks + More Country Stars' Best Selfies
Test Your Garth Brooks Knowledge!