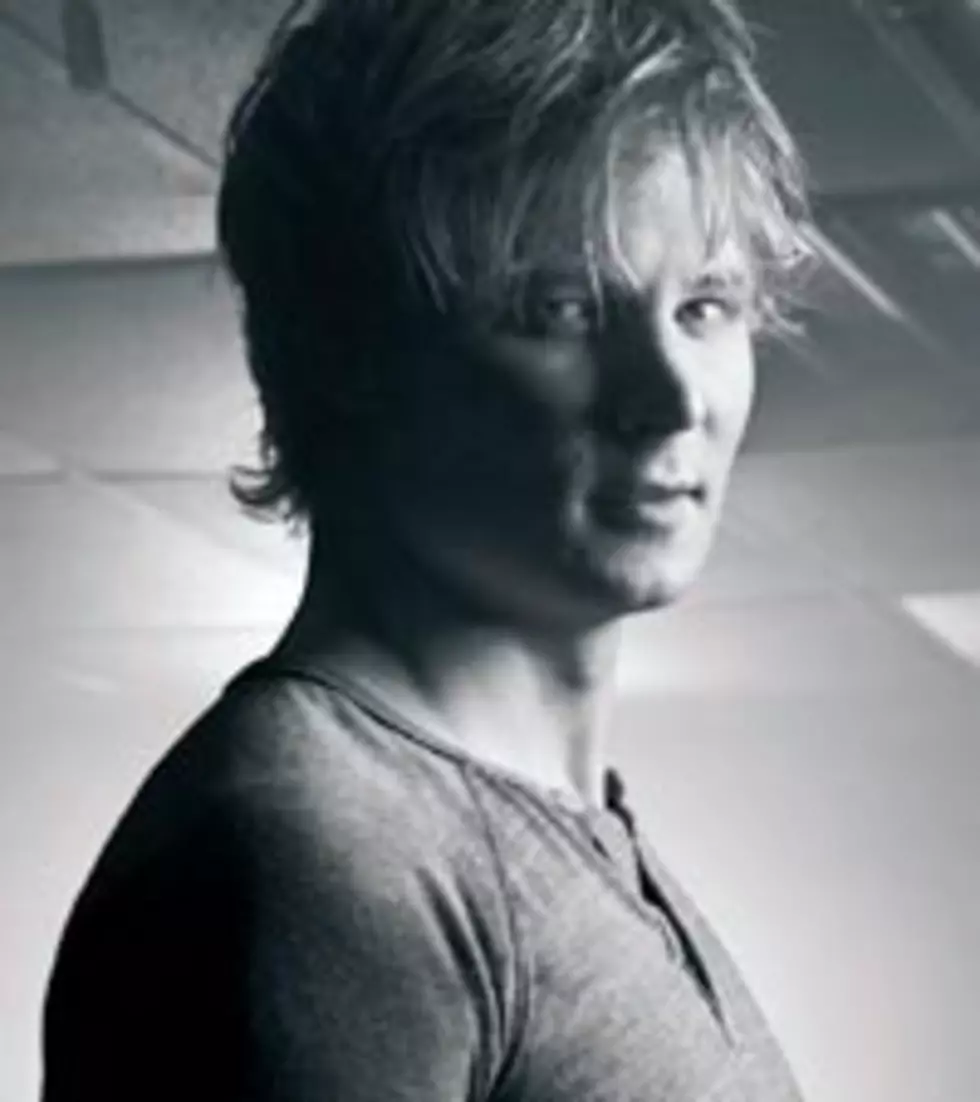 Frankie Ballard Is Ready to Be Nashville's 'Next Big Star'
Warner Music Nashville
Long before Frankie Ballard was burning up the country music scene with his Top 40 hit, 'Tell Me You Get Lonely,' he was steadily becoming a household name in Battle Creek, Mich., where he was born and raised. "I was up there playing like 230 dates a year," Frankie tells The Boot. "Just hammering it out and trying to win fans. I had a little demo CD put together, and I was trying to not have to get a real job so I could play music for a living."
All the hard work and determination paid off for the blond-haired, blue-eyed singer when he entered and won Kenny Chesney's 'Next Big Star' competition in Michigan. After opening an arena show for the superstar, Frankie's drive for being successful at that level was in full force.
"I started realizing that I needed to get down to Nashville and have a presence here in order to really get into the game," says the 28-year-old. "I knew I had to move down to Nashville, which meant giving up all those gigs and coming down here to get a day job and start from scratch. I didn't really like the idea of all that, so I started commuting down on a Monday through Friday once a month, trying to meet as many people as I could, network, write and do whatever I needed to do to get in the scene. Nashville is such a small community. You have to break in."
After a year of commuting, Frankie's group of friends grew, as did the buzz about the music he was making. He eventually was set up to meet with Sony/ATV Music Publishing's CEO, Troy Tomlinson, who gave the singer a publishing deal. Troy took Frankie under his wing and brought him around to all the record labels in town to present this young star on the rise. After two back-to-back showcases, Frankie was offered a deal with Warner Bros. Records -- the home of Blake Shelton, Faith Hill and James Otto, among others.
After signing with Warner Bros., Frankie headed into the studio to begin work on his debut album with producer Michael Knox (Jason Aldean, Josh Thompson). Rather than aiming for a particular theme for his introduction to country music, Frankie chose music that was an honest representation of who he is as an artist. "I wanted to find songs that fit what I do live. I wanted it to have the energy that my live show has as well as really good songs that people can relate to and that I can relate to. We just wanted to make some great music. I'm real excited about it. It's got a lot of guitar playing on it and uptempo, country, rockin' stuff."
Although he is a passionate songwriter at heart, Frankie opted to allow Nashville's finest tunesmiths to fill out the album. "I get one shot to make my first record, and the fans deserve the best songs that I could possibly find," Frankie explains. "The truth of it is, in a town like Nashville, you're not always going to write the best song because the best songwriters in the world live here. The fans deserve the best songs that fit me. I do have some songs on there that I wrote, but the best songs wins. My songs are fighting to get on the record just like all the other songs that I didn't write."
The first single from Frankie's forthcoming album, which is slated for an early spring release, is the gritty 'Tell Me You Get Lonely.' The song was penned by Dallas Davidson and Marty Dodson, and it continues to hold its own on Billboard's country singles chart. The song's video is making some noise of its own, as well.
"I really enjoyed the process of making the video," Frankie notes. "I wanted to do it differently than what other people do with their videos. I didn't think that 'Tell Me You Get Lonely' should be this big production. It needed to fit the song. The song is about being lonely, and it's a little dark. That's what I wanted the video to be like. I'm the only person in the video, and it's not because we couldn't afford to put extras in the video; it's because it's about being lonely and you don't see anybody else in the video. You get it. It feels lonely. I am proud of the video, and I am proud that people are liking it, too."
While fans anxiously await the arrival of Frankie's album to hit stores, they can now log onto his website and order his exclusive 'Tour Six Pak.' In addition to 'Tell Me You Get Lonely,' the EP is rounded out with five other tunes and details on how to download a bonus acoustic track online.
"I'm excited about the 'Tour Six Pak' because I love 'Tell Me You Get Lonely' and I'm proud of it, but I'm such a proponent that with a new artist, people need to hear more music," Frankie says. "The old school typical way of putting a single out is letting it work slowly. I understand why we need to do that to a degree, but people need to get more content. In today's age, people want to get things fast. They don't want to have 30 weeks with just one song. If they like it, give them some more. I'm really excited because now when people see us play, they'll want some music and we've got some."
Frankie will have plenty of opportunities to continue selling the 'Tour Six Pak' well into the new year as he will continue to keep a busy schedule on the road. "I've got a few things that are hopefully coming through for next year tour-wise, but I can promise you this ... we're going to be out on the road playing!"
To order Frankie's 'Tour Six Pak' click here.