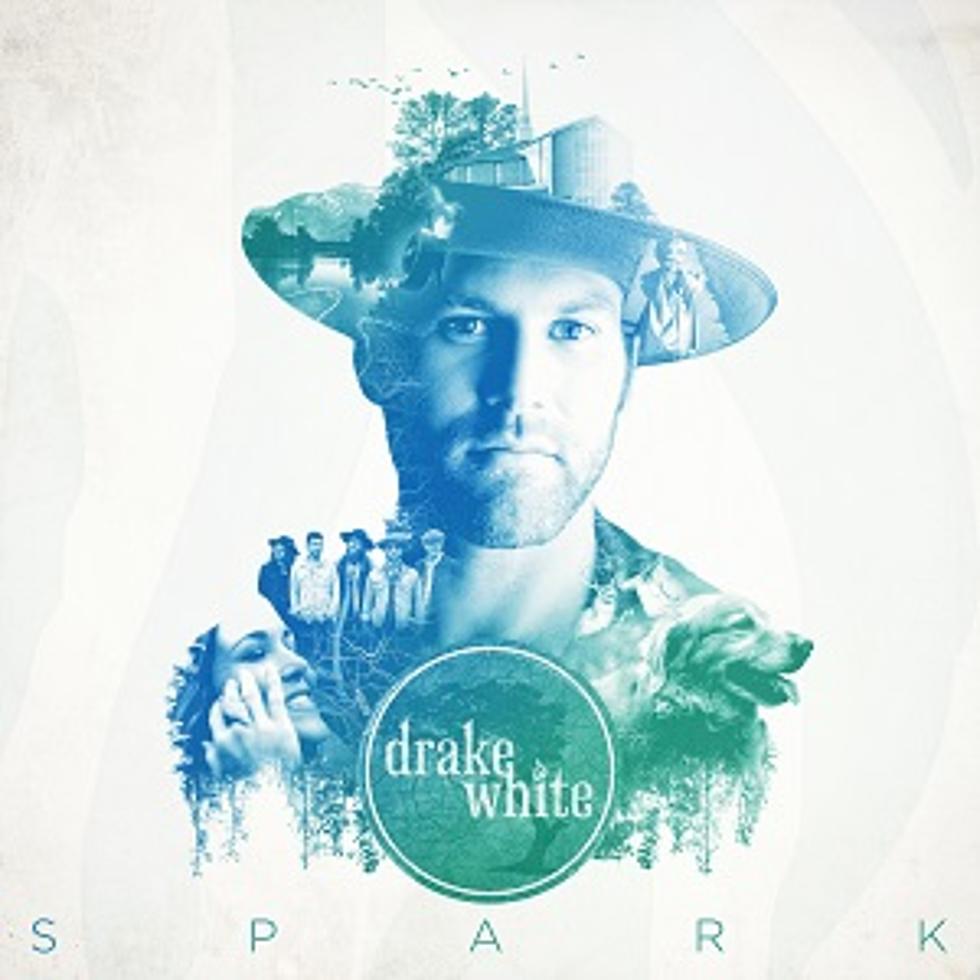 Interview: Drake White Worked a Lifetime on 'Spark'
Dot Records
With just a spark, Drake White is hoping to set country music on fire. On Friday (Aug. 19), the singer-songwriter released his first full-length album, Spark, a 12-track project that's making its debut almost a year after White's It Feels Good EP (released in September of 2015). But it took more than those 11 months for White to finish Spark -- it's taken him his entire life.
"It's the culmination of 32 years. My first 32 years," White tells The Boot of Spark. "There's thoughts and memories that go back to childhood with this thing. There's influences from my dad's record collection all the way to bluegrass festivals, to gospel music, to rock 'n' roll and reggae. There's just so much diversity in it because it's literally the first 32 years in my life."
White co-wrote all but two of the tunes on Spark, working with hit tunesmiths such as Ross Copperman, Shane McAnally and Jon Nite. After devoting much of the last several years to penning songs, the artist describes the process of choosing which ones would make it onto the album as "brutal."
"It was hard to do it, because I've written so many songs with so many great writers that I'm connected to," White shares. "I had a lot to choose from, but just like anything else, the more you do something, the better it gets, the better you get at it and the sharper your sword gets.
White estimates that he wrote somewhere around 200 songs for Spark, then narrowed the field down to 50 ... then 40 ... then 25.
"[Picking] 25 was a pretty tough job, but then from 25 to 15, 18, that was really tough," he admits. "I leaned on my guys, and I leaned on the people I've put around me that I trust musically to kind of do that. But at the end of the day, I knew that as long as we built something that it flowed, that we'd be okay, and I think we did that."
I know what's expected of me, and I know where the bar is at, and I'll be damned if I'm going to go through a career and just try to halfway put it out there.
White has dreamed of being a successful country star for most of his life -- but not necessarily of the fame and fortune that often accompany success. Instead, the Alabama native wanted to enjoy, and even celebrate, a slow rise to the top.
"Don't get me wrong: If I had written a big, smash hit and would have catapulted to the top, I would have had to accept that and go down that route," White says. "[But] my heroes -- Willie [Nelson], Waylon [Jennings], watching Eric [Church] and Zac [Brown] and all these people do it, those guys who have had lasting careers -- it took them a long time to get to where they are. So it's boring to me to not really have a story and get somewhere without riding in a van for 250,000 miles.
"We've got those stories of changing the tire on the side of Interstate 40 and stopping at every truck stop in the United States of America and playing every s--thole bar in Alabama -- we've got all those stories. And they're stories that I'll write in my book, stories that I'll tell my grandkids about," he continues. "I wear them like badges of honor on my sleeve. You can tell it in the music; you can tell it in the simplistic groove and how to lay back in the pocket and all that stuff. You can tell the road miles in that stuff."
White is releasing Spark at a time when artists such as Chris Stapleton and the Brothers Osborne are finding both critical and radio success, which bodes well for his own more traditional, soulful style. The rising star says his timing feels "fortuitous."
"I think timing's everything," White says. "I put a lot of pride in not compromising my integrity. I know what good music is. I know what 1973 stands for in history, in music history. I've seen the Eagles documentaries, and Willie and Waylon. I've opened up for Willie 15 times, 16 times. I've met Emmylou Harris and Bonnie Raitt. I know what's expected of me, and I know where the bar is at, and I'll be damned if I'm going to go through a career and just try to halfway put it out there."
White especially draws inspiration from his summer tour bosses in the Zac Brown Band. He's been crossing the country with the award-winning group on their Black Out the Sun Tour, learning not only performance tips and tricks but also about how to become a successful businessman.
"Watching them play music every night has definitely raised the bar for me and my band to go out and challenge ourselves every day, learn things, be open to your surroundings," White confesses. "Zac's been really good about opening his arms up and teaching me how he did it and what he did and how he went about doing it. We developed a cool relationship, music-wise and personally.
"But, most importantly, I think what he's taught me is, be exact with your vision. Be exact," White continues. "He said this: Be very exact with how you tell people you want things, no matter if it's your guitar player or your caterer. If you have a vision, make sure you don't settle for anything less than that vision, and learn how to communicate respectfully and exactly to your staff. Put people around you that inspire you."
To do things differently and to do things your own way is the hard way, and I'm committed to the hard way, and I'm committed to the right way.
After years of playing in bars and small venues, the chance to ride in a tour bus and perform in front of thousands of fans singing along to his music truly is a dream come true for White. Still, he insists that his newfound success hasn't changed who he is, as a singer, artist, husband or friend -- but it has elevated his drive and work ethic.
"People are noticing who we are and who I am out and about," White notes. "This is 2016. If people are not playing Pokemon, they're off doing God knows what else. To keep people together and to keep a band focused on the same vision is hard, but I have a lot of pride ... The sky's the limit for me and this team. We want to achieve what Zac and what Kenny [Chesney] and what Eric have achieved.
"It is hard. To do things differently and to do things your own way is the hard way," he adds, "and I'm committed to the hard way, and I'm committed to the right way."
10 New Country Artists to Watch in 2016