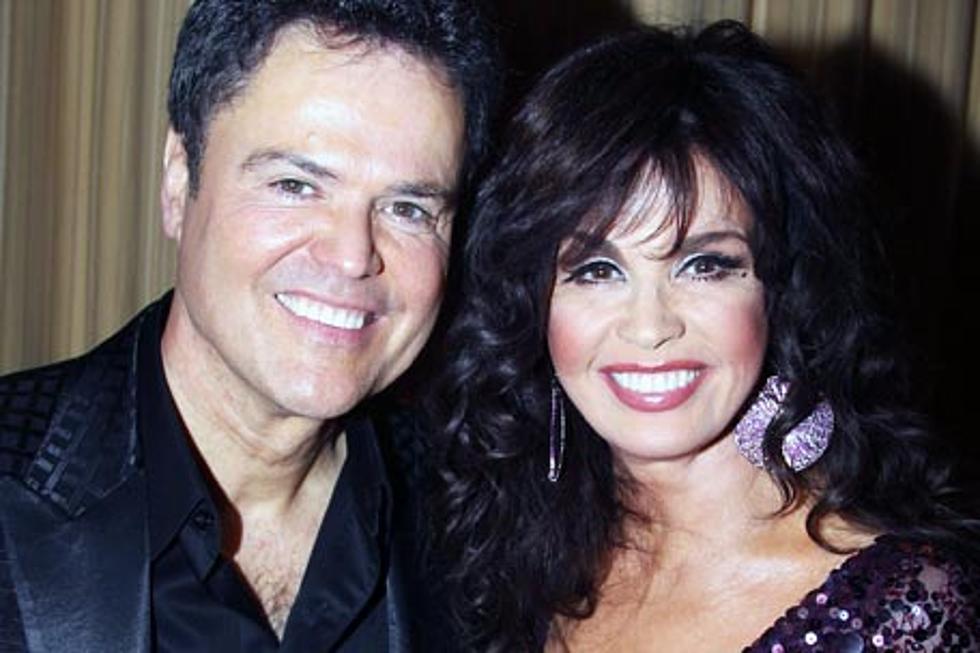 Donny and Marie Osmond Go a Little Bit Country
Bruce Glikas, FilmMagic
After more than four decades in the music industry, Marie Osmond recently led brother Donny Osmond somewhere he'd never been before -- the country charts. 'Donny & Marie,' the first album the famed siblings have recorded together in 30 years, made an impressive debut this week on the charts.
"It's exciting," Donny tells The Boot. "[It's] No. 7 on the country chart, No. 30 on the pop chart, No. 1 on the folk chart. That's the highest ranking for any Donny and Marie album in our entire career."
"I've been working for 48 years. It's amazing since I'm 29," Marie says with a laugh. Truthfully, she doesn't look much past 29 at all and displays the exuberance of a woman who loves what she does. "Every day I get up, I'm grateful to go to work. I feel fantastic as far as vocally and energy-wise and everything else. My life is happy and I'm very grateful everyday, so grateful."
In 2008, Donny and Marie signed on for a six-week stint at Las Vegas' famed Flamingo Hotel & Casino. Three years later, they're still there, drawing a packed house five nights a week. "It's a really personable show. It's in one of the last great rooms in Las Vegas," Marie says of the historic Flamingo. "It's not so huge, that you have to watch it from an enormous screen. You are up close, personal. It's a very fast-paced, energetic kind of show. We both wanted to do it for fun. I think Celine [Dion] and I are the only two that actually live in Vegas. Everybody else commutes to their show, but for mothers it's a really great stay-at-home job."
The response they've been getting from audiences at the Flamingo was a factor in the duo's deciding to record an album together again. In 2010, Marie released an inspirational album titled 'I Can Do This' and Donny is currently working on his 60th album, but the duo had not recorded together in 30 years. When asked what made them decide to record a country project, Donny replies, "Marie twisted my arm," then turning serious he continues, "Buddy Cannon's name was suggested and I started listening to some of his productions with Kenny Chesney and other artists and I thought, 'this is really good!'
"I really like what he does, but can he do rock 'n' roll, because there are two songs that are definitely not in the country vein. So I said, 'Buddy can you produce rock?' and he did. He really got out of his element. There are a lot of people on this album that really stretched their element, including me with country. I love when artists do that, including Buddy Cannon and his production. He worked with [Bon Jovi guitarist] Richie Sambora, Gavin DeGraw and he proved that he's not just a country producer, he's a multi-faceted producer."
"He's just the best," Marie adds. "It was such an honor to work with Buddy. He has the track record and there's just something about somebody who has had a million hits like him. They have great ears. He was so wonderful to work with because we were doing our show, plus I was doing another album, plus this album at the same time. I would go in and start recording at midnight until about seven in the morning and he was just terrific."
John Titta, CEO of MPCA Records, which released 'Donny & Marie,' is a longtime friend of Buddy's and asked the Nashville legend to produce the Osmonds' album. When he began looking for songs for the duo, Nashville writers enthusiastically responded. "Everybody was pitching and everybody wanted to be on the record," Buddy says. "When you are dealing with iconic artists, it's like a trophy for a songwriter or publisher to get a cut on somebody who is such an international star. I just tried to find great songs and was lucky enough to do that."
"Frank and Gary wrote that song out on tour," says Marie. "They used to be my bass and guitar player in my band. That's why 'I Swear' is on the album. They wrote that on tour with me and I was like, 'Well, you didn't give it to me the first time, so I'm going to record it the second'" [laughs].
Since Donny and Marie perform five nights at the Flamingo, Buddy recorded the tracks here in Nashville and laid down the duo's vocals in Vegas. "I told Buddy from the get-go, 'I want no computers playing music. I want this to be a live band,'" Donny recalls, "and he said, 'that's music to my ears!' So we cut all the tracks back in Nashville. We did all the live vocals in my dressing room at the Flamingo. I have a vocal booth. That's where I do my radio show, so it was a perfect set-up. Marie has a set-up at her house and that's the only way we could do it because of the amount of work we do here in Las Vegas. We couldn't go to Nashville. We couldn't go to a regular recording studio. We just didn't have the time."
"I never have made a record like this before," says Buddy, "but it worked fine. We did our homework on the front end. All the keys were correct. It was a little bit different way of doing it, but everything worked out pretty good."
The first single, 'The Good Life,' is current gaining traction at country radio. "It just made sense because Marie and I are definitely now living the good life," says Donny. "Six years is an amazingly long career now days let alone 48 years. We are loving this wave that we're riding. It definitely is the good life, so from that point of view it made a lot of sense, and it's a radio-friendly song. It's a feel good song."
Marie has endured some difficult trials in recent years, including the February 2010 suicide of her son Michael, but says her faith and the support of her family and friends have helped her. "It's only through my belief in God that I will see my son again, and through Jesus Christ those things will happen, so it's the only way you can get through something like that," she says. "I don't know how people get through things if they don't have the love of God. God will see us through if we put our faith in him."
On May 4, Marie remarried her first husband, Stephen Craig, wearing the same wedding dress she wore when they first married in 1982. The couple were married three years and had one son before divorcing. She married Brian Blosil in 1986 and the couple divorced in 2007.
"I never thought I would be married again. I really felt like I was going to get my kids raised and maybe down the road 100 years, I'd fall in love again," the mother of eight says, admitting she was pleasantly surprised when romance blossomed again. "We started dating a couple of years ago and just kept it very, very quiet and didn't want anybody to know because if it didn't work out, the kids wouldn't be hurt, especially our son together. I just fell madly in love. He was my first love and my last."
Donny and his wife Debbie have been married 33 years and have five sons. In addition to spending time with family and working at the Flamingo, Donny and Marie have been busy promoting their new album through numerous TV appearances, including QVC, where they sold 10,000 copies of the the new CD in 30 minutes. They've also been signing autographs at Walmarts across the country. "I'm one of the founders of the Children's Miracle Network and Walmart is our number one contributor to the Children's Miracle Network," says Marie. "You'll notice in the song 'The Good Life' it talks about 'he works at Walmart' and I just thought it was perfect. I loved the lyric. We wanted to do some Walmart signings and to thank them for carrying our single and also for all the work they do for children."
In addition to performing their new single during their Flamingo show, Donny and Marie also serve up their rendition of Alan Jackson's hit 'Remember When,' while photos of the many artists they've worked with over the years fill giant video screens, among them Dean Martin, Frank Sinatra, Milton Berle, Andy Williams and Bob Hope. Donny says 'Remember When' was the perfect song for that nostalgic moment in the show. "I've been to a few of his concerts," says Donny, admitting he's an Alan Jackson fan. "When I heard the song 'Remember When' it was the golden song for that moment."
In coming weeks, country fans may see Donny and Marie at the Grand Ole Opry. "We're trying to find time in our Vegas schedule to come out there and do that," says Donny. "The invitation is there, which is amazing that we got that invitation. I appreciate that more than even Marie does because for me, a person whose really not known for country, to be invited to the Opry is pretty amazing, and I know Marie appreciates it as well. Don't take that wrong, but for me to have that invitation I really appreciate it."
Both Donny and Marie are appreciative of the longtime support their fans have shown and that they're still doing what they love after so many years in the spotlight. "Sometimes people take it for granted that they had success, especially nowadays when you have instant stardom," says Donny. "A lot of people feel entitlement and nobody is entitled to anything. It's hard work and there's a lot of people out there vying for that spot on the chart. There are ups and downs and up is better. We appreciate everything that is going on right now."
Marie agrees. "How blessed are we to be in the music business for five decades still be here and to have a show in Vegas and to have it be sold out? You take a breath and go 'thank you.'"
if(typeof AOLVP_cfg==='undefined')AOLVP_cfg=[];AOLVP_cfg.push({id:'AOLVP_us_714823081001','codever':0.1,'autoload':false,'autoplay':false,'playerid':'61371447001','videoid':'714823081001','publisherid':1612833736,'playertype':'pageload','width':476,'height':357,'videotitle':'Test','bgcolor':''});