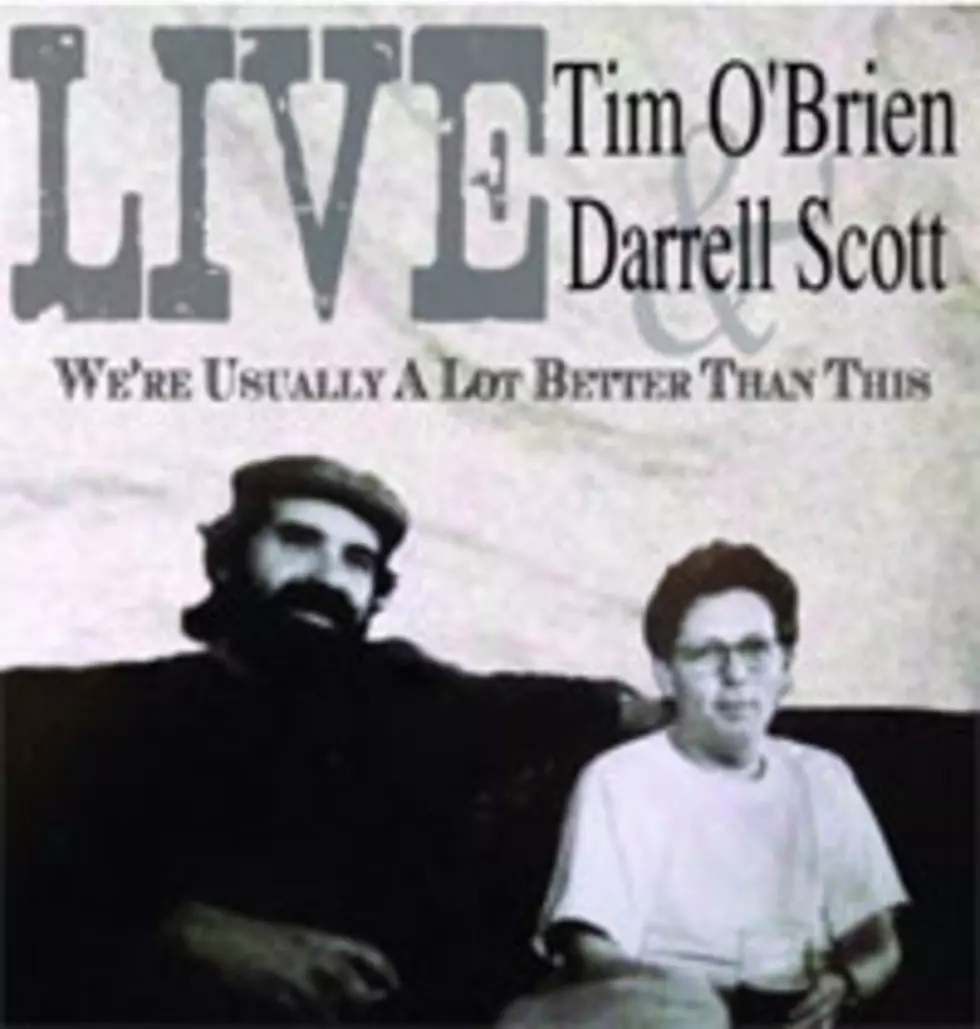 Darrell Scott and Tim O'Brien to Release Live Album
Full Light Records
They've written songs for the Dixie Chicks and Garth Brooks, but Darrell Scott and Tim O'Brien, are also known for their distinctive solo albums As well as for stints in high-profile bands. Now they are combining forces for a live album. We're Usually a Lot Better Than This, is set for release Oct 9, on Full Light Records label through Thirty Tigers. Recorded during two separate concerts at the Grey Eagle in Asheville, N.C. in 2005 and 2006, the is comprised of performances that were benefit shows for the Arthur Morgan School, where both had children attending as students at the time.
"With Tim and me, it's all fair game," says Darrell, who also recorded the Grammy-nominated studio album, Real Time, with Tim in 2000. "We are fearless and we egg each other on toward the edge of crash and burn. Hopefully there's more burn than crash here."
The 13 tracks on the album are a combination of original tunes by both Tim and Darrell and cover versions of songs by Townes Van Zandt ("White Freightliner Blues"), Lefty Frizzell ("Mom and Dad's Waltz"), Hank Williams ("House of Gold"), Gordon Lightfoot ("Early Morning Rain") and Keith Whitley ("You Don't Have to Move That Mountain").
A multi-instrumentalist and accomplished singer-songwriter, Darrell Scott has collaborated with Steve Earle, Sam Bush, Guy Clark and more, and in recent years he has been a member of Robert Plant's Band of Joy. The Kentucky native latest solo album is Long Ride Home, released earlier this year. Country and bluegrass musician Tim O'Brien has more than 13 solo albums to his credit, and scored a 1990 Top 10 country hit as a duet single with Kathy Mattea with "Battle Hymn of Love."
Darrell and Tim first met while in the lobby of a music publishing company in Nashville 15 years ago and began writing songs together. "We came up with a song and it went on Tim's next record. A few months later, we wrote another that went on Garth Brooks' next record. Tim bought a van with his money -- I remodeled the kitchen with mine."
We're Usually a Lot Better Than This will be out Oct. 9 on Full Light Records.