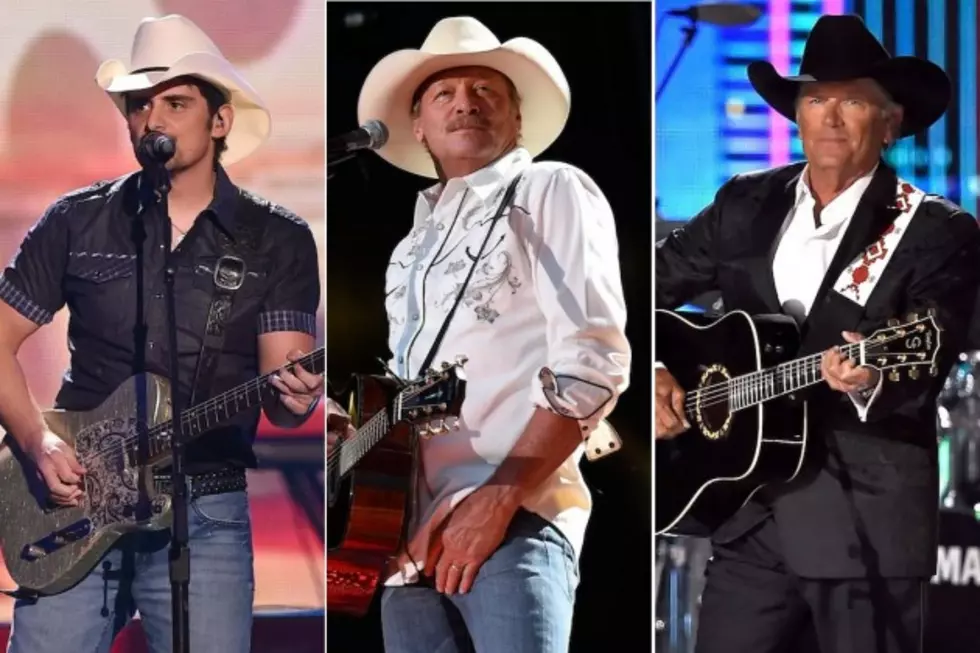 Top 10 Father's Day Country Songs
Kevin Winter / Rick Diamond / Ethan Miller, Getty Images
Dads guide us through life the best way they can, whether that be by sharing memorable moments, teaching us valuable lessons or just giving us butterfly kisses before bed.
With Father's Day upon us, The Boot has compiled this list of tunes -- from both a poppa's perspective and a child's -- that run the gamut of emotions we feel about fatherhood:
10

Best Dad Lyrics: "If you were to ask, my wife would just laugh / She'd say, 'I know all about men / How when tough little boys grow up to be dads / They turn into big babies again.'"

In 2003, Allan showed the country world his paternal side, as "Tough Little Boys," the first single from his platinum-selling See If I Care album, became his second No. 1 hit. This father of three (and stepfather of three) assured fans everywhere that even a tough guy can have his heart melted by fatherhood.

9

Best Dad Lyrics: "Dad, this could be the best day of my life / I've been dreaming day and night about the fun we'll have / Just me and you, doing what I've always wanted to / I'm the luckiest boy alive / This is the best day of my life."

Strait is no stranger to songs about the relationship between a father and his kiddos, but perhaps the most understated of these is "The Best Day," the only single from his 2000 compilation, Latest Greatest Straitest Hits, which gave the icon his 36th No. 1. In the tune, the narrator takes pride in the moments a son describes as the "best" of his life.

8

Best Dad Lyrics: "Well, Pampers melt in a Maytag dryer / Crayons go up one drawer higher / Rewind Barney for the 15th time / Breakfast at six, naps at nine / There's bubblegum in the baby's hair / Sweet potatoes in my lazy chair / Been crazy all day long / And it's only Monday, Mr. Mom."

In 2004, the men of Lonestar appealed to a largely overlooked sector of society: the stay-at-home dads. While the protagonist of this chart-topper is only temporarily filling this position, the song became an anthem for those who spend their days in playrooms rather than boardrooms.

7

Best Dad Lyrics: "Daddy always told me far back as I recall / 'Son, you're part of somethin', you represent us all / So keep it how you got it, as solid as it came / It's my last name.'"

Bentley's second career single may not be entirely about parenthood, but is about the honor of passing something as sacred as a surname on to another person. This tune, which broke the Top 20 in 2003, reminded children and spouses alike of the privilege associated with carrying on the family name.

6

"Butterfly Kisses"

Bob Carlisle

Best Dad Lyrics: "Butterfly kisses after bedtime prayers / Stickin' little white flowers all up in her hair / 'Walk beside the pony, Daddy, it's my first ride / I know the cake looks funny, Daddy, but I sure tried.'"

In 1997, Christian singer Bob Carlisle co-wrote this now-classic father-daughter song with Randy Thomas. The singer's only career No. 1, "Butterfly Kisses" follows the progression of the relationship with Daddy's little girl as she grows, ending with her wedding and his ceremonial "giving her away."

5

Best Dad Lyrics: "He's mine, that one / Got a wild-haired side and then some / It's no surprise what he's done / He's every last bit of my old man's son / And If you knew me then / There'd be no question in your mind / You'd know he's mine."

"Boys will be boys" and "apples don't fall far from the tree" are two idioms that come to life in this Atkins hit. Adding the father-son dynamic to this countdown, the second single from the Tennessee native's Take a Back Road album recognizes the understanding a dad can feel when his son has been less than perfect.

4

Best Dad Lyrics: "The older I get, the more I can see / How much he loved my mother and my brother and me / And he did the best that he could / And I only hope when I have my own family / That every day, I see a little more of my father in me."

Sometimes it's inevitable for someone to "become" his or her parents, and when we're young, this isn't a fate we're thrilled to face. Urban opens this track, which appears on his 2002 multi-platinum-selling Golden Road album, with all the characteristics he's inherited from his father. By the end of the second verse, he's resolved himself to the fact that he has become his dad, and that's a good thing.

3

"Daddy's Hands"

Holly Dunn

Best Dad Lyrics: "Daddy's hands were soft and kind when I was crying / Daddy's hands were hard as steel when I done wrong / Daddy's hands weren't always gentle, but I've come to understand / There was always love in Daddy's hands."

In 1986, then 29-year-old Dunn made her mark on the country scene with this retrospective song about the events of her childhood. The preacher's daughter scored her first Top 10 single and provided an entire generation with the viewpoint that everything their parents did for them was out of love.

2

Best Dad Lyrics: "Then all of a sudden, it seemed so strange to me / How we went from something's missing to a family / Lookin' back, all I can say about all the things he did for me / Is I hope I'm at least half the dad that he didn't have to be."

"Any man can be a father, but it takes someone special to be a dad," the saying goes. Paisley took that idea and applied it to this song from his debut album, Who Needs Pictures, and scored his first No. 1 in 1999. Paisley and songwriter Kelley Lovelace co-wrote the track for Kelley's stepson, and it became an anthem for stepfathers everywhere.

1

Best Dad Lyrics: "A young boy, two hands on the wheel / I can't replace the way it made me feel / And I would turn her sharp / And I would make her whine / He'd say, 'You can't beat the way an old wood boat rides' / Just a little lake across the Alabama line / But I was king of the ocean / When Daddy let me drive."

What's the one activity you always associate with your father? Fishing? Playing catch? Grilling? Well, for Jackson, it was driving. Paying tribute to his dad Eugene, who passed away in January of 2000, Jackson wrote this tune, which topped the charts in 2002 and reminded us to cherish those special times with our pops while we can.