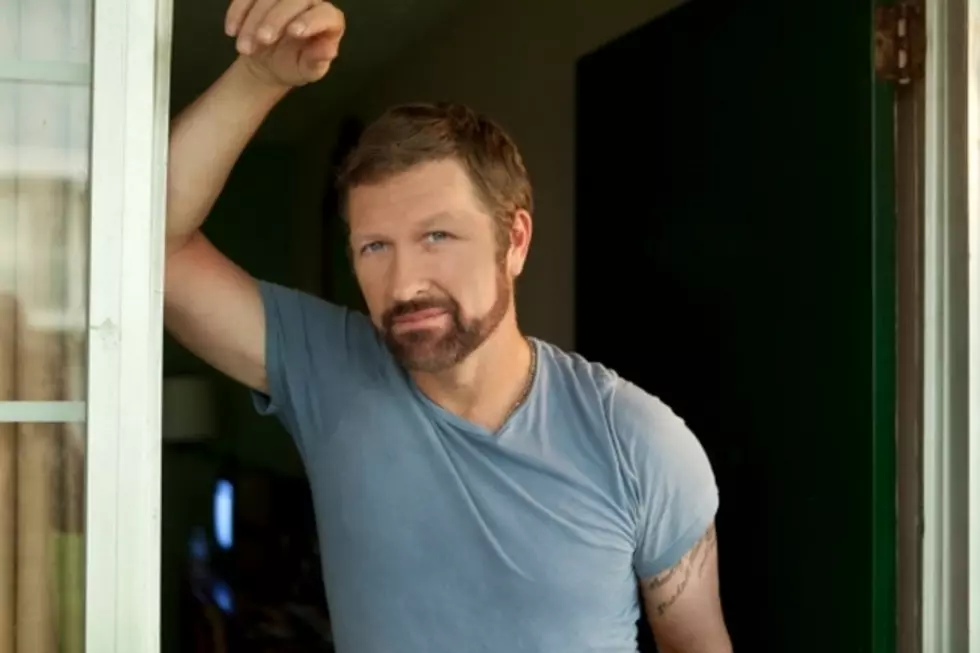 Craig Morgan Interview: Singer Talks New Album, Career Single
Monarch Publicity
Craig Morgan is taking a step forward with his new album. 'The Journey: Livin' Hits' features a number of the singer's hits collected in one place, but Morgan also recorded four new tracks for the project that signal a slightly new direction.
The album's first single, 'Wake Up Lovin' You,' is a searing track that features one of Morgan's best-ever vocal performances, and it's already at radio. The singer is clearly enthusiastic about both the song and the new album, which he feels have re-energized his career.
The Boot caught up with Morgan recently to discuss the new album, his current single, his show on the Outdoor Channel, beards, rapping and more in the following wide-ranging interview.
What's the idea behind a mix of new tracks and classic songs?
I think the title encompasses what it's about better than anything, and I will tell you, this is the first time in my career that I've put so much effort into titling an album. [Laughs.] In the past I've always just waited until we finished an album and then just kinda thought about it, but this cycle was a little different. We started looking at what was going on in my life and my career and my music, and then took the idea of incorporating some of the previous hits -- in particular some that weren't on the greatest hits record. And then add new music, and talk about the journey of my life, and where I'm at musically.
It's basically thinking about the new music; one of the comments that I've made is that it's very difficult to find music that will allow you to grow in your career, while at the same time maintaining some of the similarities that people have become so familiar with when it comes to you and your style. So there was really a lot of effort put into this, and it's really about the journey of my music career, starting with some of the earliest hits that brought me in, through the most recent, and now the music that I think will be some of the biggest songs of my career.
Especially the single that you've got out, 'Wake Up Lovin' You.' I was there at CRS [Country Radio Seminar] when you debuted that, and it just killed those radio people. Those are not the easiest people to impress.
Yeah, and like I said, it feels like it's gonna be one of the biggest hits of my career. And it's hard to do, it's hard to beat the first thing, or your first No. 1. There's always those songs [laughs] -- I can remember at points in my career, everyone saying, "This will be the song of your career." And then a year later I'd have another hit, and they'd go, "Man, that was the song of your career, right there." [Laughs.]
I really believe that this will be the song of my career, because it's a turning point. I think it's very rare that we, as artists, have those songs. A lot of people have long careers, but very few have it where you can look at it and say, that song was a turning point in their career, that's what really elevated their profile to the next level. And I feel like that's what this album will do.
You've got some great songs, and it's a little bit of a re-invention as far as, you might be throwing a little bit of a different pitch than people are expecting to swing at from you.
I think very much so, and like I said earlier, it's difficult to do that. I think vocally, when people hear this they'll know it's a Craig Morgan song. Lyrically and melodically it is a growth, and I'm excited about that.
One of the songs that I thought was a big standout from your last album was 'Love Loves a Long Night,' and it didn't end up being a single. What was the thought process behind that?
It was a song like these new songs. We just didn't get to it. That's the bottom line. That would have been the next single. But the label decided that they wanted a new album, they decided it was time for another album. And there's a lot of things that dictate that; the reality is that we didn't sell as many of that record initially as we wanted to, so it is what it is. They felt like it was better to move on to a new album.
So much of this is dictated by marketplace conditions on any given day.
I will say this, I was talking to some of those radio guys at CRS, and there's big, big respect for you from radio across the board. You should be able to get some traction, because those guys have high regard for you.
Well, I love country radio, and I always have. I love the people that are in that business. A lot of them over the years have become friends. I respect what they do, and I appreciate what they have done for me in my career, and the impact. This is what I know -- and I'm not sure a lot of artists truly grasp it, because we try to be so artistic. They're as big a partner in my career as the record label is -- sometimes even more so.
Like I said, a lot of those guys are my friends, and I'm on a new label. I expect a lot out of the people that I work with, and I expect that from radio, and they know that. They also know that I'm willing to work hard for them. I've changed labels, but I still go back to country radio and visit them and thank them. If I decided to retire tomorrow, I would feel the same way, I have nothing negative to say about anything that's happened in my career when it comes to country radio.
You've done very well at radio; when I sit down and think of how many hits you've really had, it's a bigger list than initially comes to mind. You think, 'Wow, I forgot that one, and I forgot that one, and I forgot that one.'
[Laughs.] I do the same thing! Until I'm on stage at night, and then I go, 'You know, we just did sixty minutes of nothing but hits." [Laughs.] That's pretty cool. It's pretty exciting. I've been really blessed, and I'm thankful for it, and I think that's the biggest thing. I truly do appreciate it. I'm not taking one second of it for granted, and I never will.
Right after you put out 'This Ole Boy,' you mentioned that you had considered maybe retiring prior to that record, and you mentioned how re-invigorating that album was. Are you still in that head space, as far as feeling re-energized?
Even more so with this new project, and I attribute that to the new music. I feel like this music, again, is something that will allow me to grow in my career, and elevate my profile to that next level, but again, not stepping away from who I am or what I represent. And that's hard to do. It's hard to reinvent yourself, while remaining true to who you are, but I feel like we've done it with this project -- and the beard! [Laughs.]
Was the beard actually a deliberate part of re-imaging, or did you just grow a beard and then think, 'Well, let's just go with it.'
I grew the beard because I went on this dog sled expedition up in the arctic. So I grew it for that, and I came back, and it worked. And it was one of those things where you say, "I'm gonna take advantage of a mistake." That's what happened. [Laughs.] You know, it was time for some change in my career, and if the beard is that impacting, then I'll keep it. And my wife liked it, so it's okay. [Laughs.]
I wish I was smart enough to say, "Hey, we're going to re-invent our image, and we're going to use a beard to do it." But I really just took advantage of a mistake. [Laughs.]
You just didn't want your face to be cold. [Laughs.]
Yeah! [Laughing.] That's about right.
Speaking of your sledding expedition, how's your show been going?
It's really exciting. It's been doing really well. We're waiting on our latest ratings, but it looks to be another great big year for us in that world.
Do your wife and family ever worry about some of the more extreme things that you do?
I don't think so. My wife and I both have a lot of faith, and we understand that I could go jumping out of a plane, but I could go just as easily driving into Nashville. [Laughs.] So we allow God to take it where He wants to take it. We just go along for the ride.
I am a safety conscious person, believe it or not. [Laughs.] When jumping out of a plane, I make sure a chute is packed, and when jumping a motorcycle over a 90-foot jump, you take all the safety precautions into consideration. But like I said, if an accident happens -- it could happen driving to work, as well.
Tell me about some of the other tracks on the record. If you were going for a second single, right from the gut, which one would it be?
I'm kind of in a tossup. There's a song called 'We'll Come Back Around,' I think it, too, is just as big a hit as 'Wake Up Lovin' You.' It talks about a relationship, and for me it's very relatable, because it talks about how you argue and fight, but you'll come back around. And it's just a great, great melody, the lyric is really solid.
But there's also a song on there called 'Party Girl' that has a superb groove, and very in line with a lot of the music that's on country radio right now. Just real hip feeling. So I don't know -- either one of those two could be the next single, in my opinion.
How did you find this particular group of new songs? Do you listen to everything that gets thrown at you, or do you have a go-to group of writers?
I listen to most everything. I'll be honest with you, a lot of stuff is pitched to my co-producer, Phil, and he has an idea of what I will or won't do, and same with management and the label. They get pitched a lot -- literally thousands and thousands of songs. I don't have to listen to everything, because they know, for example, if I say, "I'm not gonna cut anything that says things like this," or, "I've already found all of the ballads that I want, so let's listen for up-tempo only," or vice-versa.
So they weed through a lot of it, but I listen to a lot of songs, and I can usually tell within the first four or five lines whether I need to continue or not. There's times when I listen to a verse and a chorus and go, "Nah." And there's other times I listen to the first three lines, and it's not going where I want to go.
What kind of stuff do you just not want to cut?
Well, I'm not a rapper. There's a good chance I'm not gonna rap in my songs. It's not who I am, it's not what I do, and I'm not insulting anybody that does by any means. I like the fact that we've had some of that stuff in our format. It's brought other listeners to our genre. But it's not who I am.
Having said that, it doesn't mean that I won't take a rapper -- like the song 'Party Girl,' if I could get Eminem to come in and do something on that song, I'd probably do it, just because it lends itself to be able to do that. But I would want someone like Eminem; I would want someone with so much talent they can't see. That guy, his melody structures and lyric dynamics are so off the wall, I think I would enjoy working with him. We'd have to tone down the language a little bit! [Laughs.]
That would be interesting just to be a fly on the wall, just to see those two personalities bounce off one another.
Yeah, I definitely think it would be what people would consider a contrast, but it might make for something interesting. I'm not opposed to those things; I'm just not a guy who's gonna rap on my songs. It's not me. And there's guys out there like Blake [Shelton] that probably shouldn't do it, either! [Laughs.] I'm just picking on Blake, man.
Is there anything else you want to say about the record?
Just that I'm super excited about it, and I'm grateful to the fans, because without them, I wouldn't have a gig.