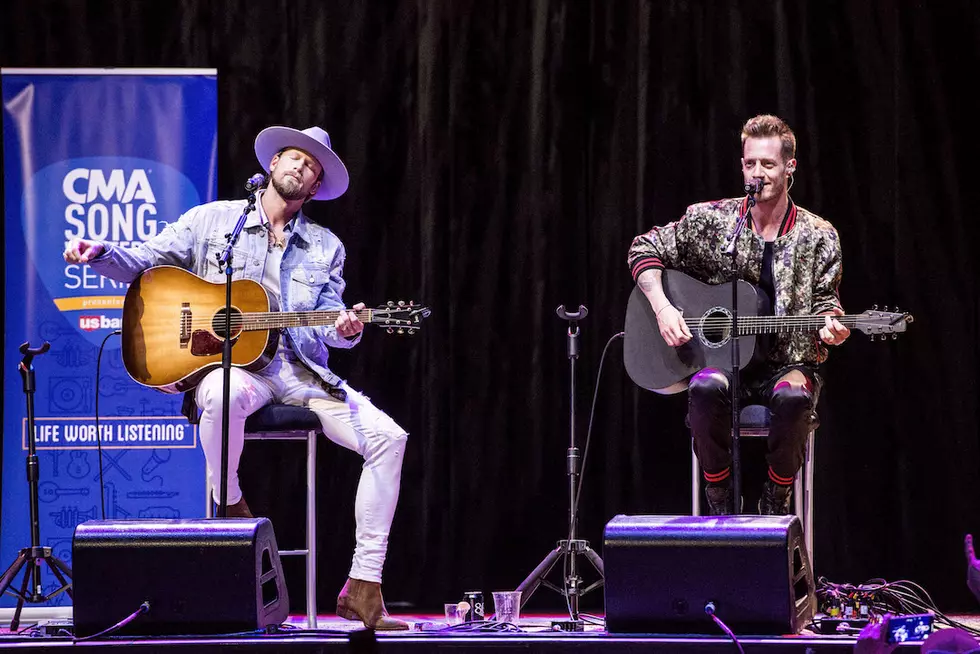 No Joke: Florida Georgia Line's 'Can't Say I Ain't Country' Skits Continue Historic Country Music Trend
Timothy Norris, Getty Images
Florida Georgia Line fans might've felt uneasy seeing the title "Tyler Got Him a Tesla" as the lead-off track on the duo's new album, Can't Say I Ain't Country. That presumed song title, plus a snark-bait album name, could have equaled plenty of social media hate.
However, "Tyler Got Him a Tesla" and a few other tracks on Can't Say I Ain't Country are skits, not songs. It's a move that many know from hip-hop -- De La Soul pioneered skits in that genre three decades ago, while duo Outkast also famously used them -- but they're also in line with country music's 90-year history of silly spoken-word recordings and fake commercials.
Country music's examples of skits are not to be confused with recitation songs, such as Johnny Paycheck's "Colorado Kool-Aid," various truck-driving songs and multiple standards by Johnny Cash and Bill Anderson. Comedy acts such as Jerry Clower and stage banter from live albums also miss the cut. Instead, consider the below examples an incomplete timeline of serious musicians adding a little levity to their studio releases.
FGL's Tyler Hubbard and Brian Kelley bring different experiences and tastes to the table; think of their take on skits as the guy in high school who'd record Tim McGraw and Master P songs onto the same mixtape. Still, you can't say skits ain't country after considering these six historic examples.
"A Corn Licker Still in Georgia"

Be it a nod to the variety of entertainment on their radio shows or an attempt to use up precious studio time, early string bands sometimes wrote and recorded comedy skits. For example, the influential Northwest Georgia act the Skillet Lickers told a hilarious story of authorities trying to shut down late-night picking sessions and moonshine stills across 14 different sketches recorded in the 1920s and '30s.

Johnny Bond's 'Starday' Albums

A former film and television ally of Gene Autry and Tex Ritter, Bond kept elements of his singing cowboy beginnings alive on albums released in the '60s and '70s. Skits such as "Dang Hangover" (1965) allowed him to exercise his on-screen sense of humor without relying on cowboy film tropes.

"The Bathtub of the South Presents John Hartford"

Known primarily as the writer of the Glen Campbell superhit "Gentle on My Mind," Hartford introduced hippies to bluegrass with his influential 1971 album Aereo-Plain. The track list includes this brief, snarky station ID that blasts the commercialization of Nashville.

The Statler Brothers as Lester "Roadhog" Moran and the Cadillac Cowboys

Sentimental quartet the Statler Brothers took their fixation on home, family and faith a step further in 1974, when the group adopted an alias for the album Alive at the Johnny Mack Brown High School. It begins with a common type of country music skit: a pretend station ID.

The Gamble Rogers Multiverse

The film Heartworn Highways (1981) celebrates the creative freedom of Guy Clark, David Allan Coe and other outliers of Texas and Tennessee music. Viewers also meet a handful of lesser-known artists, including Rogers. In modern, nerdy terms, Rogers constructed his own multiverse of quirky characters from Oklawaha County, Fla., for songs and tongue-twisting short stories featured on his albums and in his live sets.

Riders in the Sky's Commercial Appeal

Like Bond and the Statlers before them, Riders in the Sky glamorized classic entertainment for a contemporary audience. The singing cowboy purists often plugged fake commercials and lighthearted skits into their albums. The 1989 album Riders Go Commercial features more skits than songs, driving home the message that this trio certainly grasped the "Tyler Got Him a Tesla" formula.