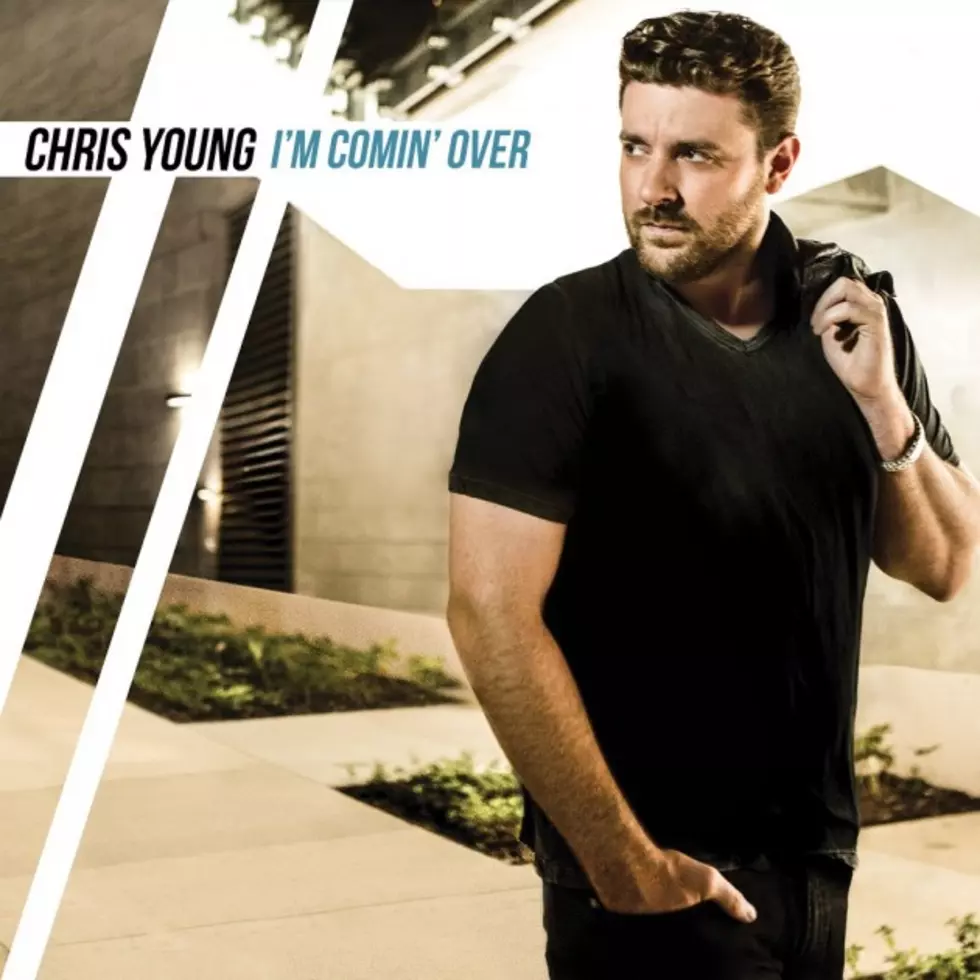 Everything We Know About Chris Young's 'I'm Comin' Over'
RCA Nashville
Chris Young is readying his fifth studio record, and it's clear that he's come a long way since Nashville Star in 2006. The Grammy-nominated singer has grown and stretched himself with each album, and his forthcoming release, I'm Comin' Over, is no exception.
The singer's been open about the new sound of the album.
"… We just tried to do what felt right on this, and I don't think it was doing stuff different just for the sake of being different," Young says. "It's just naturally where this album grew into and where we wanted to go with it."
With that in mind, fans are more than eager to hear Young's soon-to-be-released project. The following is everything that's known so far about Young's brand-new record.
The Title
The album is titled I'm Comin' Over, after the record's debut single. Young's tour to promote the project also takes its name from the tune.
The Release Date
The Record Label
I'm Comin' Over will be released by Young's label, RCA Nashville. He has been with RCA since 2006, and all of his records have been released by the label.
The Album Cover
Young is featured on the cover of I'm Comin' Over. In the photo, he looks into the distance, and he's outfitted in all black. It's simple, but it's really all that an album chock full of interesting songs needs.
The Single
Young dropped the first single from I'm Comin' Over, the disc's title track, in May. It was an instant hit with fans, becoming his fastest-climbing single to date.
"I'm really proud of that song and sound," he tells EW. I think it's a great bridge from where I've been over the past few albums and where I'm going — that's why I wanted to name the whole project after it."
Young's mid-tempo tune is about the feeling when you can't get someone off of your mind -- and you have to be with them no matter what. He penned it with Corey Crowder and Josh Hoge. "I'm Comin' Over" is Young's first new music in three years.
"… Not only did I just really, really love ["I'm Comin' Over"] when I wrote it, but also, because of the way we cut stuff on this record, it seemed like the perfect way to kind of bridge the gap between what I'd done sonically on prior records and what we've done on this," Young tells The Boot.
The Songs
There's lots of anticipation surrounding the collection of songs on this album, particularly because it features Vince Gill and Cassadee Pope.
"There's a male/female duet on here, which is something I've never done before, with Cassadee Pope, that I think everybody is gonna be really excited about," Young shares. "There's a song that Vince Gill came in and guested on."
The two songs are something Young personally is very excited about because he's been a big Gill fan for a long time.
"... That was the first concert I ever went to — and when I asked him if he would want to sing or play on it, he asked if I wanted to come over and do it in his studio, and I was like, 'Yes, I do!' [Laughs]."
Things went even better than Young expected.
"So we get over there, and after he sang a bunch of harmonies, he asked if I wanted him to play guitar — he thought maybe our styles didn't match up, and I just remember turning to the right and seeing his wall of Grammys and going, 'Yes, I want you to play.' And he killed it."
Young is also is clear about his respect for 26-year-old Pope, calling her a "phenomenal singer." Young was looking for a female to add to his record, and when he went to one of Pope's shows, where he was blown away.
"I'd heard she was a great singer, and I was like, 'Good lord!' And then she said yes, which was awesome. She came in the studio, she sang it three times and could have stopped with two. She's that good," he raves to EW. "She made me step up my game."
As for what fans can expect out of Young's sonic change, the singer tells The Boot, "It's tough to describe without people hearing it but I think you hear a little bit more of the R&B stuff I used to listen to. And then there's some changes in the production stuff and a little stylistic stuff."
Chris Young, I'm Comin' Over Track Listing:
1. "Heartbeat" (Chris Young, Corey Crowder, Josh Hoge)
2. "I'm Comin' Over" (Chris Young, Corey Crowder, Josh Hoge)
3. "Think of You" (duet with Cassadee Pope) (Chris Young, Corey Crowder, Josh Hoge)
4. "You Do the Talkin'" (Cary Barlowe, Corey Crowder, Liz Rose)
5. "I Know a Guy" (Benjy Davis, Brett Tyler)
6. "Alone Tonight" (Chris Young, Corey Crowder, Josh Hoge)
7. "Sunshine Overtime" (Chris Young, Corey Crowder, Jeremy Stover)
8. "Sober Saturday Night" (feat. Vince Gill) (Chris Young, Brad Warren, Brett Warren)
9. "Underdogs" (Chris Young, Corey Crowder, Josh Hoge)
10. "Callin' My Name" (Chris Young, Corey Crowder, Jonathan Singleton)
11. "What If I Stay" (Chris Young, Johnny Bulford, Josh Hoge)
The Producers
Young is co-producing this album. He hasn't revealed who the other producer (or producers) is, but Corey Crowder produced the single alongside Young. It's the first time that the singer's worn the production pants on one of his records, and he is pretty pumped about it.
"I think it's been one of my favorite things about making this record, is just being so hands-on and being there for every single thing that went down, from the very start of it all the way down to making mix notes," he says.
The Tour
Young kicked off his 2015 I'm Comin' Over World Tour on Sept. 30 at Nashville's new Ascend Ampitheater. The trek includes 14 dates in cities such as Erie, Pa.; Kalamazoo, Mich., and Broomfield, Colo. It is scheduled to run through the first week of December, with Eric Paslay and Clare Dunn serving as the opening acts.
"I get people needing to take breaks to make more music but hearing people sing your songs — that'll never get old," Young tells EW. "I love being on the road. I like soundcheck and meeting fans — all of it."
See Pictures From Chris Young's Ascend Amphitheater Concert
How Well Do You REALLY Know Chris Young?