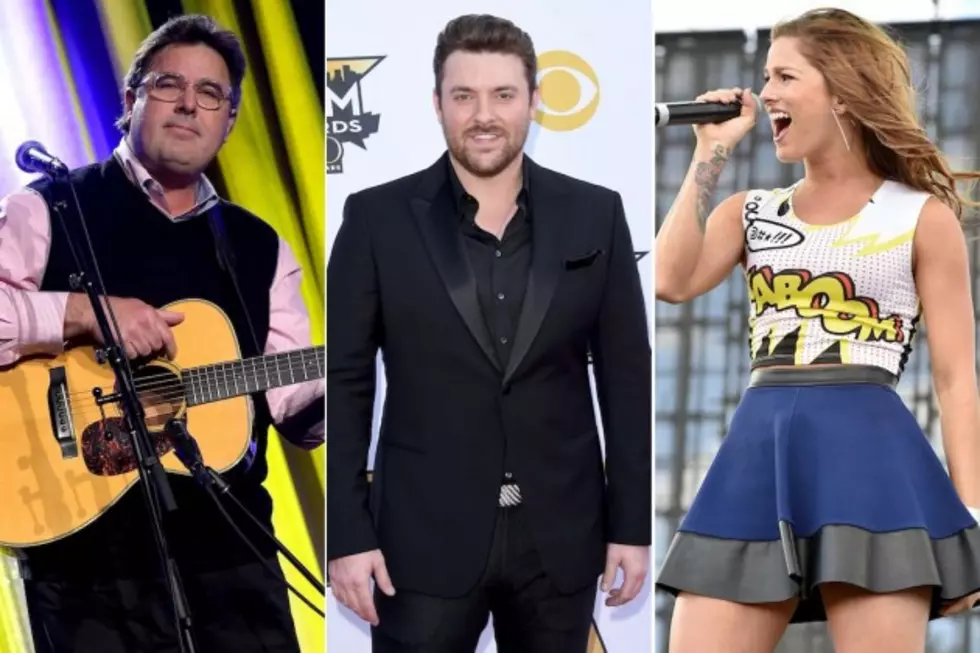 Chris Young Opens Up About Collaborations With Cassadee Pope, Vince Gill
Rick Diamond / Jason Merritt / Kevin Winter, Getty Images
Chris Young's forthcoming album will feature among its new music two collaborations, one with Cassadee Pope and the other with Vince Gill, and Young says that he's very excited about both having recorded with his fellow country artists and getting to share the results with his fans.
"You know, we just had the right songs," he says simply of why he chose to include the collaborations on this project.
Young had just written the duet on which Pope sings when he played a radio show with the 2012 The Voice winner, and he knew that he wanted to ask her to sing with him.
"I was just like, 'I've got to ask her,' because I love her voice, and she's a phenomenal singer," Young tells The Boot. "And I asked her, and she was like, 'Absolutely, I'd love to.' So we got her in the studio and did that."
Country icon Gill is involved in a different song on the album -- and Young says that it's one of his favorites.
"I was like, 'Man, I love this song,'" he says, "and it's this really, really cool ballad."
Young is also a big fan of Gill's ... so what does an artist do when he loves a song and has a musical hero? Of course, Young found a way to ask Gill to play on the tune.
"We have some of the same management team, and so they asked him if he'd do it," Young explains, "and he was like, 'Absolutely.'
"Crazy how things come together," the "I'm Comin' Over" singer concludes, "and it was just the right timing."
How Well Do You REALLY Know Chris Young?
Do You See the Resemblance Between Chris Young + His Mom?