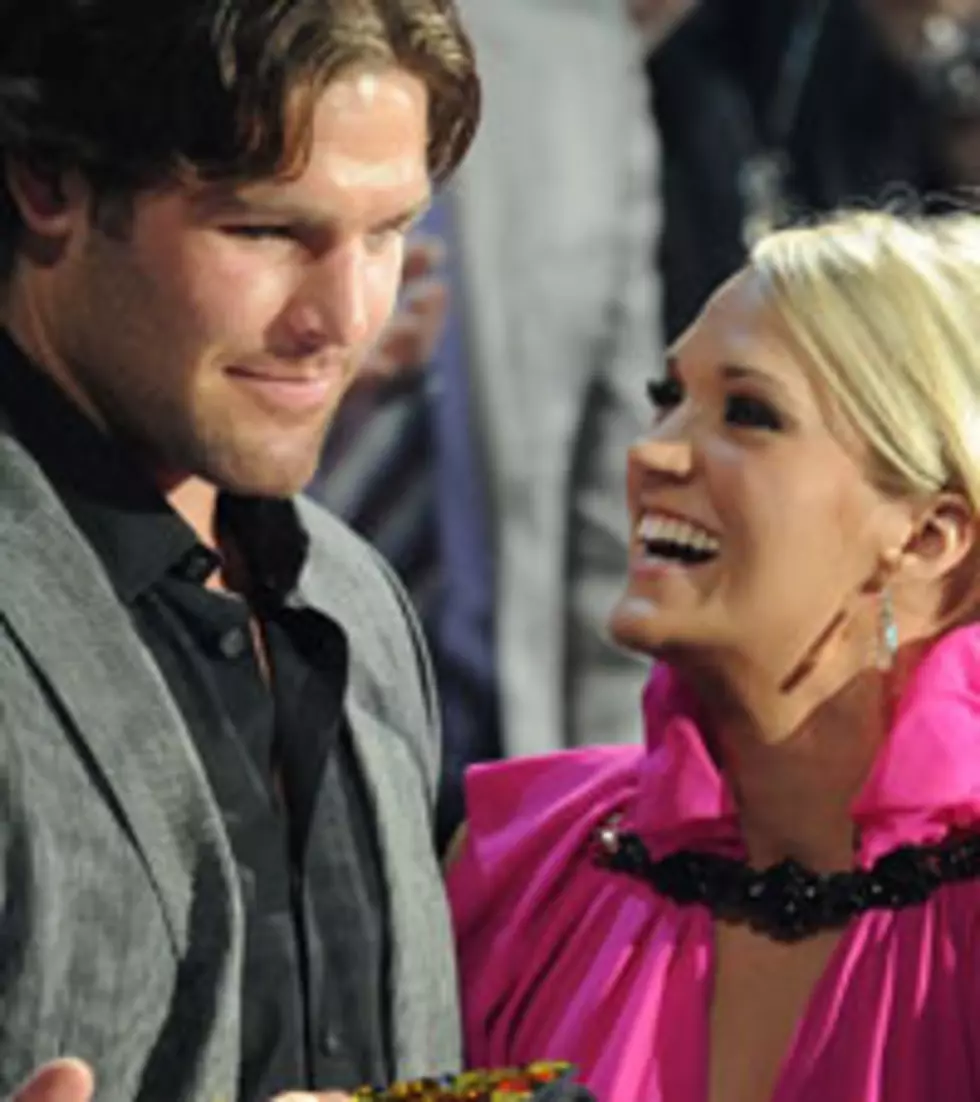 Carrie Underwood Tour Won't Include Husband
Jason Merritt, Getty Images
Carrie Underwood is already prepping to hit the road again this fall on her new tour, but when she does, the glamour girl will continue to do so in a surprisingly low-key manner. Carrie actually does her own hair and makeup while touring, and doesn't even take a private chef out with her on the road, preferring to cook her own food while on the bus between shows. Carrie also leaves the huge entourage at home, traveling with a very small group of people in tow. And the one person you might think would definitely be part of her on-tour posse, husband Mike Fisher, is nowhere to be found.
"We see each other as much as we can, but he's not one for road life," Carrie tells Vegas Magazine. "He can't really sleep on the bus. You can't have a giant bed in the back, so I'm like, 'You're touching me! Go away. What are you doing? Scoot over!' He gets bored. I think if he ever comes out with us on tour for any length of time, I'm going to have to find him something to do!"
The 'Good Girl' singer admits she does have one splurge in which she must indulge while on the road. She begins a strict workout regimen well in advance of her tour. That discipline carries over when she finally sets out on tour, so she takes a personal trainer with her.
"I don't take a giant team with me," she explains, "so I feel like that's the one thing I deserve while I'm on tour: Someone to say, 'Hey, let's go!' and keep me motivated. I'm pretty regimented, but really not a whole lot goes on."
Carrie says her new album, 'Blown Away,' due in stores May 1, is definitely a little less sunny overall than some of her previous efforts, which may surprise fans. And though she has recorded many rafter-shaking tunes thus far, she says this collection offers up a different kind of power ballad -- a quiet, demure one that demonstrates a different side to her talent.
"There's a little bit of a darker side to this album," she says. "It's just stormier. I've always been known for power ballads, and there's not really that at all in the album," she says. "I honestly think it's just because the album kind of makes itself. We'll look at the end and think what could we use more of, but it is what it is. I don't think, 'Oh, I need this power ballad.' If you can't find a song like that, you don't force it. I have one song that's so beautiful and so moving, but it's so quiet. It's a story, and you really listen to it -- I'm not trying to impress people with what I can do. I've done enough by now that I don't have to sing to the moon with every single song."
Read more from Carrie about 'Blown Away' and the upcoming tour here.
Watch a Report on Carrie's Family Plans
#fivemin-widget-blogsmith-image-13034{display:none;} .cke_show_borders #fivemin-widget-blogsmith-image-13034, #postcontentcontainer #fivemin-widget-blogsmith-image-13034{width:570px;height:411px;display:block;}

try{document.getElementById("fivemin-widget-blogsmith-image-13034").style.display="none";}catch(e){}
Watch Carrie's Official 'Good Girl' Video
if(typeof AOLVP_cfg==='undefined')AOLVP_cfg=[];AOLVP_cfg.push({id:'AOLVP_1492591549001','codever':0.1,'autoload':false,'autoplay':false,'displaymnads':true,'playerid':'89761511001','videoid':'1492591549001','width':476,'height':357,'playertype':'inline','stillurl':'dynamic','videolink':'#','videotitle':'dynamic','videodesc':''});