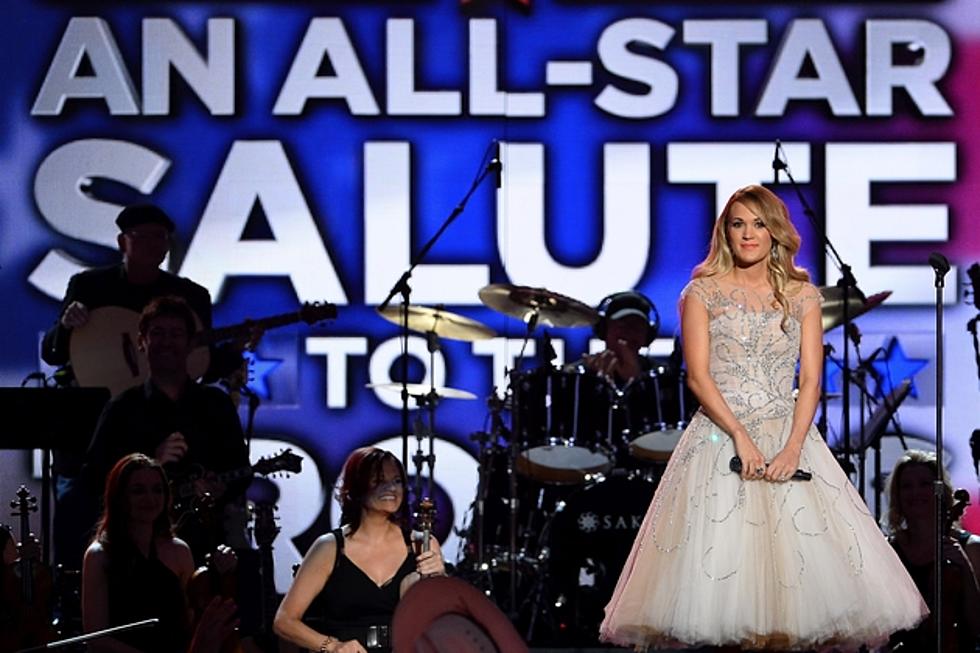 Carrie Underwood Debuts 'Keep Us Safe' at ACM Salute to the Troops
Ethan Miller, Getty Images
The songstress captivated the audience as she sang, "God keep us safe tonight / Keep our eyes toward the skies / Send down an army of angels / To make us brave / And keep us strong and unafraid / God keep us safe," backed by a full orchestra, as pictures of the troops in action flashed across a large screen behind her.
Underwood wrote the song as a way to honor the soldiers for their efforts in keeping people safe, at home and abroad.
"When we were approached to be a part of the show, I was so excited to do something to honor our troops and because ACM Lifting Lives does such great work. I wanted to take the time to really think about what song I wanted to perform," she says. "I had a writing session scheduled with my co-writers and friends Hillary Lindsey, Luke Laird, and Shane McAnally, and I guess the show was weighing on my mind. I think we all left the session knowing the song was special because it basically wrote itself that day!"
"We are so thankful for the men and women in our armed forces and proud to present this fantastic night of performances in their honor," says Bob Romeo, CEO of the Academy of Country Music. "The special will be a remarkable moment in Academy history and continues the 'ACM Presents' TV specials that have been so successful over the years and helps to fund the important charitable work of ACM Lifting Lives."
All proceeds from 'Keep Us Safe' will benefit ACM Lifting Lives, which is the charitable arm of the ACM. Download the single here.