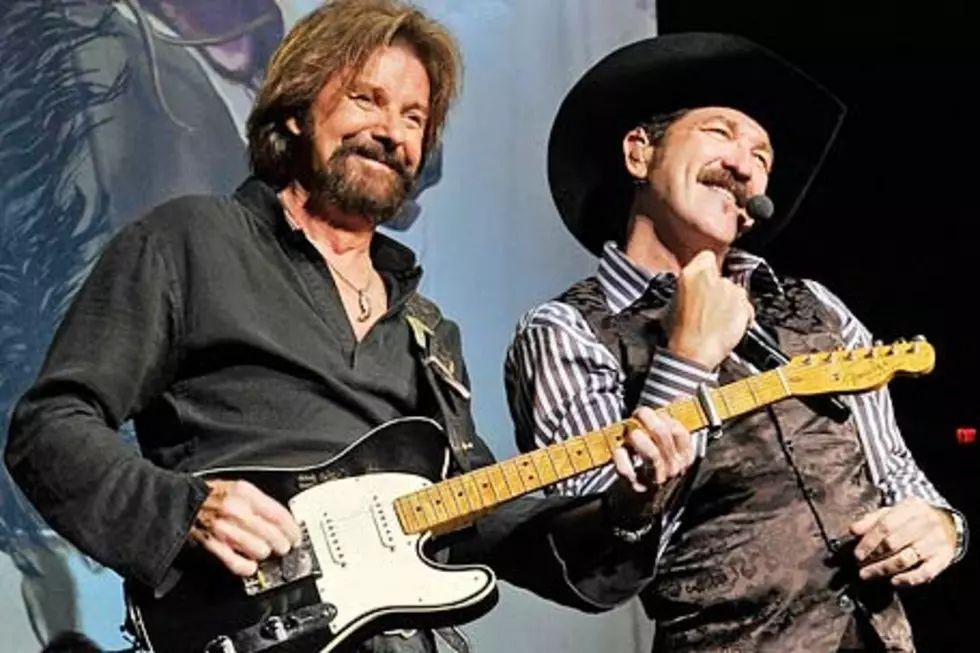 Brooks & Dunn End Their Last Rodeo in Nashville
Frederick Breedon, WireImage

"This isn't a funeral," the always-jovial Kix Brooks said upon taking the stage for the very last time as one-half of country music's most celebrated duo. "We did come here to party!"
Without much fanfare or several celebrity friends making guest appearances, Brooks & Dunn wrapped up their 20-year partnership with a show at Nashville's Bridgestone Arena Thursday, September 2. Proceeds from the show, which featured an opening set by newcomer Tyler Dickerson, will go to benefit the Country Music Hall of Fame and Museum.
Prior to the show, a 15-minute video featuring behind-the-scenes interviews with the duo's band and crew, many of them having been with Kix and partner Ronnie Dunn for most of their run, shone a light on the pair as great bosses and nice guys. Their famous signature steerheads were out in full force located above the stage and on the bass drum (although the bubble-blowing goat and the sky-high inflatable cowgirls were nowhere to be seen!)
As the duo made their way out from behind the stage to begin their fond farewell, the crowd jumped to their feet to give them a standing ovation before a single note was sung. They soon launched into 'Play Something Country,' and that's exactly what they did throughout the night, taking the crowd through a high-energy list of songs including 'Can't Take the Honky Tonk Out of the Girl,' 'Mama Don't Get Dressed up for Nothing' and 'Put a Girl in It,' before slowing it down with Ronnie's lead vocals on 'Never Forgive My Heart,' and Kix singing 'You're Gonna Miss Me When I'm Gone.'
The celebratory atmosphere was not as prevalent as one would have thought, but the show was a fitting end for a long and hit-filled career. "This is not a funeral," said Kix. "We did show up to party." He offered thank you's to the band, crew, and the fans that "paid our rent for the last 20 years. God bless each and every one of you." 'One Last Ride' was accompanied by a slide presentation of earlier photos of the two. Splitting the vocal duties nearly in half, Ronnie returned to center stage to perform, 'That's What She Gets for Loving Me' and 'It's Getting Better All the Time,' before addressing the audience and explaining why the two were breaking up. He joked that it was because Kix got the cowboy hat and he got nothing.
For the first and only special guest appearance, the guys performed 'Cowgirls Don't Cry,' and on the last verse Reba McEntire joined in to thunderous applause. When the song ended and hugs and kisses were exchanged, Ronnie affectionately called her a "show stealer."
The two acted as though they were taking audience requests and discarded a handful before deciding on 'How Long Gone,' which led into 'Red Dirt Road,' after which a hush fell over the crowd as Ronnie led into 'Believe.' The show was filled with favorites, including 'Neon Moon,' 'Rock My World (Little Country Girl),' 'Only in America' and 'My Maria,' before the lights went down.
When the lights came back up for the encore, Kix and Ronnie performed 'Boot Scootin' Boogie,' and brought several young girls up on stage -- one of them Ronnie's daughter, Haley -- to dance along. For their swan song, the guys decided to go back to their 1991 hit, 'Brand New Man," after which Kix threw his trademark black hat out into the audience. There were no tears, just a light-hearted push from Kix to Ronnie as an ode to their playful attitudes and the good times they shared through the years.
While Brooks & Dunn have now officially ridden off into the sunset, this isn't the last we'll see of Kix Brooks or Ronnie Dunn. Word has it one or both will have a solo record out soon. One burning question remains, however: who gets custody of the steerheads and inflatable cowgirls?