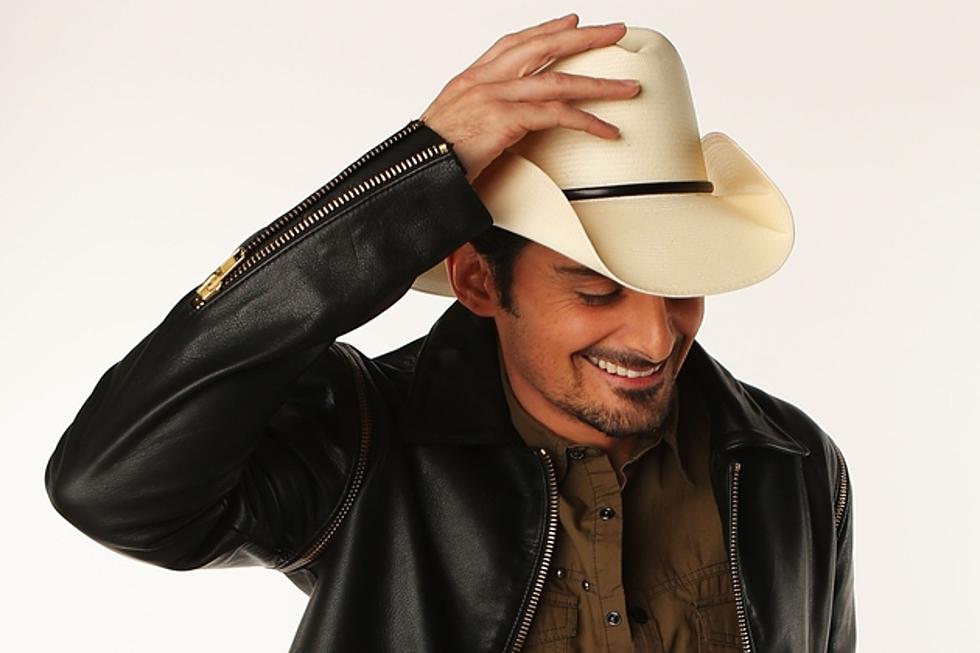 Brad Paisley's 'Hits' Chronicle His Life and Loves
Christopher Polk, Getty Images
Brad Paisley arrives in stores with his first greatest hits collection, 'Hits Alive,' this week, and the two-disc package featuring recorded and live versions of his songs was put together pretty deliberately.
To hash out the details for his hits collection, Brad and his producer, Frank Rogers, went to lunch to discuss which songs would be included, and in what order they would appear. The guitar-slinger had a specific way he wanted to present the album to fans, and it wasn't in order of release. "If we do this chronologically, you're gonna see ballad, ballad, up, ballad, ballad," Brad tells The Boot. "It would feel really weird, and then you'd have a few up tempos. It wouldn't feel like a set list. I always feel like albums need to feel a little more like a set list where they flow: They start up. They come down. They go back up."
Even though the decisions were made in a relatively short amount of time (enough time to wolf down a sandwich and let it digest), Brad says a lot of thought did go into the order of songs on both discs. "On the live record, we start with 'Water.' That's what we start with right now live [in concert], and that had never started a record," says Brad. "We came up with this set list that felt like you get a good idea of who I am throughout ... 'I'm Gonna Miss Her' and 'Little Moments,' and these things that were early on when I was essentially still single and writing from a different place. And then comes 'She's Everything' and 'Then' and things like that, and then 'Anything Like Me,' obviously is a whole other place. And you can see my mind set and how it's gone."
Looking back over the tracks, the West Virginia native points to a few that changed his life, beginning with his first No. 1 hit, which he affectionately refers to as 'The Step-Dad Song.' "'He Didn't Have to Be' was probably the most life-changing three minutes that I've ever written, because I really believe we wouldn't be sitting here anymore talking," Brad reveals. "Maybe we'd be sitting here with me having written a No. 1 song for somebody else, but I don't think I'd still have a record deal without that song. It broke the ice for me with radio. It was like you could see potential in it, and that's an important thing. I was really lucky, it wasn't like we knew what we were doing. I just happened that with my best friend from the bottom of my heart about his situation."
Brad will take his hits on the road with his next tour stop scheduled for Uncasville, Ct., on November 12. But first, fans can catch him live on ABC next Wednesday night as he co-hosts the '44th Annual CMA Awards,' along with Carrie Underwood. For a full list of Brad Paisley tour dates, click here.
'Hits Alive' Track Listing:
Disc 1 (Studio Tracks):
1. 'Mud on the Tires'
2. 'Ticks'
3. 'Anything Like Me'
4. 'The World'
5. 'Little Moments'
6. 'When I Get Where I'm Going' (Featuring Dolly Parton)
7. 'Celebrity'
8. 'Then' (Piano Mix)
9. 'I'm Still a Guy'
10. 'He Didn't Have to Be'
11. 'Alcohol'
12. 'Whiskey Lullaby' (Featuring Alison Krauss)
13. 'We Danced'
14. 'Online'
Disc 2 (Live Cuts):
1. 'Water'
2. 'American Saturday Night'
3. 'Waitin' on a Woman'
4. 'I'm Gonna Miss Her'
5. 'Mud on the Tires'
6. 'She's Everything'
7. 'Time Warp'
8. 'Letter to Me'
9. 'Then'
10. 'Alcohol'
11. 'Online' (Reprise)