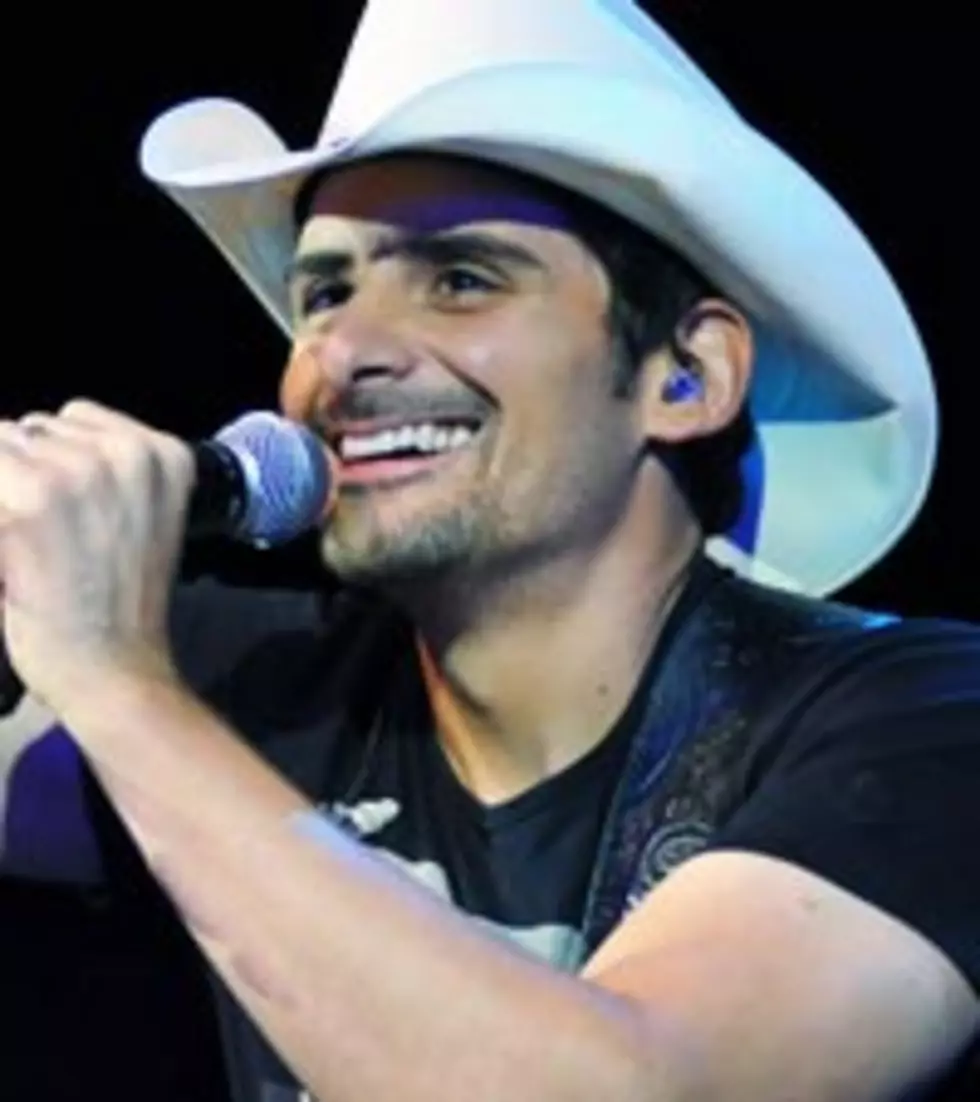 Brad Paisley Shows Radio 'This Is Country'
C. Brandon, Redferns
When Brad Paisley performed a song he had recently written, 'This Is Country,' on the CMA Awards last Wednesday, he didn't know it would be his upcoming single to follow 'Anything Like Me.' The latter tune is in the Top 5 on the Billboard country singles chart this week.
After Brad sang the song, which he co-wrote with Chris DuBois, the audience at the CMAs responded with hearty applause to the heart-felt lyrics. Two days later, Brad announced via Twitter that he was releasing the song as his next single. Brad posted that the song was being remixed, adding, "Wait till you hear the record Frank (Rogers, his producer) cut on it. I almost break down crying on this vocal."
In writing the song, Brad and Chris took some of their favorite things about country music and bragged on them in lines like, "It ain't hip to sing about tractors, trucks, little towns, and mama, yeah that might be true / But this is country music and we do." On the CMA show, images of various performers including George Strait, Dolly Parton, Tammy Wynette, George Jones, Johnny Cash and Hank Williams Jr. were flashed on the screen behind him as Brad performed.
Brad has a great background in country music, having sang on the Wheeling (W.V.) Jamboree during his years as a teenager. He bridges the generation gap of performers, by hanging out and collaborating with everyone from Grand Ole Opry legends to Nashville newcomers.
In talking to the media Wednesday night after the awards, Brad discussed why and how he wrote 'This Is Country.' "When I get ready to record an album, I start thinking about what I want to say [that] I haven't said," Brad told the gathering of music journalists from around the world. "When you get to be buddies with Keith Urban and great friends with Carrie Underwood, and then friends with Jimmy Dickens and Bill Anderson and that generation of country music stars ... well, I've been lucky enough to get to know all of them. That's my inspiration. This tune is my love song to my fans, who live all our songs every day, and to this industry, which produces this music that does become the soundtrack to people's lives."
Brad admitted that the release of the single is bad timing for his label, because "the new album won't be ready 'til spring, but I knew I had to sing it tonight for my fans and for the music I love."
The singer and songwriter pens many of the songs he records from real-life experiences. One of his recent hits, 'Letter to Me,' came out of a thought process that Brad went through, wondering what he would say if the current Brad could write the younger Brad a letter filled with advice. He also has a quite a sense of humor when he writes, having hits with clever tunes like 'I'm Gonna Miss Her,' 'Alcohol' and 'celebrity.'