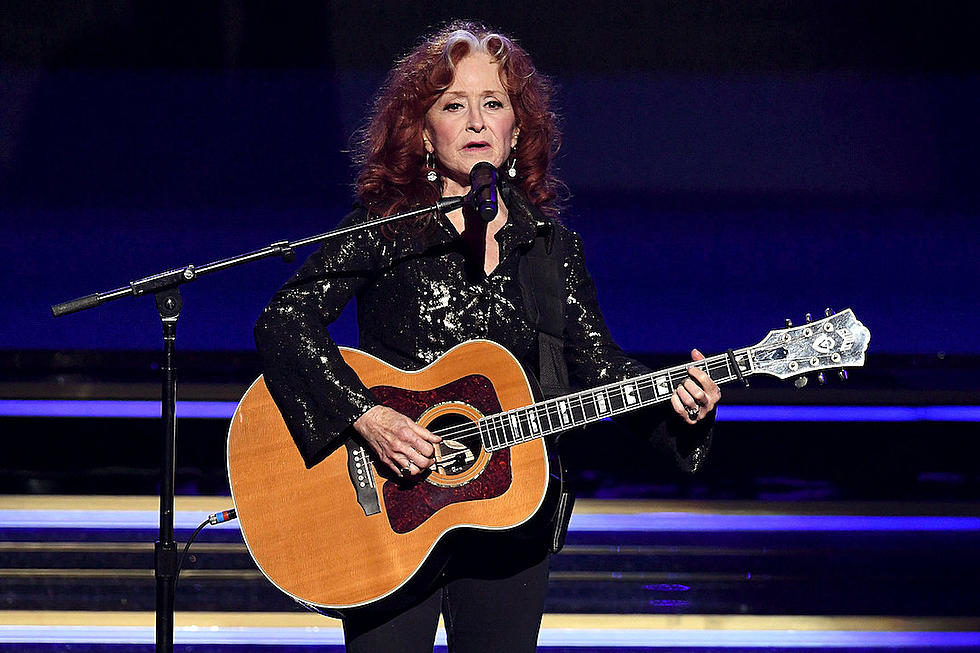 Top 10 Bonnie Raitt Songs
Getty Images
Since launching her career in 1971 with her self-titled debut, Bonnie Raitt has established herself as one of the greatest blueswomen - and guitarists - of all time. On April 22, 2022 Raitt released Just Like That..., her twenty-first album to date.
With such an extensive discography to her name, there's no shortage of essential listening. Raitt is a member of the Rock & Roll Hall of Fame and has earned ten Grammy Awards across four different genres: Americana, rock, pop, and traditional blues. However, her influences and talents transcend the confines of those genres alone. Raitt's music has been touched by country, reggae and folk traditions, too.
52 years into her career, Raitt is continuing to make some of her best music. These ten tracks are must-listens for any Raitt fan - though there will always be room for more.
10

"Made Up Mind"

From: 'Just Like That...' (2022)

Released earlier this year, "Made Up Mind" is proof that Raitt is not an artist who peaks and plateaus -- she is still making the best music of her career, here in the present. "Made Up Mind" is the first single from her upcoming album, Just Like That..., and it's a track that Raitt produced herself. "Made Up Mind" is full of cool images of rainstorms and moonlight, matched perfectly with a steady groove and a measured, soothing vocal performance from Raitt.

9

"Under The Falling Sky"

From: 'Give It Up' (1972)

A stand-out track from Give It Up, "Under The Falling Sky" is a jubilant, full-band take on Jackson Browne's 1972 song. Raitt's version is a windows-down song, a dancing song, a full rock-out song. While Give It Up is packed with essential tracks, "Under The Falling Sky" is one that rises to the top.

8

"Thing Called Love"

From: 'Nick of Time' (1989)

Another hit from Nick of Time, "Thing Called Love" is a fun, country-rocker written (and originally performed by) John Hiatt. However, when Raitt sings "I ain't no porcupine / Take off your kid gloves," it sounds like the song was written specifically for her. Over the years, Hiatt and Raitt have performed the song together as well, like at their memorable 2012 Farm Aid performance.

7

"Love Me Like a Man"

From: 'Give It Up' (1972)

Raitt was a blues master right from the start. On "Love Me Like a Man" she shows off some exceptional blues guitar work. In 1972, her voice didn't yet have the maturity that it eventually developed. While it's a gift to hear Raitt perform the song at any stage of her career, the earliest version has a special quality to it for the way Raitt's voice has a certain lightness to it -- and totally masters the blues.

6

"Right Down The Line"

From: 'Slipstream' (2012)

It's no secret that Raitt's musical influences are vast. She puts her reggae influences on display on her version of Gerry Rafferty's "Right Down The Line." Recorded in 2012, she infuses the soft-rock song with reggae grooves and emotive electric guitar solos. It's essential listening for any fan who marvels at Raitt's ability to elevate a piece of music just by bringing her presence to it.

5

"Nick of Time"

From: 'Nick of Time' (1989)

In the years leading up to the 1989 album, Raitt endured professional and personal struggles. She'd been dropped from Warner Bros. Records and, in her search for a new label, faced many naysayers who thought that's she'd lost her commercial appeal. Finally, she was signed by Columbia Records. Nick of Time was her first record recorded under Columbia. It ushered in her hard-earned commercial breakthrough.

The title track remains one of Raitt's most popular songs. Its smooth, up-tempo groove is hard not to enjoy. What makes the song so special is the vulnerable, candid way in which Raitt sings about the struggles of aging.

4

"I Ain't Blue"

From: 'Bonnie Raitt' (1971)

Raitt's 1971 debut album may not have taken the charts by storm, but it impressed music critics and showed the world just who Raitt is: a slide guitar slaying, blues singing, fingerpicking master of an artist.

"I Ain't Blue" is an understated acoustic guitar track near the album's close that shows Raitt is just as adept at exploring folk influences as rock and roll. Here, her voice is at once delicate and nuanced, and her guitarwork is gentle and sublime.

3

"Angel from Montgomery"

From: 'Streetlights' (1974)

"Angel from Montgomery" is perhaps one of the best songs that John Prine ever penned. When Raitt recorded the song in 1974, she created a new life for the song and its characters.

While the song was covered by several other artists before Raitt -- and has been done by many more since -- it's Raitt's rendition that brought "Angel from Montgomery" to the mainstream. The richness in Raitt's voice gets into the lyrics like no other. Her delivery of lines like "How the hell can a person go to work in the morning  / Then come home in the evening and have nothing to say" result in emotional revelations.

2

"Something to Talk About"

From: 'Luck of the Draw' (1991)

Released on Raitt's 1991 album Luck of the Draw, "Something to Talk About" remains one of Raitt's most classic hits; it earned her a Grammy for Best Female Vocal Performance that year. While the Grammys may have filed the track under the pop genre, "Something to Talk About" is classic Raitt in that she seamlessly blends elements of country, rock, and blues into a track that practically begs you to sing along.

1

"I Can't Make You Love Me"

From: 'Luck of the Draw' (1991)

Released in 1991, "I Can't Make You Love Me" reached the Top 20 on Billboard's Hot 100 list. Since its release, the track's status as one of Raitt's greatest songs has only intensified. The timeless ballad about unrequited love was written by Nashville songwriters Mike Reid and Allan Shamblin, but it is Raitt who infuses each word with emotion with her powerful vocal performance. The feeling of resignation in a piece of music has never been more powerful before or since.