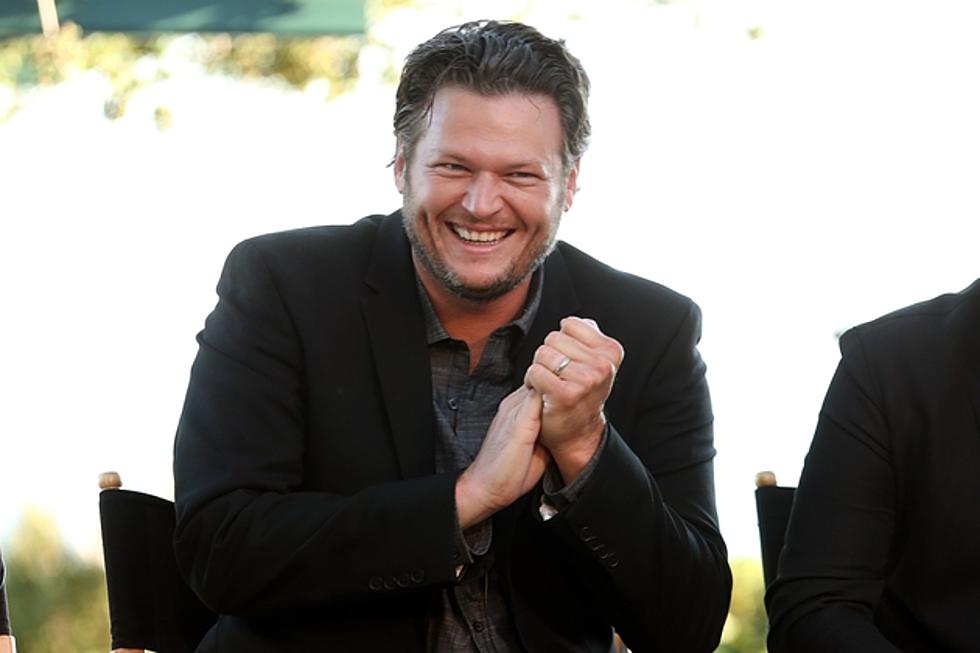 Blake Shelton, 'Honey Bee' — Story Behind the Song
Christopher Polk, Getty Images
The writing trio known as the Peach Pickers had already written 'All About Tonight' for Shelton before he recorded 'Honey Bee,' along with a laundry list of other hits, including 'Put a Girl in It' for Brooks & Dunn and Joe Nichols' chart-topping 'Gimme That Girl.' Akins, Hayslip and Shelton tell The Boot how 'Honey Bee' came to be written and what Shelton's initial reaction was to the song that stayed at No. 1 for four weeks on Billboard's country singles chart.
"A lot of songwriters have visions in the night, but I don't dream about honey bees," Akins says with a laugh. "Ben and I got together and absolutely had no idea what we'd write that day. I was flipping through a magazine, and there was an article on Mike Huckabee, the governor of Arkansas, coming to Nashville to play on a record, and I thought it said 'Huckleberry Comes to Town.' I asked Ben, 'Wasn't there a line in the movie 'Tombstone': 'I'm your huckleberry'? Let's try to write that.' We worked on that for about 30 minutes, and we didn't know where to go with that. I said, 'What about 'I'm your honeysuckle,' and then we had to figure out what works with that, and it turned into 'I'll be your honey bee.' So it started with that magazine article, it was nothing we had planned."
"It wasn't 20 minutes of getting into the idea before we knew we were writing for Blake," Hayslip adds. "It doesn't happen very often for songwriters, to write a song with an artist in mind and them cut it, much less turn it into a four-week No. 1 song. That's huge."
"After we wrote the chorus, I said to Ben, 'If I said this to a girl, she'd probably get out of the truck. We've got to write this a little bit humorous,' and that's where Blake came into this," Akins remembers. "That's why we put in lines like, 'This might come out a little crazy / That came out a little country / I'm just having fun, but seriously / You know I want you to be mine.' That's basically how we wrote it. We didn't even think we'd demo it because we figured nobody on earth would cut it but Blake. We thought it was a little too quirky for anyone else."
Shelton says he was in Evansville, Ind., the first time he heard 'Honey Bee.'
"We'd been there two or three days setting up for that GAC special I did, and Scott Hendricks had some songs he wanted to play me. One of the main ones was 'Honey Bee.' It was one that, the instant I heard it, I said, 'Yep, I'm doing it.' That's not one you stress out over. On the first listen, I knew I would cut it," he says. "The only thing I was afraid of was I couldn't get it out soon enough to make them happy. I didn't know they weren't gonna demo it if I didn't cut it. I was thinking someone else is gonna get it, but they were patient and here we are talking about it.
"We've had hits in the past, No. 1 songs, but never one that had this kind of impact," Shelton continues. "It has sold 1.5 million singles now, such a departure from every other hit song I've had in the past as far as taking it to the next level. You can have a hit, and then you can have a 'Honey Bee.' Who would think my signature song would happen 10 years into my career? It's pretty amazing."
Akins says he feels like God put it all together.
"He just sent it down with a big bow, Blake cuts it, and then he hosts the Academy of Country Music awards and sings it," he says. "Then he gets married to Miranda Lambert, goes on 'The Voice,' and everything worked out. There's no way to plan any of that. We're just lucky Blake wanted the song and all that stuff happened at the same time."
Shelton says what made the song work is that it's catchy and fun.
"The quirky parts of it that they're talking about fit right in to what people expect from me, and having such a light-hearted message goes along with all the stuff that happened," he says. "Kids love it. It sticks in people's heads."