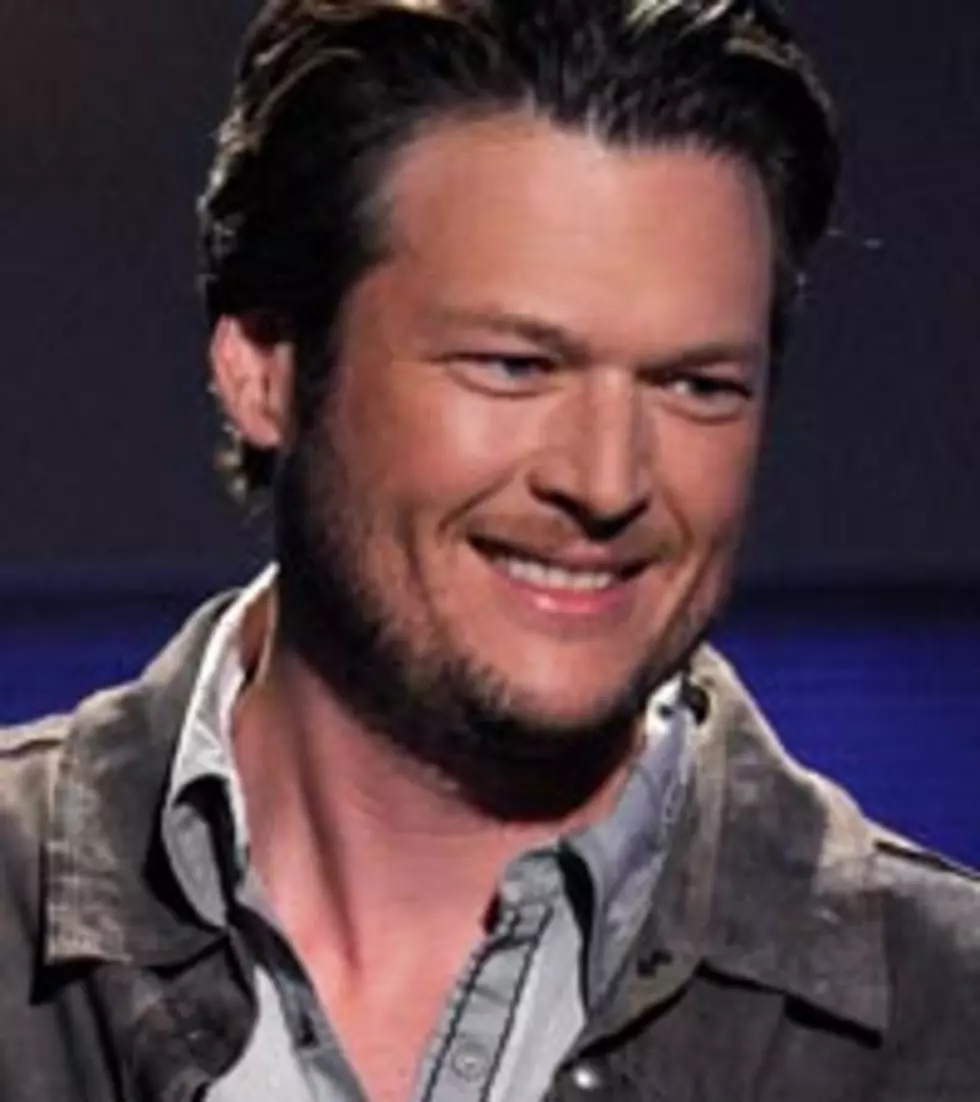 Blake Shelton Parties With Fans and Famous Friends
Ethan Miller, Getty Images
Country music's favorite funny guy, Blake Shelton, hosted his fan party Friday (June 10) night at Nashville's Wildhorse Saloon. Blake took the stage to screams and greeted his fans with, "Hello, everybody! Welcome to CMA Music Fest. I know you all came here to see all your favorite artists. I'm here to tell you that I don't give a damn about any other artist you came here to see, because it's all about us in here tonight."
A fitting start to his two-hour performance, Blake segued into the upbeat 'All About Tonight' with fans singing along word for word. He followed with hits spanning his decade-long career and a few surprises: buddies Nan Kelley, Laura Bell Bundy, Frankie Ballard and Mel Tillis, who all shared the stage with Blake at various points in the evening.
"Man, I love y'all so much. I don't know if you have been to many of these fan parties before, but I have been known to get drunk. I don't care if that's bad. I don't care if it's offensive. This is a party. So here's to y'all," Blake said, raising his glass before asserting, "We're going to play country music for a long time."
Blake then took everyone back in time with a cover of Conway Twitty's 'Tight Fittin' Jeans.' "This is my fan club party, and I should be able to do whatever in the hell I want. We do have some hardcore country music fans in here, don't we? Let's do some of that old crap," he said.
Fans screamed for older tracks like 'Austin' and 'Ol' Red,' while recent hits 'Who Are You When I'm Not Looking' and 'Honey Bee' received equal excitement. A night of surprises, Blake then introduced his first guest of the evening.
"When you do these type of things in Nashville, there's always people who show up and then you try to do something onstage with them. And we have that situation right now with a special guest," he said. "Ladies and gentleman, Nan Kelley. We all love her. We all adore her, especially when she says my videos are No. 1."
"Voted by you!" Nan, a beloved GAC personality, said as she pointed to the fans.
"No, we know you rig that stuff. Just say it," Blake quipped. "Having talked really good about her, there's a good chance that this next performance may suck. Keep your fingers crossed, here we go," he said before performing the classic duet, 'Islands in the Stream,' with Nan.
Now a married man, Blake confessed he hasn't seen his wife, Miranda Lambert, for a few days.
"I'm old and married now. I haven't seen her in about a week and a half. Am I still married?" Blake asked. "I'm very proud that I'm married to Miranda Lambert. To me, that is cool for a lot of reasons, but mostly because I can't believe that she and I made it long enough to get married because it's been up and down."
Blake confessed that it's been a struggle, but mostly because he's from Oklahoma and Miranda is from Texas.
"That has made it a little awkward at times. The reason I got into country music is because I wanted to meet some freakin' girls. Being from Oklahoma, there was way more gigs in the early days in that north Texas area. Miranda's mom is back here, so I'm not saying anything ... Playing all those gigs back in those early days, it's tough to go in the north Texas area. I'm telling y'all right now, even though we're married I will never, ever live in Texas. Y'all hear that?"
After some boos from the crowd, Blake explained what he meant in more detail.
"When you're married to Miranda Lambert, you don't want to be living somewhere where one night you're going out to eat dinner and you run into some old skank that you met back in the day, because Miranda Lambert shoots people and then burns their houses down and sings about it!"
The perfect segue into George Strait's 'All My Ex's Live In Texas,' Blake had fans singing along and laughing at his added song lyrics, "Let me tell you something. If you don't like George Strait, you probably don't have any friends."
During his performance, Blake continuously thanked the fans, shaking their hands and asking for song requests, even taking money from one fan. "Are you trying to give me money?" he asked before reading what was written on the bill. "'Kiss my country ass. You will be my honeysuckle if you call this number.' You're going to get me thrown in jail!"
Laura Bell Bundy and her boyfriend, fellow musician Andy Davis, took the stage soon after and performed a soulful and sultry duet of 'Let's Get It On.' Joking at the crowd's reaction to her, Blake said, "You were all out there humping the air! This is CMA country music fest. I thought it was going to be a crowd of rednecks tonight. It's worse. There are a whole bunch of hillbillies in here!" A proper segue into 'Hillbilly Bone,' Blake picked up the energy with fans hoping for a Trace Adkins appearance.
Though Trace didn't show up, the surprise guests continued. Frankie Ballard performed a rocking rendition of Travis Tritt's 'Put Some Drive in Your Country.' Mel Tillis was on the side stage, cheering on his friend. "We just decided that we don't care anymore. We're here to drink and play country music. Somebody give out beers and shots. You got a beer?" Blake asked one fan. "Mel, do you have a beer? Mel Tillis has a beer, shocker. I'm so excited! Mel Tillis is standing back here y'all, hanging out and watching. Come out here and say something to them, at least wave."
Mel abided and shook a few hands, prompting Blake to joke, "Don't try to pick up chicks, just wave!"
"Boy, you got a lot of pretty girls out here looking at you!" Mel said. "He's a good man, I'll tell you that for sure. I've been in the business here for 56 years. This is a country man right here."
While Mel admitted, "I don't know what the hell I'm doing out here," Blake informed him of his own fan base.
"I just want you to say to hi to everybody. You may not realize it, but country music fans adore you. And this right here is a member of the Grand Ole Opry," Blake said as Mel whispered in his ear. "Are you? Well, hell. Wait a minute; I didn't realize you were going to do that."
Blake then passed his guitar to Mel, who began playing 'I Ain't Never' to an excited audience. Soon after, Blake closed the show with the emotional 'Home,' a track he played for his induction to the Grand Ole Opry, and fan favorite 'Ol' Red,' before thanking the fans for their endless support.
"I just want to tell you how much I appreciate you all. I can't believe how many freakin' people are out here!"
Blake Shelton will perform Sunday night at LP Field during CMA Music Festival.
%VIRTUAL-globalVideoEmbed-{"videoIds":"517720585","width":"476","height":"357"}%