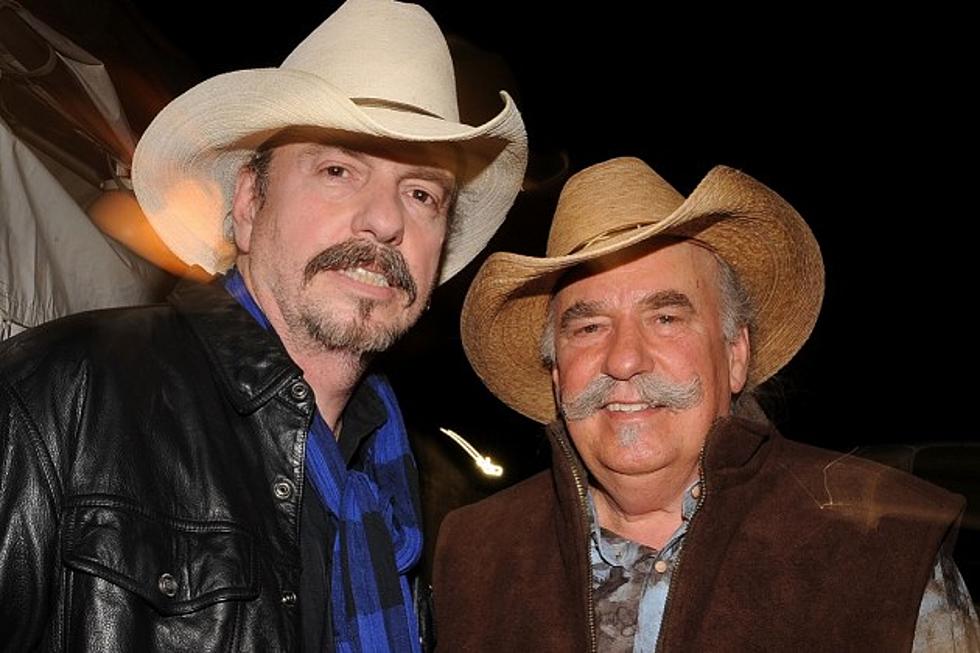 Interview: The Bellamy Brothers Celebrate 40 Years in Country Music
Rick Diamond, Getty Images
In 1976, brothers David and Howard Bellamy — together known to country music fans as the Bellamy Brothers — earned a worldwide smash hit on both the pop and country charts with their first single, "Let Your Love Flow." In the 40 years since, the Bellamys have released 29 studio albums, earned numerous more hits and continued to grow their international fan base ... and yet, according to David Bellamy, they have never had that moment when they felt like they'd "made it."
"I don't think we ever sit down and go, 'Okay, now we've really made it.' It's more like, 'Okay, we've had a No. 1 record, let's try something else now,'" Bellamy tells The Boot. "It's just kind of in our nature, I think."
Forty years later, the Bellamy Brothers are still trying new things: In late May, they released Bellamy Brothers: 40 Years, a two-disc project featuring 20 of their biggest hits -- the ones most requested at live shows, David Bellamy explains -- and 20 brand-new tunes, to celebrate their 40th anniversary in the music business.
"I think it'll make a nice collector's piece," Bellamy says of the album, noting that "Dying Breed" is one of his favorites of the new tunes. "They can put on the hits if they want to get nostalgic, or if they want to hear some new material, it's there."
They've also partnered with the Susan G. Komen Foundation, are working on a book and continue to tour relentlessly.
"We've never done anything intentionally," Bellamy says, "and we've never been very good at mapping our career."
It's worked out well for the Florida natives nonetheless.
David Bellamy describes his brother and himself as "as country as they come" at the beginning of their career, but they were influenced by everyone from the Everly Brothers and George Jones to the Beatles and the Rolling Stones, not to mention gospel, blues and island-inspired music -- all of which led them to "Let Your Love Flow," written by Larry E. Williams, a former roadie for Neil Diamond. The tune was originally offered to Diamond, who turned it down -- and the Bellamy Brothers has to beg their record label into letting them cut it.
"We love music; we love good songs," says David Bellamy. "It wasn't surprising to us [that "Let Your Love Flow" was a hit], because we thought the song was so great, but the strange thing was, at that time, pop and country were changing, so pop was becoming more disco, and country was getting a little more outlaw."
The Bellamys welcomed the changes, and they welcomed the success on whatever chart -- and in whatever country -- would have them.
"We've always looked at it like being a gumbo," David Bellamy says of his duo's sound. "We injected a lot of -- just things we liked ... We've never really worried about what it is."
As "a real [international] hit," "Let Your Love Flow" opened the doors for the Bellamy Brothers to build fan bases in other parts of the world. Rather than just making sure to release new singles and albums in those countries, they mounted international tours and, to this day, continue to tour overseas and collaborate with international artists.
"It was mainly just us wanting to see places and wanting to play for people," David Bellamy explains. "[But] we were creating those markets for ourselves by going there."
Still recognizable to this day, "Let Your Love Flow" recently became the cornerstone of a new Susan G. Komen Foundation campaign. The Bellamy Brothers shot a new music video for the song with 60 Fort Worth, Texas-area breast cancer survivors, and $1 from every iTunes download of 40 Years will go to the Susan G. Komen Foundation. They're also selling Susan G. Komen T-shirts at tour stops and will be announcing additional events ("a couple of things a year," says David Bellamy) with the organization.
In 2016 -- hopefully by the fall, Bellamy says -- the Bellamy Brothers are planning to release a book about their career and their international travels.
"There's pretty much a story for every country we've been in," David Bellamy says. "It's been coming along pretty good. We're pretty happy so far."
If all of this sounds like the plans of an almost-65-year-old (David) and an almost-70-year-old (Howard) who have no intentions of slowing down, you'd be right. David Bellamy says that he and his brother are planning on "chug[ging] on for the foreseeable future."
"We've never considered our work [to be] work, really," Bellamy says. "Our gauge for retirement is our health. As long as we're both healthy, we'd really like to do this -- and we probably will."
For what it's worth, even if the Bellamy Brothers haven't necessary had one of those "we made it" moments, their father, Homer, had one back in the early 1980s: It was '82 or '83 -- at least half a dozen years after "Let Your Love Flow," not to mention a handful of other Top 10 hits -- David Bellamy recalls, and they were playing a show with Merle Haggard in San Jose, Calif. When the brothers brought home a poster for the show, "it was the moment he thought we'd made it, because we were playing with Merle."