Barbara Mandrell Talks Fame, Family and Faith
The Country Music Hall of Fame inducted on Sunday the legendary lady who "was country when country wasn't cool," and then helped bring the genre to the masses. Barbara Mandrell -- singer, actress, dancer and recipient of more than 75 industry awards -- is now immortalized in the Nashville museum, commemorating her illustrious 38+ year career.
Barbara, who has been retired from performing since 1997, talked to The Boot about the honor that has left her somewhat speechless. She also revealed to us the secret to her success in a male-dominated business and the one and only place she'll sing today.
Congratulations on your Hall of Fame induction!
Thank you so much. All the words I think of are insignificant sounding compared to how blessed and grateful I feel. I'm very honored.
I understand your friends from the museum surprised you with the honor in person?
Yes! My dear friend Clint Higham, who manages Kenny Chesney and my sister Louise, was over for a meeting. We were sitting in my garden room, and then the doorbell rang and it was Tammy Genovese and Steve Moore. They had it all set up with Clint that they'd come surprise me. I was so excited to see them, but then I thought, 'Wait, why are you guys here? Am I getting kicked out of the CMA or something?' [laughs]
The Hall of Fame has given you the "Career Achieved National Prominence from 1975 - Present" award, appropriately titled as you certainly have been a prominent force in the industry for all of those years. What is the secret to longevity in this business?
Oh my goodness -- I don't really know the answer. That's a question that I don't think I've been asked in my career of 38 years! My father Irby Mandrell was my manager for all those years. He taught me by example, as well as preaching to me, responsibility, being dependable, always doing your best and always striving to get better. I'm a very competitive person, and I always competed with myself. Every year, I'd take six weeks with my band, crew and choreographer to put a new show together. We'd spend eight hours per day, seven days per week putting a show together to beat the last year's show.
In announcing your Hall of Fame induction, your sister Louise made such a sweet speech about you, saying you've never waivered from your priorities: God, country and family.
Those are the most important things. We're only here to love God and each other. I'm not saying I've never gotten angry at anyone. I do. But you've got to forgive and move on.
You have two CMA Entertainer of the Year awards -- one of only a handful of women to win that huge honor. Do you think women have a tougher time than men being recognized in the industry?
Yes, I do. As best my memory serves me, Loretta Lynn, Tammy Wynette, Dolly Parton and I were the first female headliners, where we would book our own opening acts. Before that, it was a standing joke that it was more like we had "pretty little girl singers" opening for a male headliner. You work so hard for the staging, choreography -- I was the only one who danced with backup dancers. And a new artist, who I adore is Julianne Hough from 'Dancing With the Stars' -- wow, she's a slammin' dancer and a great singer. I've never met her, but she also seems to be so sweet. But other than her, I don't know anybody in this business, other than my sister Louise and I, who really dance. I had four male dancers on stage with me. It was demanding and some of it pretty darn dangerous! We worked so hard and spent so much money putting that into our show. And I was having a conversation with another female artist, who will remain nameless [laughs], and she said to me, 'You really busted it out there for this number. But if a guy just so much as wiggles his hips out there, people go crazy!' And that's true! And I understand it, because girls of course don't scream as big for women as they do for men.
You were country when country wasn't cool. So when do you think country was at its coolest?

Define cool! [laughs] I'm a real positive person. To me, it just gets bigger and bigger.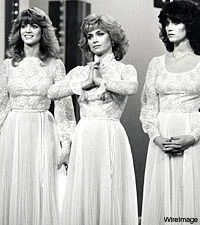 So many people who are not necessarily country music fans are Barbara Mandrell fans. What gives your music crossover appeal?
When I had my television show, 'Barbara Mandrell and the Mandrell Sisters,' it was my high hope to convert people to country music. It is wonderful and contagious! I love all music. Years ago, I heard Duke Ellington say, 'There's two kinds of music: good and bad.' I agree! So my desire with the show was to win over more fans for country music. I thank God I was able to do that. Our television series averaged 40 million viewers per week, and after two years I had to quit because of my health. It was taking its toll on my voice because of the hours. But I was always so grateful to hear people say, 'I didn't like country music, but I love it now.' I was also insistent that we had Gospel and Christian music on the show, because everything I have comes from Him.
The days of variety shows have pretty much gone away, especially with the dominance now of reality TV. Do you watch any reality or talent competition shows these days?
I have lots of favorite shows, but not reality! I don't like reality TV so much. I'm saddened by people who don't show respect to each other and to themselves. It's horrible. Unfortunately, that's demonstrated a lot on reality television.
What do you think of artists like Taylor Swift who, like you, are finding so much success crossing musical boundaries but who might get a hard time for doing so?
She's doing what she's gifted to do, and people adore it! How can anybody argue with that? She's got a huge audience. I spent a lot of money and a great deal of physical work doing the show that I thought was worthy of people's time and money. It's a show, not a recording. But it was in reviews sometimes, 'It's a Vegas-type show.' Well, I think that's marvelous! You give it your all and spend your money to give back to the people something worth seeing. Starting in this business as a child, when I was 11, there were so many huge names that are no longer with us who shared marvelous advice. One thing that I was told and ended up living it and believing it was, 'Don't ever be dressed like somebody who could've just walked out of the audience up on stage. It's a show ... so show 'em something!' I think the reason a lot of people watch awards shows is to see the gowns! I know I love the fashion. They're showing you something. How would you feel if they showed up in jeans and a shirt? Come on!
You've been in PEOPLE magazine's Most Beautiful People issue twice now. What are your beauty secrets?
All of my makeup! [laughs] Right now that includes a prescription medicine for burns. I get in a hurry -- I'm always goi
ng 100 miles per hour, especially now because my youngest son is getting married in June. I'm doing all the floral arrangements and tables for the rehearsal dinner. So I was getting ready to go somewhere, and I burned my face with my curling iron. But as far as beauty goes -- my mother is just really cute. At one time, I had her figure. When I was working, I was very disciplined and was doing 90 minutes of aerobics at every show. So I was lean and mean! My mother is maximum a size 2 -- it just makes me sick! [laughs] So I keep hoping one day I'll just turn into her.
You and Ken have been married 42 years now. What marriage advice will you give your son, Nathan, as he ties the knot next month?

They've been going out, it'll be seven years when they get married in June. They started going out when he was 17, and it was so funny to me -- I had to bite my tongue -- he said, 'I should've met her years ago!' [laughs] My husband and I just told them to pray together, to make it a three-way marriage: the two of them and God. There are times when Ken and I would like to put each other through a wall! [laughs] It happens, but we married for forever, and keeping God at the center of our lives has made it work and made it blessed and happy. Ken and I both are outgoing people -- we're yellers and screamers! But we're also passionate at making up.
As much as you're enjoying retirement, is there one artist who could call you tomorrow and convince you to sing with them?

Well, that has happened. But no, I will not. My sister Louise was signing autographs one time, very shortly after I had retired, and one fan told her how saddened she was by my retiring. But another fan said, 'Oh, she'll come back and do a reunion tour.' Louise stopped, looked at them and said, 'No, you don't understand. If Barbara tells you she's going to do something, that's what she's going to do.' Except for my steel guitar that's in the Hall of Fame and my dobro that my parents gave me and had engraved, I sold everything else after I retired. I jokingly said, 'I just don't want any temptation!' The only place I sing is on the pew with everybody else in church.