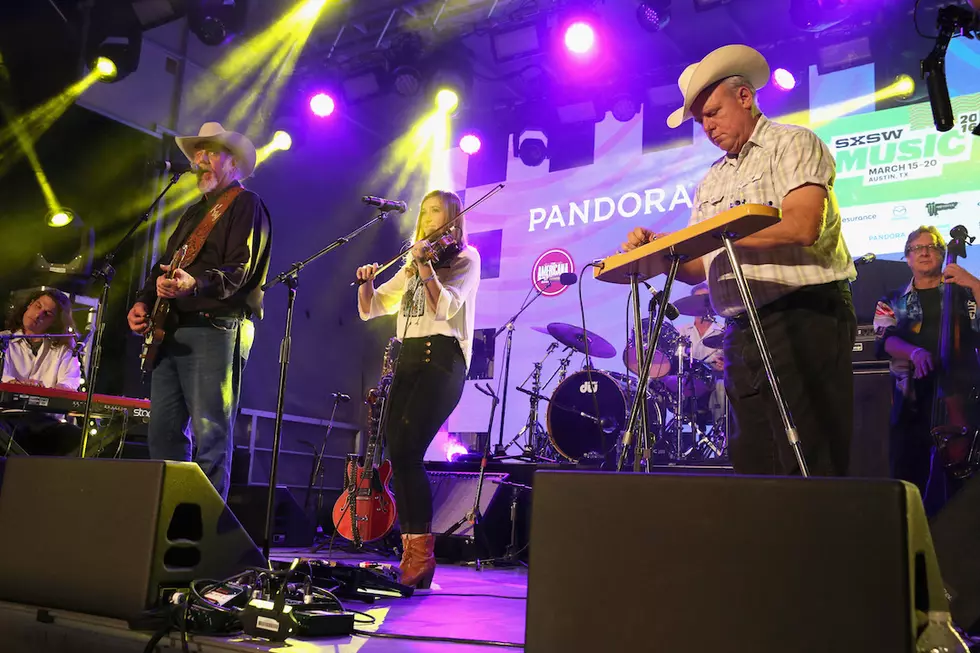 Asleep at the Wheel's Secret to Longevity: Writing What They Feel, Not Rushing New Albums
Rachel Murray, Getty Images
"My analogy is that bands are like soup," says Ray Benson, longtime frontman and founder of Asleep at the Wheel. "You put a bunch of stuff in there, and if you've got the right ingredients and you let 'em simmer long enough, that'll do it. We've also been in 150 shows a year, for three or four years, as a unit on the road. That's the seasoning."
Benson knows a thing or two about putting (and keeping) a band together. Since Asleep at the Wheel formed nearly 50 years ago, he's seen the group through incarnation after incarnation, as well as a series of road team-ups and collaborations with artists such as Emmylou Harris, Tim McGraw, Willie Nelson and a slew of others. "Asleep at the Wheel has basically been a generational band," Benson explains. "You've got the '70s, '80s, '90s, 2000s, and then this is the newest incarnation ... This is the millennial band."
The band continues to survive because of its versatility. Benson was speaking with The Boot alongside fiddle player and vocalist Katie Shore, who grew up listening to Asleep at the Wheel and now adds her own spin to the outfit -- and not only as a performing member. The group's latest album, New Routes, features tracks penned by Shore.
New music -- their myriad collaborations and tribute albums notwithstanding -- is something of a rarity from Asleep at the Wheel. "I give birth every 10 years," Benson booms, not without a glint of humor. Nobody in the group is interested in rushing an album for the sake of making an album, but when the conditions are right -- or, in Benson's words, when the soup is ready -- a collection of new tracks emerges.
"Things were coming together. We were jamming, playing tunes on the bus, and we started doing them in our shows," Shore adds. "We had this amazing catalog of songs to choose from ... but there wasn't a big rush for it. We just kind of wanted to go in and do it. It took some time to record."
In fact, at the beginning, Benson says he was the only one who knew that they were recording songs for New Routes. "I didn't tell them we were recording an album. I told them we were going in to do some demos to do the album," Benson says. "I tricked ya!"
Benson and Shore agree that the music continuously evolves as they play their songs, especially during live performances. "We'll add some new parts. We'll have some horns in the band, some fiddles. We're always trying to evolve," Shore explains. "That's what's so fun. Even if the songs are the same, they're never the same."
Benson says that improvisational spirit is more than just fun; in fact, it's critical to the survival of the band. Over the years, he has worked with an impressive list of musicians of all stripes, and Benson admits that he's tried his hand at writing Top 40 country radio hits. "I came up to Nashville and wrote with [songwriters], sitting in with them. To me, it was kind of painful. I did jingles. But that's how they do it," Benson adds, not unkindly.
"I think the Wheel has a history of not writing tunes to fit a certain genre. I think we just write what we feel," Shore says. "Like, one time, I wrote a couple swing tunes. I thought for sure Ray was gonna love them, but he wasn't interested. He was more interested in were more who I am. I think about that now, and I think all of [Benson's] writing has been like that, too. He just writes what he's feeling."
When he writes to make himself happy and not to follow a formula, Benson explains, it keeps the music fresh and adaptable over the years and decades. "That's why, when people ask us if we're ever tired of playing it, I'm like, 'Hell no, I'm not tired of playing it,'" Benson says. "I'm trying something new every single night."