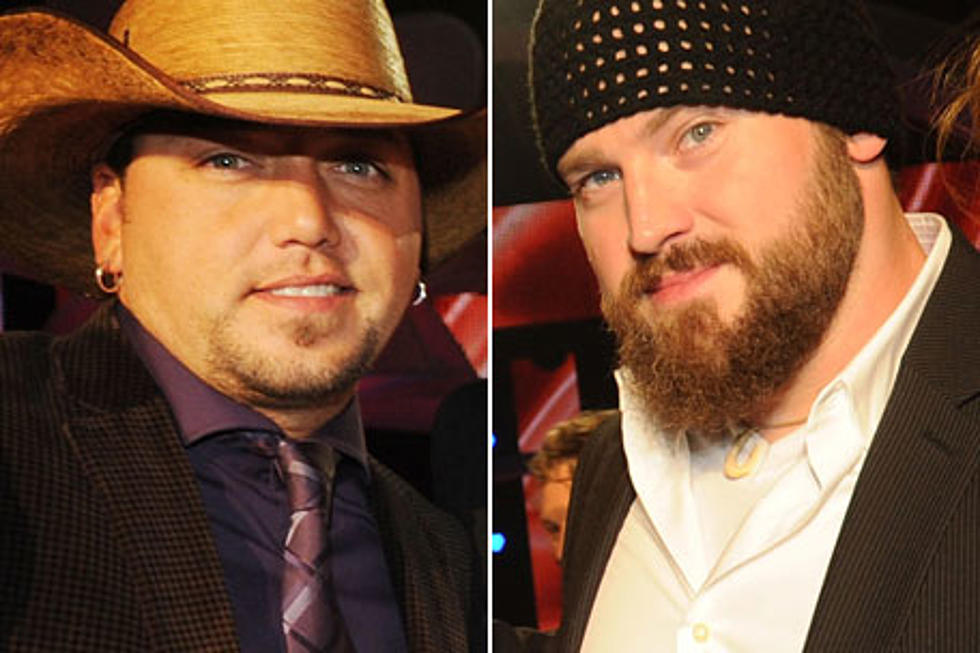 Jason Aldean, Zac Brown Band Lead 2011 ACA Nominees
Getty Images for CMT
The nominees for the second annual American Country Awards have been announced, with Jason Aldean and the Zac Brown Band leading the pack with eight nods each, including both competing for the huge honors of Artist of the Year and Album of the Year.
Duo Thompson Square are right on ZBB and labelmate Jason's heels with seven nods, including one for Single of the Year for their tune, 'Are You Gonna Kiss Me Or Not.' Both Taylor Swift and the Band Perry are next in line with six nominations apiece. (See the full list of 2011 ACA nominees below.)
Trace Adkins will host the show for the second year, but this time with a co-host: singer and actress Kristin Chenoweth. The ACAs, which are entirely fan-voted, will be held in Las Vegas on December 5, airing live from the MGM Grand Garden Arena at 8:00 PM ET.
Voting for each category opened today (October 13) and will run through November 11 for each category except Artist of the Year, which will be open until December 2. Vote for your favorite nominees in each category here.
Jason Aldean

Kenny Chesney

Lady Antebellum

Taylor Swift

Zac Brown Band
Artist of the Year: Male

Jason Aldean

Luke Bryan

Kenny Chesney

Brad Paisley

Blake Shelton
Artist of the Year: Female

Sara Evans

Alison Krauss

Miranda Lambert

Taylor Swift

Carrie Underwood
Artist of the Year: Duo or Group

The Band Perry

Lady Antebellum

Rascal Flatts

Sugarland

Zac Brown Band
Artist of the Year: Breakthrough Artist

Eric Church

Eli Young Band

Chris Young

Justin Moore

Jake Owen
Artist of the Year: New Artist

The Band Perry

Scotty McCreery

Jerrod Niemann

The Pistol Annies

Thompson Square
Album of the Year

Jason Aldean, 'My Kinda Party'

Kenny Chesney, 'Hemingway's Whiskey'

Brad Paisley, 'This Is Country Music'

Taylor Swift, 'Speak Now'

Keith Urban, 'Get Closer'

Zac Brown Band, 'You Get What You Give'
Single of the Year

Billy Currington, 'Let Me Down Easy'

Tim McGraw, 'Felt Good On My Lips'

Thompson Square, 'Are You Gonna Kiss Me Or Not'

Chris Young, 'Voices'

Zac Brown Band with Alan Jackson, 'As She's Walking Away'
Single of the Year: Male

Jason Aldean, 'My Kinda Party'

Luke Bryan, 'Someone Else Calling You Baby'

Billy Currington, 'Let Me Down Easy'

Tim McGraw, 'Felt Good On My Lips'

Chris Young, 'Voices'
Single of the Year: Female

Sara Evans, 'A Little Bit Stronger'

Miranda Lambert, 'Heart Like Mine'

Reba, 'Turn On the Radio'

Taylor Swift, 'Mean'

Carrie Underwood, Mama's Song'
Single of the Year: Duo or Group

The Band Perry, 'You Lie'

Rascal Flatts, 'Why Wait?'

Sugarland, 'Stuck Like Glue'

Thompson Square, 'Are You Gonna Kiss Me Or Not?'

Zac Brown Band, 'Colder Weather'
Single of the Year: New Artist

The Band Perry, 'You Lie'

Craig Campbell, 'Family Man'

Jane Dear Girls, 'Wildflower'

Jerrod Neimann, 'What Do You Want?'

Thompson Square, 'Are You Gonna Kiss Me Or Not?'
Single of the Year: Vocal Collaboration

Jason Aldean with Kelly Clarkson, 'Don't You Wanna Stay?'

Kenny Chesney featuring Grace Potter, 'You and Tequila'

Brad Paisley with Alabama, 'Old Alabama'

Zac Brown Band with Jimmy Buffet, 'Knee Deep'

Zac Brown Band with Alan Jackson, 'As She's Walking Away'
Touring Headline Package of the Year

Jason Aldean

Kenny Chesney

Toby Keith

Tim McGraw

Brad Paisley

Rascal Flatts

George Strait

Taylor Swift

Carrie Underwood

Keith Urban
Watch Zac Brown Band Live in Our Studio
%VIRTUAL-globalVideoEmbed-{"videoIds":"517721657","width":"476","height":"357"}%