Toby Keith on 'Ellen': Superstar Sings 'Red Solo Cup' (VIDEO)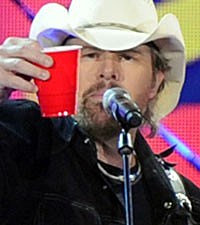 Love it or hate it, Toby Keith's 'Red Solo Cup' is a national phenomenon.
"It's the stupidest song I ever heard in my life," the country superstar told The Boot a few months ago. Well, stupid is apparently brilliant. The single has already certified platinum, signifying more than a million downloads, and the video has more than 13 million views on YouTube.
Watch Toby perform 'Red Solo Cup' on 'The Ellen DeGeneres Show' in the video player below, which is followed by the star-studded official music video for the song. You can also catch the big guy perform 'Red Solo Cup' on 'The Tonight Show With Jay Leno' tonight (March 16).
Watch Toby Keith on 'The Ellen DeGeneres Show'
Watch Toby Keith's 'Red Solo Cup' Video
if(typeof AOLVP_cfg==='undefined')AOLVP_cfg=[];AOLVP_cfg.push({id:'AOLVP_1202826765001′,'codever':0.1,'autoload':false,'autoplay':false,'displaymnads':true,'playerid':'89761511001′,'videoid':'1202826765001′,'width':476,'height':357,'playertype':'inline','stillurl':'dynamic','videolink':'#','videotitle':'dynamic','videodesc':"});