Toby Keith's 'Red Solo Cup' Is the Toast of His International Shows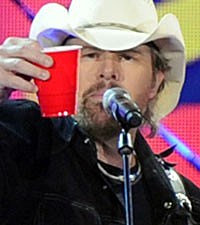 Toby Keith recently celebrated the platinum-success of his single, "Red Solo Cup," but even he was surprised by the international appeal of the song. The Oklahoma native recently completed a tour through Europe, where fans in one country proved they may be the tune's biggest fans.
"I'd never played Germany," Toby explains (quote via Country Weekly). "Our first night in Germany, it was over the top. We'd released a video [of 'Red Solo Cup'] on the internet. By the time I get to Scotland, and then we get on down to Germany, and by the next weekend the whole crowd has red Solo cups, and they were real Solo cups. I said, 'Where did you find red Solo cups in Germany?' and they said, 'The internet.' They knew [the song] word for word."
The concert attendees were so fond of the song, Toby had to actually delay his show so they could enjoy it a little bit longer. "It was the strangest sensation. We got through playing ['Red Solo Cup'] in the show, and they kept singing after it was over," he continued. "They kept singing like a bunch of frat guys. It was so loud … They were through clapping and I'm trying to talk and set up the next song, and this big groundswell of lyrics comes out and they start singing again. It was like trying to talk over people who were not paying attention. I finally just backed up from the [microphone] and let them go. Then we kicked into another chorus [of 'Red Solo Cup']. It had already caught fire over there."
"Red Solo Cup" is the only song on the country mogul's Clancy's Tavern CD that he didn't write. That's a rare thing for Toby, who prides himself as a songwriter and only records outside songs if he is overly compelled by them.
"It is so stupid that it's good," Toby tells The Boot of his first reaction to the "Red Solo Cup" demo. "We could play it in here, then play five other songs, give it an hour, walk out and you'd hear the receptionist going (singing), 'Red solo cup!' It's like a nursery rhyme."
Toby will kick off his Live in Overdrive tour on June 14, in Salt Lake City, Utah, with Thomas Rhett and Brantley Gilbert serving as opening acts. See their complete tour schedule here.
Watch Toby Keith's 'Red Solo Cup' Video
if(typeof AOLVP_cfg==='undefined')AOLVP_cfg=[];AOLVP_cfg.push({id:'AOLVP_1202826765001′,'codever':0.1,'autoload':false,'autoplay':false,'displaymnads':true,'playerid':'89761511001′,'videoid':'1202826765001′,'width':476,'height':357,'playertype':'inline','stillurl':'dynamic','videolink':'#','videotitle':'dynamic','videodesc':"});