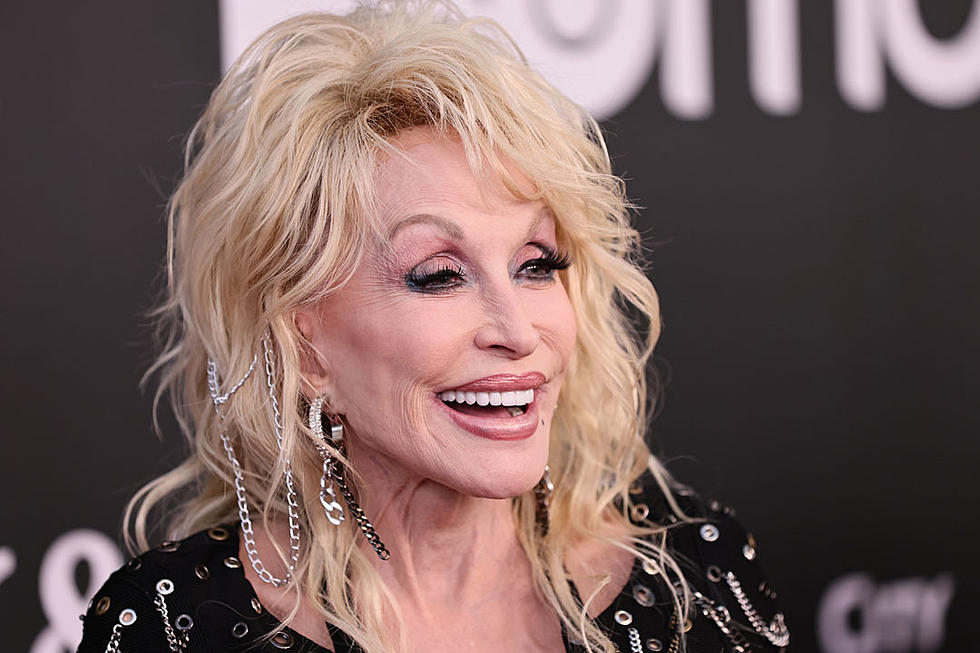 Yes, Dolly Parton Babysits + She's Everything You'd Expect
Theo Wargo, Getty Images
There's a reason Dolly Parton is so skilled at speaking to children in a way they understand, and it's not just because she grew up with 11 siblings.
That's part of it, Parton tells Taste of Country.
Her innate ability to understand children and to write meaningful lessons in the pages of her children's books comes more from her experiences as adult. The country icon and her husband Carl Dean never had kids of their own, but she's very close to her nieces, nephews, grand-nieces and grand-nephews.
"We're great babysitters!" Parton reveals on the day her new children's book Billy the Kid Makes It Big was released.
Related: 10 Things You Need to Know About Country Queen Dolly Parton
The Country Music and Rock & Roll Hall of Famer is sitting next to the Billy that inspired the short children's story. That's her God-dog, she says, and through him Parton shares a lesson of confidence, acceptance and treating others the way you'd want to be treated.
In the book (the first of many, she says), Billy is a young pup with country music dreams, but he runs into a few bullies when he tries to pursue his passion in Nashville. Just as he's at his lowest point, he finds his people, and together, they find their voice — literally. It's all based on a song Parton wrote several years ago called "Makin' Fun Ain't Funny."
Adult readers may wonder if there are parallels between Billy's journey to stardom and Parton's. She says she knows what it's like to feel that vulnerable. It's ever-lasting.
"When you're young and starting out in the business, you always feel vulnerable," she says. "Even to this day, certain occasions — you just feel a little out of your element. Whether you're going to a big dinner, say, at the White House, or whatever, where you're around people that live that life."
"And I'm not much of a socialite. I can fit in anywhere but that doesn't mean I … wouldn't rather be somewhere else. (Laughs)"
Previously, Parton — the 2023 ACM Awards co-host — had authored children's books like Coat of Many Colors (1994) and I Am a Rainbow (2009). Her Imagination Library is a leader in promoting children's literacy, so she's had numerous occasions to be around children. Still the authentic way she talks to kids is remarkable for someone who never had them.
"I know how kids think. I know what they feel and I know what they like," she says.
Dolly Parton and her husband Carl married in 1966.
She said that she doesn't believe God meant for her to have kids and appreciates that she wouldn't have been able to start initiatives like the Imagination Library with a family.
On Oct. 17, Parton will release another book called Behind the Seams: My Life In Rhinestones about her iconic fashion.
She also knows that what kids like isn't always what their parents like, and in those cases, Aunt Dolly favors the children.
"I just keep 'em out of danger," she begins. "They know if they come to my house, they'll get to do things they don't get to do at home, but I'm going to have 'em just for awhile."
Grandparents everywhere are surely nodding along in silence right now.
"I know this sounds bad, but I don't say, 'No, you can't have a piece of chocolate. No, you can't have ice cream.' I just love 'em and as long as I keep 'em out of danger, I just want them to have fun."
Nope, babysitter Dolly Parton is not going to yell or shout. Her harshest rebuke may be just to sing a line from this new Billy the Kid book: "And I will paw-lways love you!" 
See Dolly Parton's Longtime Nashville Home
Dolly Parton and Carl Dean owned this 4,795 square-foot residence in Nashville from 1980 until 1996. While it's not the lavish mansion one might expect one of the biggest country stars of all time to have lived in, it's a beautiful home that's also a one-of-a-kind piece of country music history.
Built in 1941. the house features four bedrooms and three bathrooms, and the wooded, 2.4-acre property also features a detached storage building. Amenities in the stucco home also include an eat-in kitchen, carport, covered porch and patio, deck, a master bedroom with a walk-in closet, a great room large enough for plenty of games and entertainment and dual heating and cooling units.
Top 20 Dolly Parton Songs: Her Biggest Hits And Most Underrated Deep Cuts
There are many country music legends in the business, but you'd be hard-pressed to find another as universally revered as Dolly Parton. Here are 20 of her greatest songs of all time.