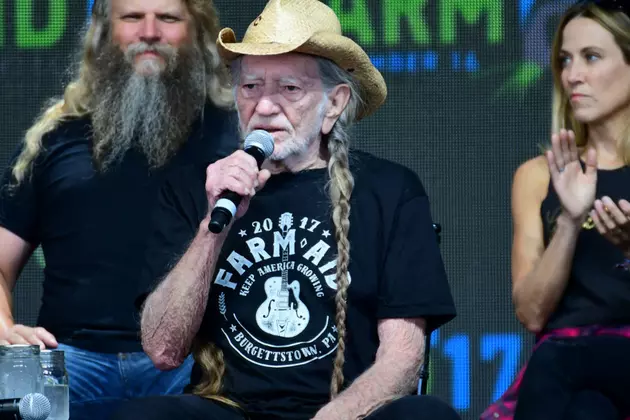 Willie Nelson Calls Immigration Policy, Separation of Families 'Outrageous'
Matt Kincaid, Getty Images
Willie Nelson has never been one to hold back his opinions on social issues. Having grown up in a Texas town only five hours from the Mexican border, he says that recent policy changes and the treatment of immigrants is inexcusable.
"What's going on at our southern border is outrageous," Nelson tells Rolling Stone Country. "Christians everywhere should be up in arms. What happened to 'Bring us your tired and weak and we will make them strong?' This is still the promise land," The country legend says, making reference to his 1968 hit song "Living in the Promised Land."
Nelson's remarks come in response to a new policy handed down from the Trump administration in May, penalizing all immigrants for illegal border crossing, even asylum seekers and parents with young children. Since children cannot be held in criminal custody, families are divided when parents are detained. More than 500 Mexican children have been taken from their parents and are held in facilities managed by the Department of Health and Human Services, put into foster care or deported.
Trump's zero-tolerance policy, handed down through the Department of Justice, requires the arrest and prosecution of all illegal immigrants. The United Nations has condemned the policy in a press release.
"The U.S. should immediately halt this practice of separating families and stop criminalizing what should at most be an administrative offence [sic] – that of irregular entry or stay in the U.S.," High Commissioner for Human Rights Ravina Shamdasani writes.
As he urged law enforcement officers to continue to enforce the widely criticized policy, U.S. Attorney General Jeff Sessions quoted scripture: "Persons who violate the law of our nation are subject to prosecution. I would cite you to the Apostle Paul and his clear and wise command in Romans 13, to obey the laws of the government because God has ordained them for the purpose of order," Sessions said on Thursday (June 14), according to NPR.
It isn't the first time Nelson has publicly addressed the divisive subject of immigration policy. In 2014, he told Rolling Stone that the problem was growing, and responded to the issue with a biblical quote of his own.
"I've been watching, and the only thing we can do is take care of those kids, whatever it takes. They're scared. They're being mistreated. And it's not a good way to start off your life. But it's a good opportunity for us to show a little bit of humanitarianism and take care of those kids. I know a lot of people want to send them back." Nelson said. "I guess the closer you are to the situation, the more extreme emotions you have about it, but it seems to me the old golden rule, 'Do unto others as you would have them do unto you,' or 'treat other people like you want to be treated' … Treat those kids like they were your kids."
Country's Most Political Artists