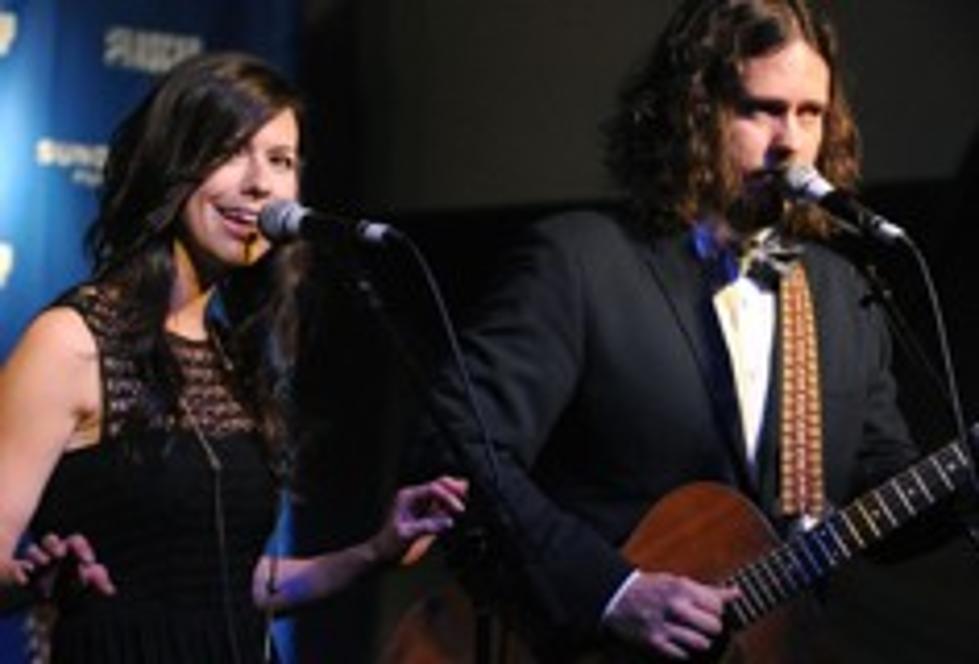 The Civil Wars Announce Headlining Tour
Fred Hayes, Getty Images
Fred Hayes, Getty Images
The Civil Wars singing partners Joy Williams and John Paul White have announced dates for their first headlining tour, which is set to kick off in Boulder, Colo. on August 4. The 35-date trek will criss-cross the U.S., as well as Europe and Canada for selected dates. The 'Barton Hollow' singers will take a brief hiatus from their headlining duties in September to provide opening act entertainment for British pop sensation Adele during her U.K. tour.
The duo first gained popularity with county music fans after Taylor Swift included their song, 'Poison and Wine,' in her iTunes Playlist, citing the acoustic ballad as her favorite duet. Their videos have been in rotation on CMT, and they were nominated for their first CMT Music Award for Duo Video of the Year for 'Barton Hollow.' The Civil Wars were recently nominated for two Americana Music Awards in the Duo/Group of the Year and Emerging Artist of the the Year categories, competing with Robert Plant, the Secret Sisters and the Avett Brothers.
See below for a full list of the Civil Wars' tour dates, and click here to visit their official website for ticket information.
Civil Wars Headlining Tour Dates
August 12 - Boulder, Colo. - eTown
August 21 - Lyons, Colo. - Rocky Mountain Folks Festival
September 1 - Dublin, Ireland - The Sugar Club
September 4-25 various locations, UK - On tour in support of Adele
September 15 - Paris, France - Café de la danse (Eldorado Festival)
September 26 - Manchester, UK - Night and Day
September 27 - London, UK - Union Chapel
October 7 - Birmingham, Ala - Alabama Theatre
October 8 - Knoxville, Tenn. - Bijou Theatre
October 9 - Atlanta, Ga. - Presser Hall at Agnes Scott College
October 10 - Atlanta, Ga. -Presser Hall at Agnes Scott College
October 12-13 - Americana Music Festival & Awards
October 19 - Charlotte, N.C. - McGlohan Theatre
October 20 - Durham, N.C. - Page Auditorium
October 21 - Norfolk, Va. - NorVa Theatre
October 22 - Charlottesville, Va - Jefferson Theater
October 23 - Washington, D.C. - Lincoln Theatre
October 25 - Philadelphia, Pa. - The Trocadero
October 27 - New York, N.Y. - Town Hall
October 28 - Boston, MA - Berklee Performance Center
October 29 - Montreal, Quebec, Canada - Gesu
November 1 - Toronto, Ontario, Canada - The Phoenix
November 2 - Ann Arbor, Mich. - Michigan Theater
November 3 - Columbus, Ohio - Lincoln Theatre
November 4 - Indianapolis, Ind. - Egyptian Room
November 6 - Chicago, Ill. - The Vic
November 8 - Milwaukee, Wisc. - Turner Hall
November 9 - Minneapolis, Minn. - State Theatre
November 13 - Vancouver, British Columbia, Canada - The Vogue
November 14 - Seattle, Wash. - The Neptune
November 15 - Portland, Ore. - Crystal Ballroom
November 17 - San Francisco, Calif. - The Fillmore
November 18 - Santa Barbara, Calif. - Lobero Theatre
November 19 - Los Angeles, Calif. - The Wiltern
November 20 - Tempe, Ariz. - The Marquee