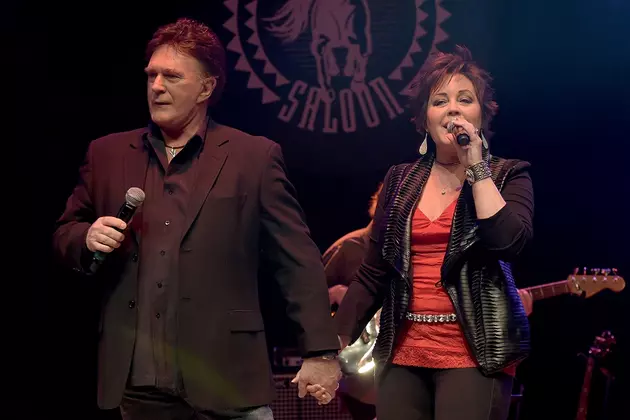 TG Sheppard + Kelly Lang — Country's Greatest Love Stories
Rick Diamond, Getty Images
TG Sheppard and his wife, Kelly Lang, have been married since 2007, after dating for several years. But the singer-songwriter says that he was in love with her long before they ever tied the knot.
"I've known my wife since she was 14 years old. We found each other later in life, after we had both been married to other people," Sheppard tells The Boot. "Her father was Conway Twitty's road manager for 25 years, and I was working with Conway."
In 2005, Lang was diagnosed with breast cancer -- an ordeal that helped Sheppard realize just how much he loved her.
"That makes you love somebody even more, and it prioritizes your life," he explains, "and it creates a bond between you and your partner that, there's nothing else that will prove the bond stronger than coming close to losing someone you care about."
In turn, Lang has stood by her husband, as the traditional vows go, "for better or for worse" and "in sickness and in health," including a heart surgery in January of 2015. The 71-year-old Sheppard acknowledges that he feels fortunate every day to get to spend his life with Lang.
"She's very supportive, and I am of her," Sheppard boasts. "I'm a hopeless romantic. I go to movies and cry like a baby; I don't care who sees me. I think it takes a real man to not worry about people watching you cry. I'm emotional about a lot of things: I'll do an interview and just break out in tears, if I'm talking about the right thing.
"I really have an incredible love for my wife, and for my friends, and for God and all those things that mean really something special to me," he continues. "My wife, and my life with my wife, is my love story. I love her more every day of life. Each day I love her more than the day before, and I'm blessed to have her in my life.
"I married the girl of my dreams."