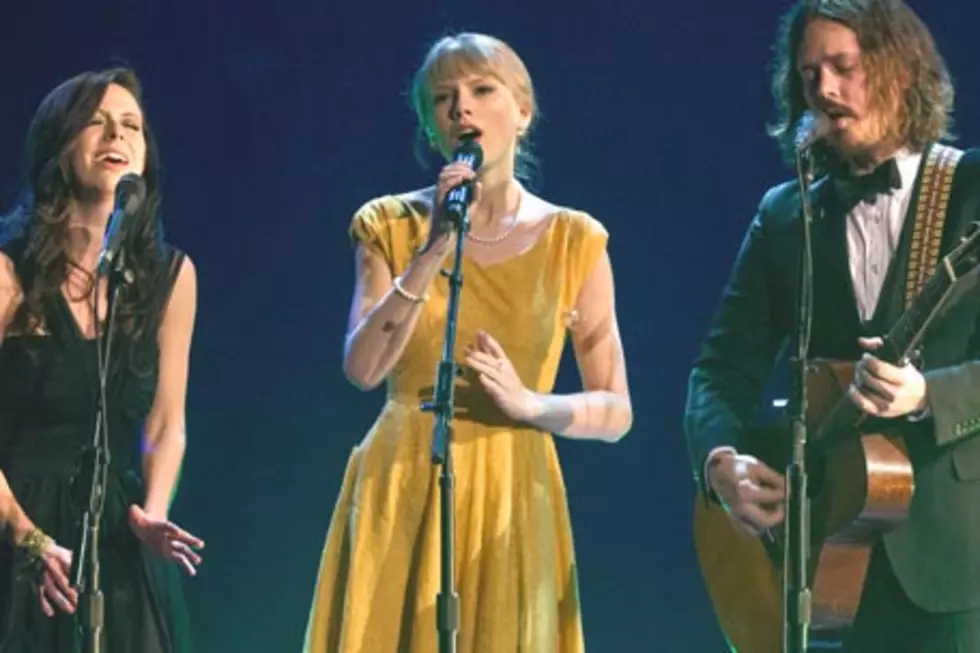 Taylor Swift Joins Civil Wars for 'Safe & Sound' Live Debut
Ed Rode, Getty Images
Taylor Swift made a surprise appearance at the Civil Wars' sold-out show at Nashville's Ryman Auditorium Thursday night (Jan. 12), for their first live performance of 'Safe & Sound.' The three co-wrote the tune and perform it on the soundtrack of the upcoming film, 'The Hunger Games.' (Watch a fan's video of the performance below.)
Before the 'Ours' singer took the stage, the Civil Wars had a little fun with their audience. "We like to give back to the community, and to people [whose] careers are struggling a lot more than ours," the duo's John Paul White joked from the stage (quote via The Tennessean newspaper).
"She's new," cohort Joy Williams added.
Taylor then joined the pair on stage and recalled where all three of them were a year ago. The Civil Wars were playing a show at Nashville's Belcourt Theatre, and the country superstar was in the audience. She even bought a t-shirt at the concert, which she revealed she almost wore to this Ryman shindig.
"This is so sold out right now, do you know that?" Taylor noted, before complimenting them. "You guys are really good."
As the concert came to a close, John Paul took a moment to recognize how far their career has come. "Ever since I picked up a guitar, I dreamed of standing on this stage and doing what I'm doing right now," he said. "This place is not just another gig."
Watch Fan Footage of Taylor Singing With the Civil Wars
Watch a Report on 'The Hunger Games'