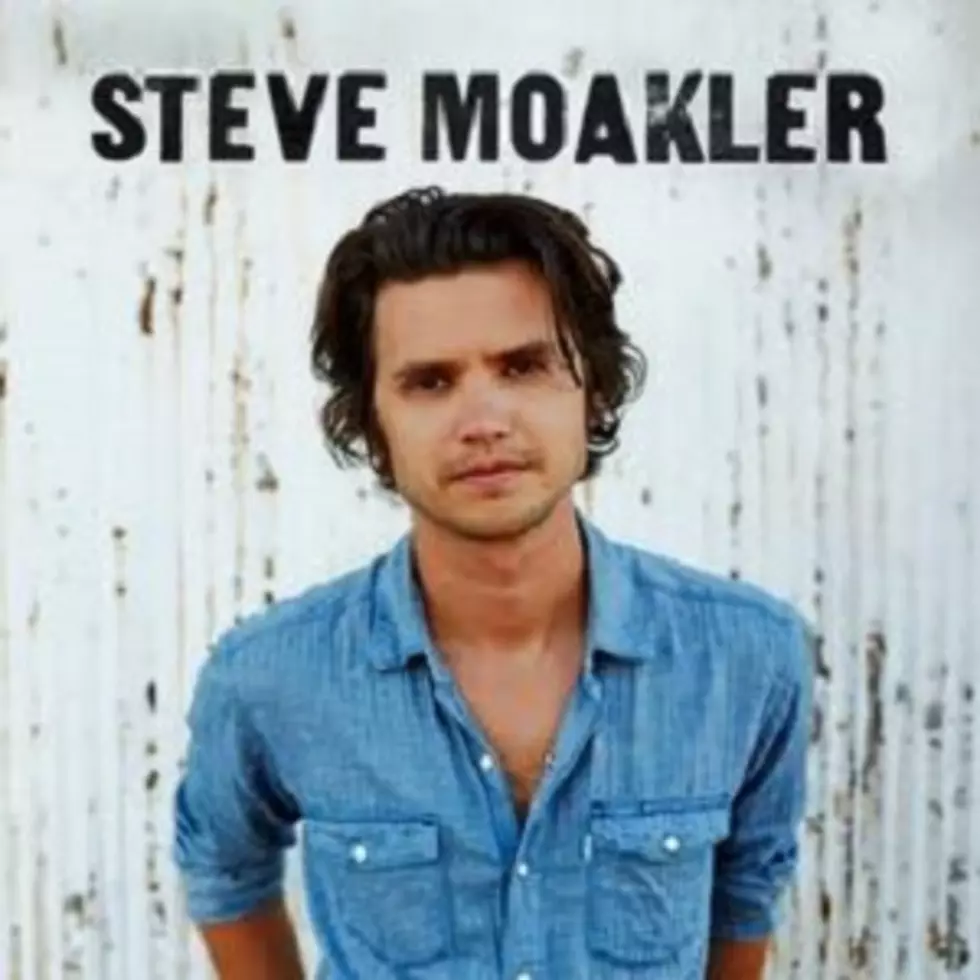 Interview: Steve Moakler Shares Hometown, Heartbreak and More on EP
Courtesy of Creative Nation
Steve Moakler hails from the Pittsburgh, Pa., suburb of Bethel Park, but don't let his Northern roots fool you. This Rust Belt boy knows country music, from the genre's values to how to write a killer country song.
Along with Travis Meadows, Moakler co-wrote Dierks Bentley's powerful tune "Riser," and he co-wrote four of the five tracks on his new self-titled EP. The singer was also raised in a blue-collar atmosphere, albeit not on a farm or in a small Southern town.
"Growing up, I didn't really have a sense of what was unique about where I was from ...," Moakler tells The Boot. Now, however, he understands that what makes his hometown special are its residents' values: "They work their butts off. Their priorities are work and family" -- essentially, the stuff that country songs are made of.
It makes sense, then, that Moakler's EP includes a song about his home. "Steel Town," the project's lead track, which the artist co-wrote with Casey Beathard, opens with a vignette from an old-time steel worker and includes lines such as, "In a steel town / You learn how to bend and not break / How to hang in, how to cut loose, how to find a way / How to start with nothin', build it from the ground ..."
"To be honest with you, I felt like an outsider in country music, just because so many of the popular artists and songs are -- they're about people growing up in small, rural towns in the South, and that's not my story; it's never going to be ...," Moakler explains, "so I kind of wanted to have a song that spoke to life and where I'm from in the same way those songs do."
Moakler actually has a full record's worth of material ready, but he decided to put out an EP first, selecting five songs to provide an introduction to himself and his music: "Steel Town" to share his background; "a great heartbreak song" called "Summer Without Her;" two "fun songs," "Jealousy" and "Love Drunk;" and Moakler's current single, "Suitcase."
"To me, ["Suitcase"] is really the heart of it. It's the heart of the album, the nexus ...," he notes. "It goes a little left, a little right, from there, but that really represents the sound of what we're doing."
Ironically, "Suitcase" is the only song Moakler didn't write; rather, he got it, about four years ago, from Luke Laird (also his producer), Barry Dean and Thomas Rhett. Shortly after the singer and his wife got married three years ago, she quit her job, he bought a Winnebago, and they traveled across the country, playing for fans wherever they could. They called the trek the Hometowns and Campgrounds Tour.
"I had that demo, that song, and we just wore it out, and it kind of became the unofficial -- no, I would say it became the official soundtrack of the adventure we were on. It just kind of felt like we were living out that song," Moakler recalls. "I just connected to it on a deep level, and I still do ... I was thrilled that they let me record it."
Conversely, Rhett didn't have a hand in writing the Steve Moakler EP's final track, "Love Drunk" -- Moakler himself co-wrote the tune with Cary Barlowe and Gordie Sampson -- but fans will hear a little bit of Rhett in the funky song.
"That was one of the most fun writing sessions ever. It was the way you hope it goes," Moakler reveals. "... It came alive really quickly. I was sad when we were done writing it, because it was so fun to write."
Working with Laird, too, as his producer, has been quite exciting for Moakler. The two bonded over their shared home state -- Laird is a native of Hartstown, in western Pennsylvania -- and Moakler calls his vibe "really laid back," but quickly adds, "but I think that's part of the magic."
"I think he makes music the way most people listen to music, which is from a little further out," Moakler muses; Laird understands "how the people in Ohio are gonna feel about it," so to speak.
"[He's] so refreshing, and it keeps you from overthinking it," Moakler continues. "... He gets great players in the room, and he just brings the best out in 'em ... He knows what a great song is and how to capture it."
Through May, Moakler is on the road on a headlining tour -- "all places I've played over the years, and it kind of started with 12 people, and they've all grown," he says of his stops, which include Nashville's 3rd & Lindsley. His most exciting concert, however, comes on April 16, when he returns home for a show at Pittsburgh's Rex Theatre. It will be his first opportunity to play "Steel Town" live there.
"I'm really excited for that moment and to bring that song to them," Moakler admits. "I hope they love it."
The Steve Moakler EP is available for download via iTunes.
Learn More About Steve Moakler
More of 2016's New Country Releases