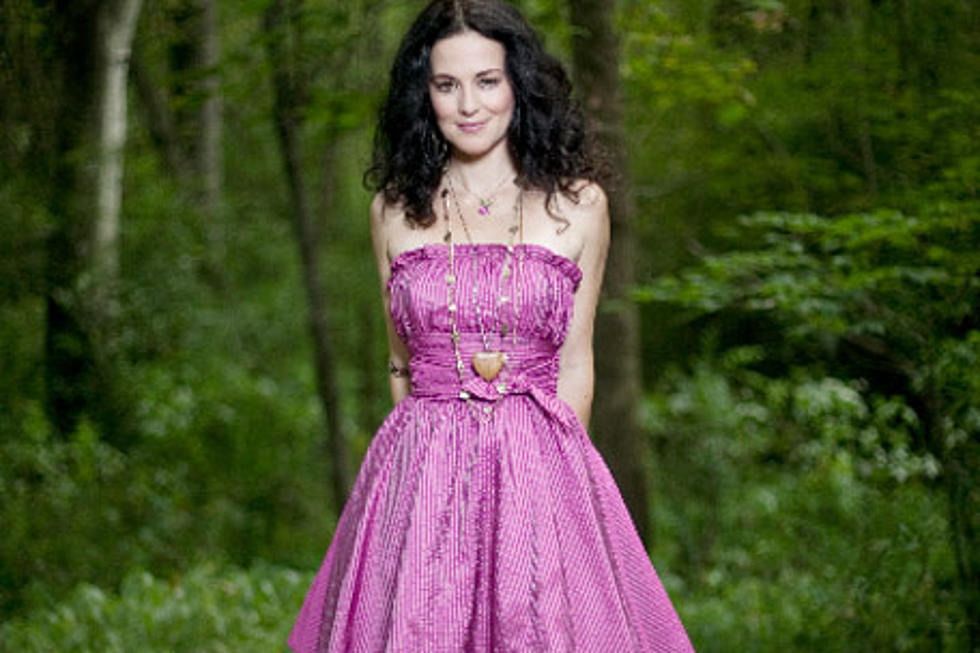 Sherrie Austin's 'Circus Girl' Puts Her Back in the Center Ring
INgrooves
By 1997, when Sherrié Austin released the first of two country albums on the Arista Nashville label, she'd already had a career as an actress, having been seen by millions in her role as Pippa for one season on the sitcom 'The Facts of Life.' She'd also launched a music career in her native Australia before relocating to Nashville. Once in Music City, the beauty with the dark, curly tresses made a series of memorable music videos (including 'Never Been Kissed' and 'Lucky in Love') even though she never quite scored a blockbuster hit single or album. In 2003, she scored her highest-charting hit, the heartbreaking 'Streets of Heaven,' then not long after made the decision to leave Nashville for New York City, where she put her acting chops to work again on the Broadway stage. Now, after plenty of soul-searching, a dose of reality (TV) and having a few country superstars record songs she's written, Sherrié is back in Nashville and back with a brand-new album, releasing 'Circus Girl' (out today, Nov. 15) independently on her own label, the appropriately-christened Circus Girl Records. The Boot sat down with Sherrie to talk about the inspiration behind her new songs, her decision to participate in the Sundance Channel's 'Girls Who Like Boys Who Like Boys' and what it's like to watch George Strait perform one of her songs for an arena full of fans.
It's been eight years since your last album was released. Was there a time when you thought you might not ever make another record again?
Yes, right about the time I started going to New York. I started going to New York at the end of 2005, after we had the last single off of 'Streets of Heaven.' I just felt like it was time for a change. I have to know when I'm ready to make another record and I was not feeling it, the music wasn't in me. I was going through personal stuff and career stuff, so I left my relationship, I left my label, I just took off and had a whole other life there for about a year or so. I got a lot of crazy stuff out of me that was there that I needed to do. A lot of it was because I've always have been so career-minded, I never really had a chance to be a crazy twenty-something. So in my 30s, I decided to be a crazy twenty-something-year-old! I just went and had fun. I did the Broadway show ['Ring of Fire'], and I did a bunch of other shows in the New York Theater Festival. I found a whole new group of friends. I reinvented myself. There was a point where I thought maybe it was where I was supposed to be because I felt so at home. But something dragged me back to Nashville. I wasn't doing a lot of writing in New York. I could have written in New York, but it's just not the same. So I came back, put my toe in the water and I was hooked again.
What did you learn from that experience?
I needed New York to just see another side of myself, to open up my eyes a little bit to realize that there is life beyond Music Row. I think it helped with my writing, I think it helped with my performing. That's when I came back here and just decided I'm going to be a writer. I still didn't have the desire to be an artist, but I had the desire to write again.
There's a saying saying that everyone should try to live in New York at least once.
I never heard that, but it's true. It just opens your eyes to a whole other world. The culture is different. Everyone's doing something exciting and unique. What I really loved was that I didn't have a story there. Nobody knew me. It was like a clean page. I got to be whatever I wanted to be and nobody judged me for it.
No one even recognized you from 'The Facts of Life'?
Funny enough, I still get that, but no. There are country music fans there, too. People don't think about that. But in the industry there, in the world of theater, they were fascinated by the fact that I was a singer-songwriter. But they obviously didn't know every single thing about me like everybody does here. I mean, everyone knows me here ... or thinks they do.
Did you sense any of the preconceived notions about country music there?
They still call it "country-western," which cracks me up. That's the biggest giveaway. But they still appreciate great songwriting. They're as big a fan as any fan from Alabama could be when it comes to that. The doors have opened up. There aren't as many boundaries as there used to be. You interviewed me when my first record came out, and I was this Australian country singer. Everyone thought that was weird. Now nobody gives it a second thought. Times change.
Times certainly do change. Now, after having major-label deals, you made a record on your own and you're running your own label. How are you handling that pressure?
It scares the crap out of me every day. [laughs] You don't even know the nervous breakdowns I had making this record. I didn't go into it in starting a label. I just was making a little singer-songwriter record that I could sell to my fans at songwriter shows. Then the whole thing just exploded: a TV show came along that's helping me promote it, a team of people jumped on board and started working on it with me for nothing, just because they loved the music, they believed in me. It's like I took this tiny little step and every day there's another one and another one that I have to take. It's challenging, but I love it. I'm a bit of a control nut, but I didn't want to have this much control! But I've got it now. I've made some big mistakes and I've learned. I fall on my ass every other day.
Were you looking for anything specific in the material you wrote and chose for the album?
Some of my favorite songwriters are Mary Chapin Carpenter and K.T. Oslin. I love that they tell stories about women, just to women. Not just for women, men love their music as well. But I've been missing that in country music from female artists ... women just talking to another woman and being the age that you are not trying to make the statement of a 20-year-old when you're not 20 anymore. I picked a lot of the songs because they had a bit more of a mature subject matter, which makes sense because I'm not the same girl that did 'Lucky in Love' and 'Never Been Kissed' anymore. I've lived through a lot of stuff since then. There's a lot of my humor in some of these songs. There's a lot of my theater influence in some of these songs, and a lot of my country music influence because that's what I grew up singing in Australia. Musically speaking, a lot of Beatles. George Harrison was my favorite Beatle. A lot of the reason the record is what it is is because I didn't sit down and say, "I've got to get a song on radio." Not that there's anything wrong with that. I would love that. I just didn't want to make a record thinking about that, because I spent my whole career worrying about that. I didn't have to do that this time. I was playing a lot of these songs at songwriter's nights over the last five years and seeing the reaction I was getting. I could see what people were gravitating towards. Three of them, I wrote by myself, too. I wasn't sitting down to write a song for any particular reason other than that what was on in the room, or it was something I was going through. I had a chance to road-test a lot of them on fans without even realizing that's what I was doing.
'Get Your Leavin' Done' is one of the songs you wrote by yourself. Were you addressing anyone in particular with that song?
I was sitting there watching the ACM [Awards] on mute. I was in my pajamas drinking red wine and about to go through a breakup. The song is actually written from his perspective of telling me to just get it over with. Because I wouldn't end it. I was too scared to. I don't know how to do that. I hate the guilt that comes with that. So the song, even though it's a female saying it to the guy, it's actually me saying it to myself about getting on with it.
Then in the next track you're over it, singing 'He's All Yours.'
I wrote that with Jackie North. There's a lot of melodrama and theater in that. People hear it and say, "You seem so angry!" I've actually never had that happen to me but the music just makes you do that. It's just so pissy. It's fun to do that live. That's probably my favorite on the record, melodically speaking. I just love that there are three different, separate melodies that connected on that day. It was just magic.
What made you want to revisit 'Streets of Heaven' and record a new version for this album?
'Streets of Heaven' was always so intensely personal for me. First of all, because it's based on something that my family went through with my little brother, who's fine now. But I remember watching my parents go through that. And this is something that I didn't talk about a lot at the time I released 'Streets of Heaven,' maybe the reality show is opening me up a little bit, but this song is also a metaphor for where I was at that time in my life. I felt completely out of control. I was exhausted, a little lost, a little bitter about the music business. The whole song is about just letting go and trusting that there is a bigger plan. The little girl in the song is a little bit of the inner child that I just forgot. So I wanted to cut the song again because it's so special to me but also to remind me that even though I'm doing all of this independently, I'm not in control, even though I may think that I am.
There are a lot of fun, interesting melodies on this album. Do you usually write from a melodic perspective first or a lyrical perspective?
It's changed within the last year or so. I do often have titles. What I like to do now is listen to what the melody is trying to tell me it wants to say. Once upon a time, it used to be about writing the most clever lyric. At the end of it, I could look at it and go, 'What a beautiful piece of songwriting that is.' Every "i" is dotted and every "t" is crossed but you don't feel anything. I've learned to try not to be clever but to make a song sound like a conversation. A lot of the songs I write lately, the lyrics are popping out as the melody pops out. Some days I have a complete, wonderful plan of what I'm going to do. Other days it comes in and it's a mess and I worry about editing it later. It depends on what day you get me. I can be two very different writers depending on the day. I've been writing a lot of male songs again lately, which is what I spent a lot of the last eight years doing. Most of my cuts have been by male artists. So after making 'Circus Girl,' I needed the balance again so I've been going back and writing my guy songs again.
I was at Bridgestone Arena and watched Tim McGraw sing your song, 'Shotgun Rider.' Is it surreal for you when you hear an artist like that do one of your songs?
It is. I got to hear George Strait sing my song ('Where Have I Been All My Life') there, too. It's strange to see people sing along with him. It was a thought that was in my head and now it's coming out of his mouth. It's an amazing feeling.
Yet with those kinds of things happening, it must also be strange that there are people who didn't realize that even though they haven't seen you on TV or heard you on the radio, you haven't exactly ...
Been watching soap operas and eating bonbons? [laughs] Certainly within the last year, I'm back. I've explained it like this, I put flowers on the grave and said 'I'm done.' [Being an artist] is part of my life that I'm not going to do anymore and I'm at peace with that. I truly, sincerely thought that was true until all of a sudden this started happening again. I started making music again. I actually did my first show with a full band in eight years a few months ago at the Bitter End in New York. I turned to my friend and said, "Could you please tell me why I quit again?"
You'll be seen starting Friday (Nov. 18) on the Sundance Channel series 'Girls Who Like Boys Who Like Boys,' with your best friend, Shane Stevens, who is a Nashville songwriter (he co-wrote Lady Antebellum's 'American Honey') and a musician in his own right, who also happens to be gay. Why did you decide to do the show?
I turned the show down three times. I'm not a big reality TV fan, but what drew me to this was the subject matter. I like a challenge. It's slightly controversial and it's an issue that I feel is really important and needs to be discussed. I'm hoping that maybe we can do a little bit of good in the world with the show and maybe in some ways stop these kids who don't know that things are going to get better for them from killing themselves -- a lot of that [is] due to ignorance and people just not being educated. It was a bit of a risk but it was time for me to do something outside of myself. I'm making another record, feel good and happy in my life, I'm a writer, I love what I do. But lately I've been thinking more about what can I do with my talents that might put a little bit back in the world. I felt like the show came along for reason. Once I got over being scared by it, which is why I turned it down, I just kind of resolved myself to the fact that if it keeps coming after me that badly, then God must have something in mind for me here.