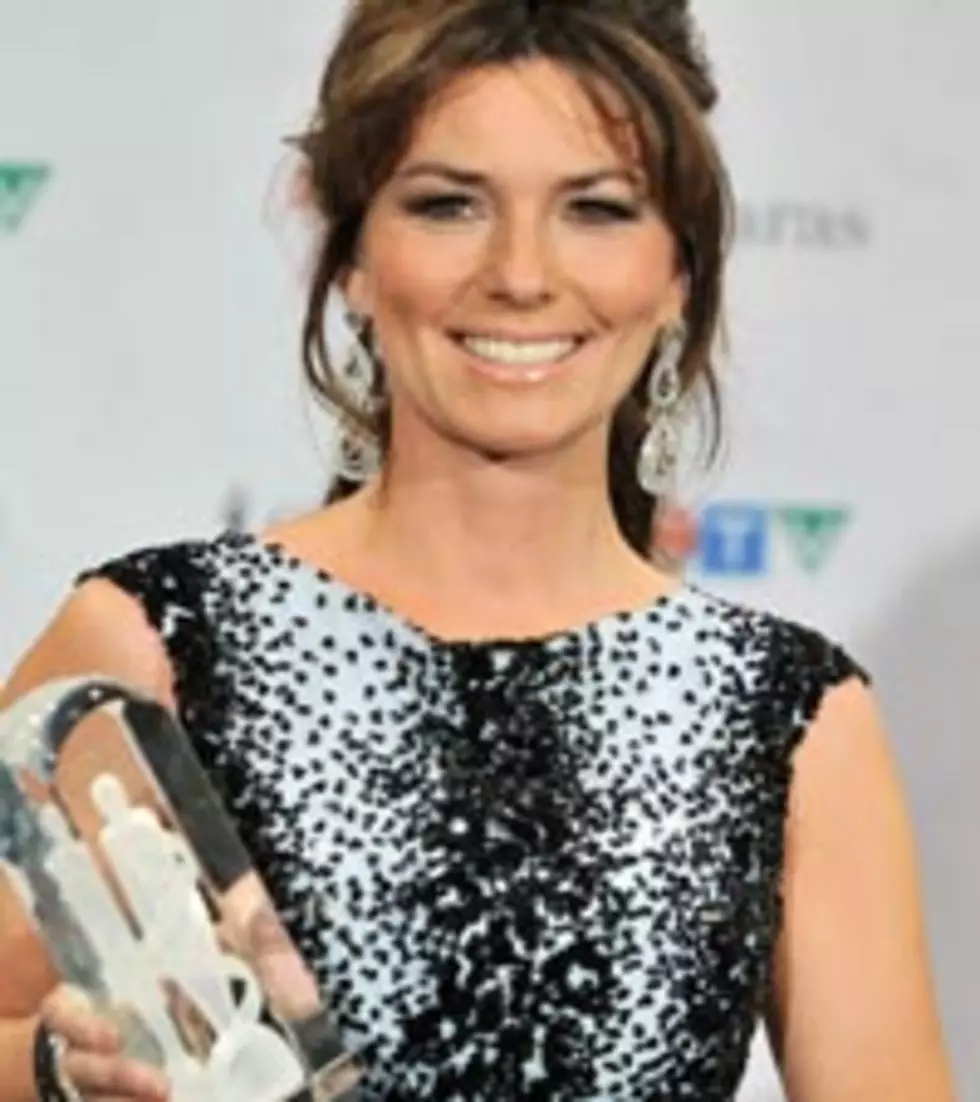 Shania Twain Promises New Music Is Coming Soon
George Pimentel, WireImage
It was hardly surprising that country music mega-star Shania Twain was inducted into the Canadian Music Hall of Fame at Sunday night's 40th annual Juno Awards in Toronto, but who would have guessed she'd get Twitter all a-titter when she proclaimed her affection for her Canadian homeland by saying, "I love our bush!"
Backstage after accepting her award from friend Bryan Adams, the classy star in her sequined gown ignored the assembled reporters' double entendres about her trending quip. "What do you call it? A forest? C'mon, I'm from Northern Ontario. It's called the bush in Ontario. Somebody back me up here!"
Shania also ducked questions about when exactly she would return to the stage to do more than say thank you, though we will apparently be hearing new music sooner than later.
"I'm not sure when I'll be able to get back up on that stage," she admitted. "I'm preparing for it. I'm already in the studio working. You're going to hear new music soon. I'm not sure how much I can tell, but I documented some of my songwriting process and I'll share that on the [TV] series. When that will become an album? It's all happening as we speak."
Shania, who attended the awards show with new hubby Frederic Thiébaud, was particularly talkative about her upcoming TV show, 'Why Not? With Shania Twain' on Oprah Winfrey's OWN network. "I actually created the concept myself," she said proudly. "It's not a reality show, it's a documentary type thing about an isolated experience in my life documented in real time. I actually went to Oprah, to be honest, and asked, 'What do you think of this idea that I have?' She loved it and that was the end."
As for the whole experience of becoming a Canadian Hall of Famer, Shania said she feels overwhelmed by all the support.
"I feel wonderful in Canada, the people have never let me down; the fans have been amazing. I just love this place. I'm at home here, and this is a really big moment. It feels really genuine in every way," she said, though she demurred when asked about being an icon.
"I don't feel iconic, I feel like a small town girl from Timmins -- that has never changed and it never will. I'm 45 years old and I started there and ended here, and that's who I am. I'm flattered, but I can't say I feel it myself."
if(typeof AOLVP_cfg==='undefined')AOLVP_cfg=[];AOLVP_cfg.push({id:'AOLVP_524072724001','codever':0.1,'autoload':false,'autoplay':false,'displaymnads':true,'playerid':'89761511001','videoid':'524072724001','width':476,'height':357,'playertype':'inline','stillurl':'dynamic','videolink':'#','videotitle':'dynamic','videodesc':''});