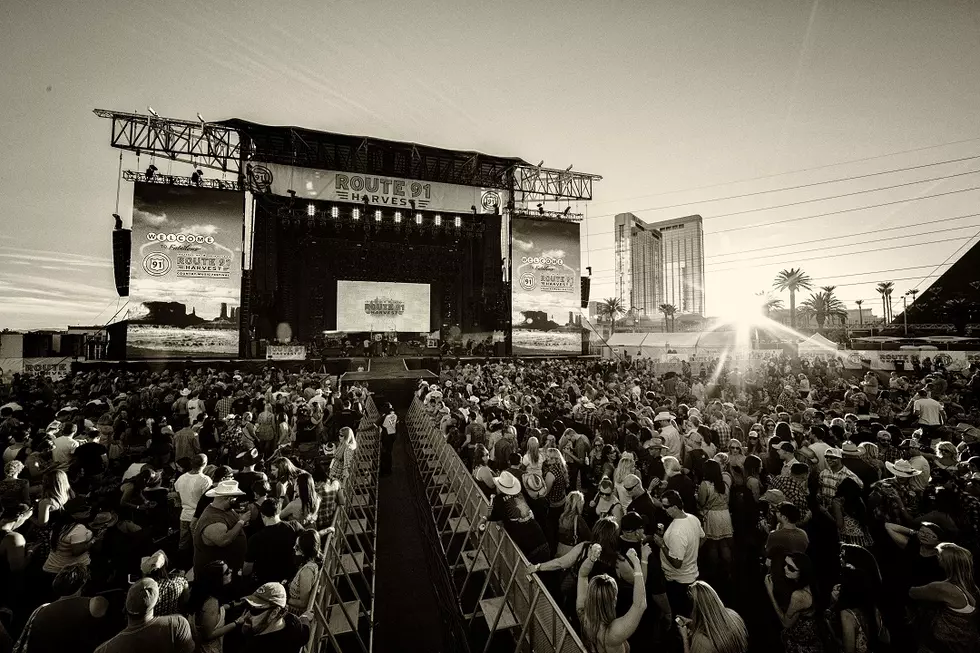 'Never Let the Bad Guys Win': Fans and Artists Speak Out About Concert Security One Year After Las Vegas Shooting
Christopher Polk, Getty Images
As fans and artists alike returned to the swing of festival season during the summer of 2018, the memory of the shooting at the Route 91 Harvest Festival on Oct. 1, 2017, in Las Vegas, Nev., remained in the minds of those in the country music community. The massacre, which claimed the lives of 58 people and resulted in injuries to over 800 more, is the country's deadliest mass shooting to date.
In the wake of the tragedy, many fans found that the events at Route 91 had caused a shift in the way they think about the concert-going experience. Dotti Spina, a longtime festival-goer and country music fan, recently explained to The Boot that although she never lets fear stop her from seeing music, the possibility of a tragedy occurring is more prevalent in her mind than it used to be.
"I was at an outdoor show at an amphitheater in Syracuse, [N.Y.], and it was very hot out, and all at once, I heard this ba-boom!" Spina recalls, sharing a tense moment from one of her first concerts post-Route 91. "I froze and thought, 'Dear God.' But I quickly turned around, and there was a small cart selling soda and water, and two soda cans had exploded. But it was right behind me, and immediately, I thought, 'Dear God, somebody has a gun.'
"Would I ever think that years ago?" she adds. "No. Of course not."
"I thought, 'Oh my God, how scary is this. That could be us.' Did that ultimately stop me? No. But did I think about not going? I did." -- Dotti Spina
The shooting at the 2017 Route 91 Harvest Festival was far from the first tragedy to occur without warning at a concert, of course. On May 22, 2017, just a few months prior, fans exiting Manchester Arena in Manchester, England, following a concert by pop star Ariana Grande were attacked by a suicide bomber who detonated a homemade, shrapnel-laden bomb, killing 23 and injuring 139. About a year prior to that, in June of 2016, The Voice alum and pop singer Christina Grimmie was signing autographs for fans after a performance in Orlando, Fla., when a man named Kevin James Loibl walked up to the merchandise table armed with two guns and fatally shot the up-and-coming singer. In the country realm specifically, in 2011, duo Sugarland were preparing to take the stage at the Indiana State Fair when a strong gust of wind caused the stage roof to collapse onto the crowd, claiming the lives of seven fans and leaving 58 others wounded.
However, while the Manchester bombing has been linked to an Islamic terrorist and the Indiana State Fair stage collapse was the result of a freak weather pattern, the shooting at Route 91 was seemingly random; the investigation into the massacre closed in August without authorities discovering a motive. And unlike the case of Grimmie's death, in which Loibl had a longstanding and unhealthy infatuation with the pop star before murdering her, the Route 91 shooter did not specifically target the artist onstage -- country superstar Jason Aldean -- but instead rained bullets over whole festival area.
"You're smart to protect yourself, but at the same time -- man, never let the bad guys win." -- Garth Brooks
A random act of far-reaching, unprecedented violence, the 2017 Route 91 Harvest Festival shooting not only forced the country music community to sit up and take notice, but also instilled fear surrounding large festivals and even, in some cases, a hesitancy to return to music festivals at all. In a poll created by The Boot, 55.6 percent of respondents said their views on concert and festival security changed after the shooting. "I was aware of the dangers before -- due to, unfortunately, any number of previous tragedies -- but I became hyper-aware of it after Route 91," one respondent explained. "When I go to shows now, I'm more aware of my surroundings and I look for exits," another added.
"When Route 91 happened, I was already making plans for Taste of Country Fest [the following summer], because I gotta get my tickets early," explains Spina. "I thought, 'Oh my God, how scary is this. That could be us.' Did that ultimately stop me? No. But did I think about not going? I did."
Spina isn't alone: Although over half of the respondents to The Boot's poll said that their thoughts on festival safety had changed since the tragedy, only 11.6 percent indicated that they now attend few concerts because they feel less safe, while 88.9 percent said that the incident at Route 91 has not stopped them from going out to see live music.
Although she doesn't let worry prevent her from enjoying the experience of live music, Spina says that the increase in security has been palpable. "You can tell the difference, even going through the gates, getting patted and searched," she says. "No matter what, though, I don't dwell on it. I don't let it take away my joy ...
"I understand that the world's changed. I definitely get [the increased security]," Spina adds. "But country artists are so appreciative of their fans and their fan clubs. I think they're all trying to do the best they can with the situation we're all in."
Remembering the Route 91 Harvest Festival Shooting Victims
Some artists, too, agree that increased security is important, and that a careful examination of the balance between keeping everyone safe and making a festival a great experience for everyone is an essential part of moving forward. "It's a very tricky thing, because if you lose that connection, then what are we doing this for?" says Keith Urban, explaining that while security has increased dramatically over the past couple of years, it shouldn't mean sacrificing the fan-artist connect that draws so many to attend music festivals in the first place. "Obviously, security has gone through the roof, in all the right ways, but everybody still wants to have a great time, and I want to give them everything I've got."
Many of country music's biggest artists, such as Luke Bryan, have struggled to balance the changing security procedures with maintaining that one-on-one fan connection. "It's hard to comprehend," Bryan explained backstage at the 2018 CMA Music Festival in June. "[My wife] Caroline and I got out to go into the [CMT Music] Awards the other day, and it wasn't really a red carpet where fans could interact with artists -- you had to run across the street. I used to run over there and high-five the whole damn street. But my security guys were like, 'We don't like you running. We don't know what's over there.'"
And so Bryan waved, but walked into the building without going over to greet his fans. As soon as he got inside, however, he knew he'd made a mistake. "Me and Caroline got indoors," he recalls, "and she said, 'I don't like you doing that. You should have run over there and high-fived those fans.' I said, 'I know. We're gonna have to sit down and re-figure out the whole security thing.'"
"It's all about just continuing to believe in the good and continuing to believe that love prevails." -- Trisha Yearwood
Bryan was in the middle of his 2017 Farm Tour when the Route 91 shooting took place, playing shows on large, rural pieces of open farmland. In the days following the tragedy, he and his team issued a statement telling fans that they were "working with state and local officials to do everything possible to ensure your safety during our Farm Tour shows."
"It sucks that you have to think about that," Bryan added during CMA Fest. "It sucks that you can't just go hug on and love on fans like you used to. I'm sure this time last year, we didn't have a global security word that meant 'clear the damn stage.'"
Bryan clarified that he doesn't mean to diminish the risks involved, but that he also doesn't think that walking past a crowd of fans who have been waiting for him for hours, and seeing their faces fall when he doesn't stop for a hug, is a good solution either. "Caroline was quick to call me out [during the CMT Music Awards]," he continued with a laugh. "She was right. I need to not let that happen again."
Urban notes that, in a time of cultural division, bringing large groups of people together over music may, in fact, be more important than ever before. "I'm doing it to make a connection, and bring people together, too," he says. "I mean, you can go out there, and 70,000 people can agree on something. That's amazing! That never happens. Even at a sporting event, it's split 50-50. [At a concert], everyone's on board, they're all in the same zone, and they're literally singing the same song."
"If you lose that connection, then what are we doing this for?" -- Keith Urban
Few artists know more about bringing 70,000 fans together to sing the same song than Garth Brooks and Trisha Yearwood. The cultural landscape may be drastically different now than it was at the outset of the iconic musicians' careers, but Yearwood and Brooks agree that the most important part of what they do -- their relationship with their fans -- hasn't changed one bit.
"It's all about just continuing to believe in the good and continuing to believe that love prevails," Yearwood says. "You can't not love each other."
Adds Brooks, "You're smart to protect yourself, but at the same time -- man, never let the bad guys win."
The idea that no one should live in fear due to such an attack -- and that, in fact, if we do live in fear, that means the attackers have won -- was a prevalent feeling among country artists following Route 91. According to the Telegraph, Grande echoed this sentiment after the Manchester bombing as well: "The last thing I would ever want is for my fans to see something like that happen and think it won," the singer explains. "Music is supposed to be the safest thing in the world."
To Brooks, expressing gratitude to the people who love his music remains an imperative part of his career. "Music is between the fans and the people they allow to be artists," he reflects. "Other than God himself, there's no one you can thank more than the people.
"So you gotta hug 'em. You gotta love 'em and tell 'em thank you for the life they've given you," Brooks adds. "No matter what happens on the outside, that's never gonna change for us."
Music's Worst Concert Tragedies